Game Info
Step inside the P.U.S.S. facility and meet the professor who's completely lost her marbles. Not Enough Kittens is a perfect combination of mad scientist and crazy cat lady. The bizarre setting of a not so normal science lab is completely forgotten about once you see how cute the kittens are.
The pretty pastels, lion print on the chair, and discarded slippers make us think that perhaps the professor is trying to multiply kittens for some company. If you had the tech, who's to say you wouldn't do the same?
The quirky jazz music is quite pleasant and easy listening. The style and graphics of the game are very similar to Japanese anime, especially the kittens – very Kawaii.
There are five reels that fill up the 5x3 play board and a staggering 35 payline winning combinations. If that wasn't enough to get you going, there are also double symbols, wild symbols, respins, and bonus symbols which trigger a bonus game with 10 free spins.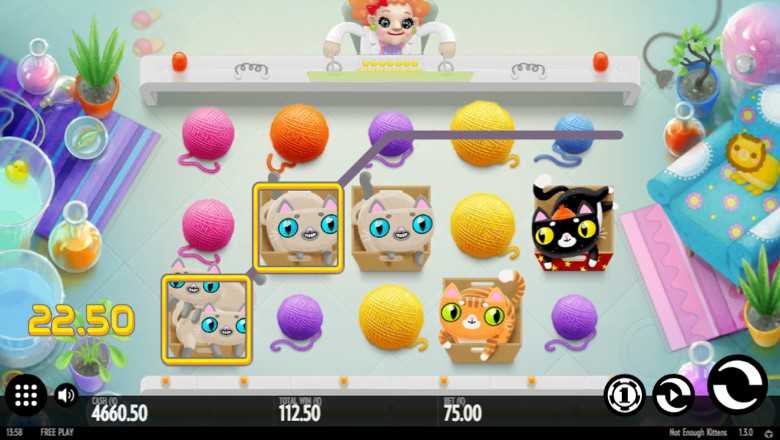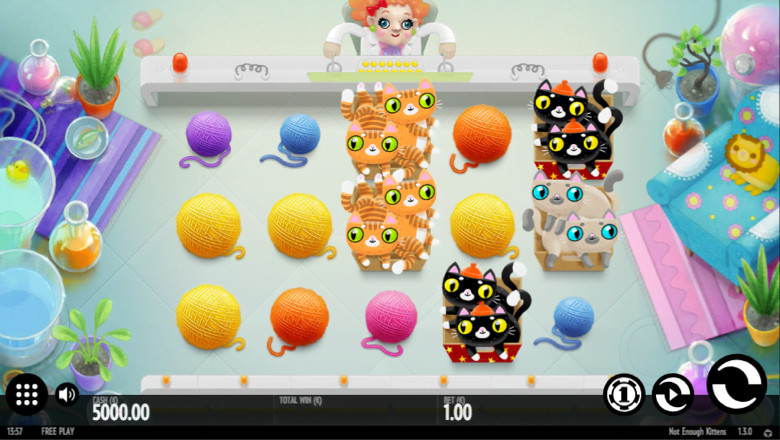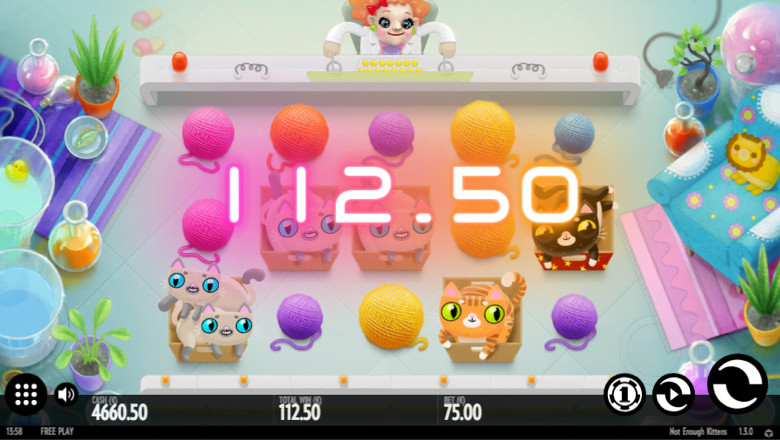 How to play
Not Enough Kittens uses a 5x3 game board with 16 pay table symbols, which includes the fun-loving wild symbol and not just one, but two bonus symbols.
To win, simply click action and land the matching play table symbols in any of the many 35 different paylines.
Pay table symbols (based on a £1 stake)
Small Blue Yarn
Medium Purple Yarn
Medium Pink Yarn
Large Orange Yarn
Large Yellow Yarn
Single Light Brown Kitten
Single Red Kitten
Double Light Brown kittens
Double Red Kittens
Single White Kitten
Single Black Kitten
Double White Kitten
Double Black Kitten
Bonus symbols
Bonus features
The wild symbol can substitute any other pay table symbol, except for a bonus symbol. That means if you're just missing one symbol to make a winning combination, there's a chance for the wild symbol to slide on up and give you a helping hand.
Let's talk about the best feature of Not Enough Kittens – the bonus symbols. Collect three or more bonus symbols and a free spin bonus game starts. Did we mention, the free spins? There are 10 of them! Not only that, for every additional bonus symbol you collect, another five free spins are added to the game.
It doesn't end there. Not Enough Kittens really wants you to collect them bonus symbols and bag yourself more free spins. So, if you land a double bonus symbol, they act as two separate symbols.
The best part about the bonus symbols, besides all the free spins they give? They're actually cat-flaps that when they land, have little paws reaching out. Even though there are lots and lots of kittens on the play board, you still want more. We guess there really aren't enough kittens.