Important note: MrQ is a no-wagering casino with absolutely no wagering requirements ever! This article is purely to give you more information on how wagering requirements work and the common pitfalls to avoid when choosing the right casino.
Wagering Requirements Explained
Wagering Requirements are the conditions applied to certain casino bonuses that need to be fulfilled before you can withdraw winnings as real cash. Bonuses can be awarded in a number of ways including bonus money or Free Spins. 
Bonuses are awarded at a certain amount and can contain requirements before you can benefit from them including:
The need to make a number of real money bets i.e. 100x the bonus value
A number of bets to be completed in a certain amount of time i.e. 200 wagers in 2 weeks
A number of wagers are met on specific games/game types i.e. Slingo, Megaways etc.
Once the requirements are met, you are eligible to withdraw any remaining amounts as real cash prizes. Until the requirements are met, the value of the bonus is withdrawable as real cash and can only be used to play on the site. 
Wagering Requirements Glossary
| What It Is | What It Means |
| --- | --- |
| Time Limits | Some casino bonuses require you to meet your requirements in a certain period of time. If the time limit is not met, then the bonus is removed from your account. |
| Game Exceptions | Some games do not qualify towards your wagering requirement including High RTP slots and casino games like Roulette or Blackjack. |
| Wagering Contributions | Not all games are the same with some slots and casino games weighing more or less on your overall wagering requirement. Some slots will contribute their full value while others will only contribute a percentage of the total value towards a bonus requirement. |
| Stacked Bonuses | Many kinds of bonuses exist and having multiple active at the same time will have their wagering requirements combined before you can withdraw your winnings. |
| Maximum Withdrawal | Some casinos set caps on the amount that you can withdraw at any one time with the value being linked to active bonuses. |
| Betting Restrictions | Some betting systems are limited or prohibited in relation to bonuses i.e Outside Bets on Roulette. |
| Maximum Bet Limit | While clearing your wagering requirements, restrictions are placed on your bet levels meaning it will take longer to clear your requirements over time. |
| Bonus Money | Bonus Money is basically the value awarded when signing up for specific bonuses. This money can only be used to play games and cannot be turned into real cash until the wagering requirements are completed |
| Held Funds | The value that can be played on qualifying games but cannot be withdrawn until the wagering requirements are met |
Wagering Requirements Calculated- A real-world example
Now that you know all of the key details of Wagering Requirements, here's how it looks in practice.
You sign up to a casino that offers a £100 bonus money welcome offer
The wagering requirement for the offer is 100x the total bonus money amount
You will need to wager 100x more than the initial £100 bonus meaning a total of £1,000 in wagering.
Once £1,000 has been made in real money bets, you can now withdraw any winnings made
If any stacked bonuses are added, then the total wagering requirement is the combined value of all stacked bonuses i.e. 100x + 2 weeks means you would need to make £1,000 of real money bets in a 2-week period
Extra note: Casinos can limit how much certain games contribute towards your wagering requirements meaning only part of your total bet value is counted. For example:
A high RTP slot is weighed at 60% contribution
You wager £1,000 on the selected slot
The total contribution towards your wagering requirements would be 60% of £1,000 meaning £600
Your remaining wagering requirement balance is £400
This is also true of most high RTP casino titles including Blackjack and Roulette so be mindful of where you put your wagering. 
How Other Casinos Do It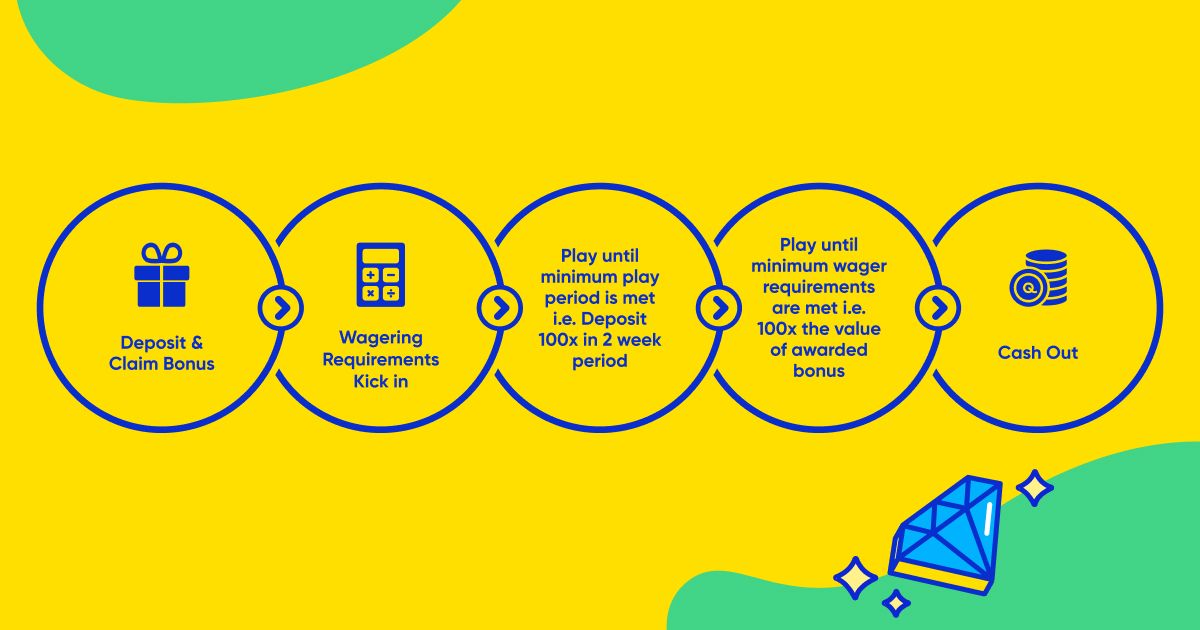 Casinos that have wagering requirements will add a number of restrictions and rules to your fun including maximum bet limits, strict time limits, and a limited selection of available games. 
The whole process from sign-up to withdrawal at a wagering requirements casino looks like this: 
Sign up to the casino and claim the welcome offer
Once the welcome offer has been redeemed, the wagering requirements become active
All bonus funds are held until the wagering requirements are met
Either meet the specified number of wagers or complete a number of wagers in the time limit allocated
If the time limit expires, then the bonus is removed from your account
Certain games will not contribute towards your wagering requirements or will only add part of their value 
Once you meet the requirements set out by the bonus, you are eligible to withdraw any remaining bonus money 
Some casinos also place strict limits on withdrawals to ensure that you cannot claim all of your winnings in one transaction
How MrQ Does It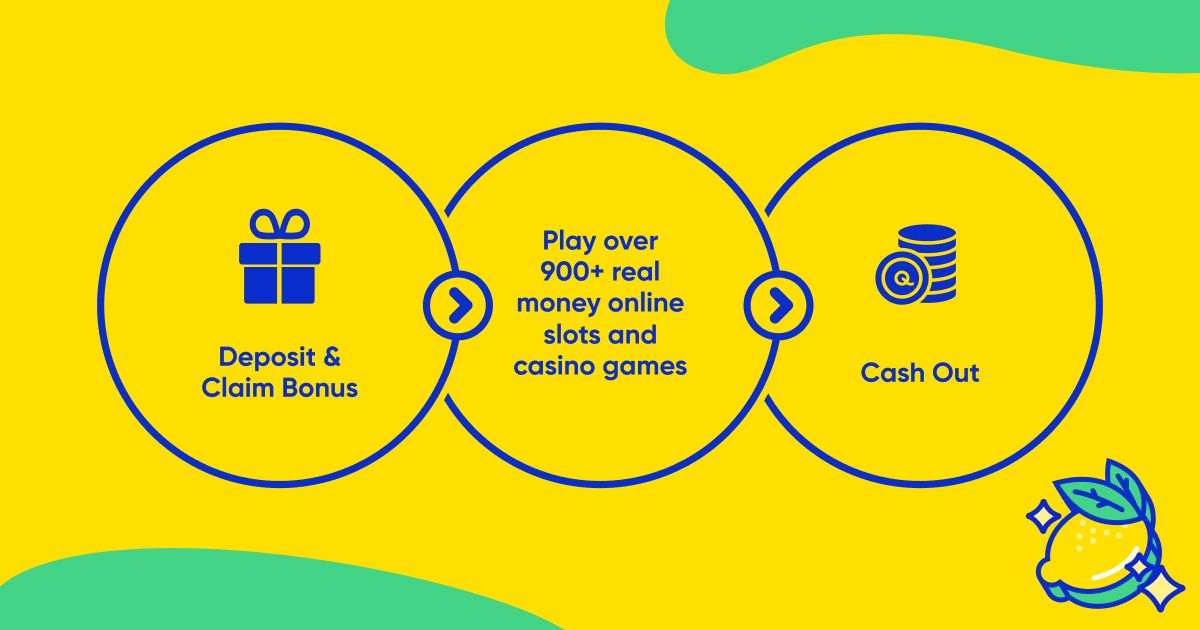 Put simply, MrQ has no wagering requirements…ever. Once you've signed up and made your first deposit, you can enjoy our extensive range of over 900 real-money mobile slots and casino games with all winnings paid in cash. Play awesome slots and withdraw at any time to claim your winnings as real cash. Simple as! 
Looking to join the fun? Simply follow these simple steps to get into the action:
Sign up and deposit £10 or more to play
Choose from a selection of over 900+ awesome slots and casino games 
We'll give you 20 Free Spins just for signing up (welcome to the party!)
Play awesome games and withdraw at any time with no wagering requirements (What's yours is yours to keep)
FAQ
---
Does MrQ have wagering requirements?
Never have and never will! MrQ is a zero-wagering casino where all winnings are awarded in cash and can be withdrawn at any time for real money prizes. Sign up today and play over 900 real money slots and casino games on all of your favourite mobile devices.
---
What are wagering requirements?
Wagering requirements are what is required to be able to withdraw on a casino site and is usually tied to free spins or cash bonuses. Most wagering requirements either require a set value of bets required to fulfil or need you to complete a number of bets in a set time limit before you can withdraw your winnings.
---
What happens if you don't meet wagering requirements?
Simply put, you can't withdraw the bonus. If the bonus requirements aren't met, then the bonus can not be turned into real cash until the requirements are met.
---
What is a 10x wagering requirement?
A 10x wagering requirement means that for every bonus given, you have to wager 10x its value to be eligible to withdraw your winnings. For example, if a bonus given is £100, then the wagering requirement to withdraw means you have to wager £100 x10 for a total of £1,000.
---