Slingo is the popular fusion of bingo and slots that has dominated the gambling market for over 25 years. In the present day, there are all sorts of variations of the game, including Slingos branded after slots and even game shows!
In this short guide, we'll show you how these games work, and reveal some exclusive tips.
What you will learn in this article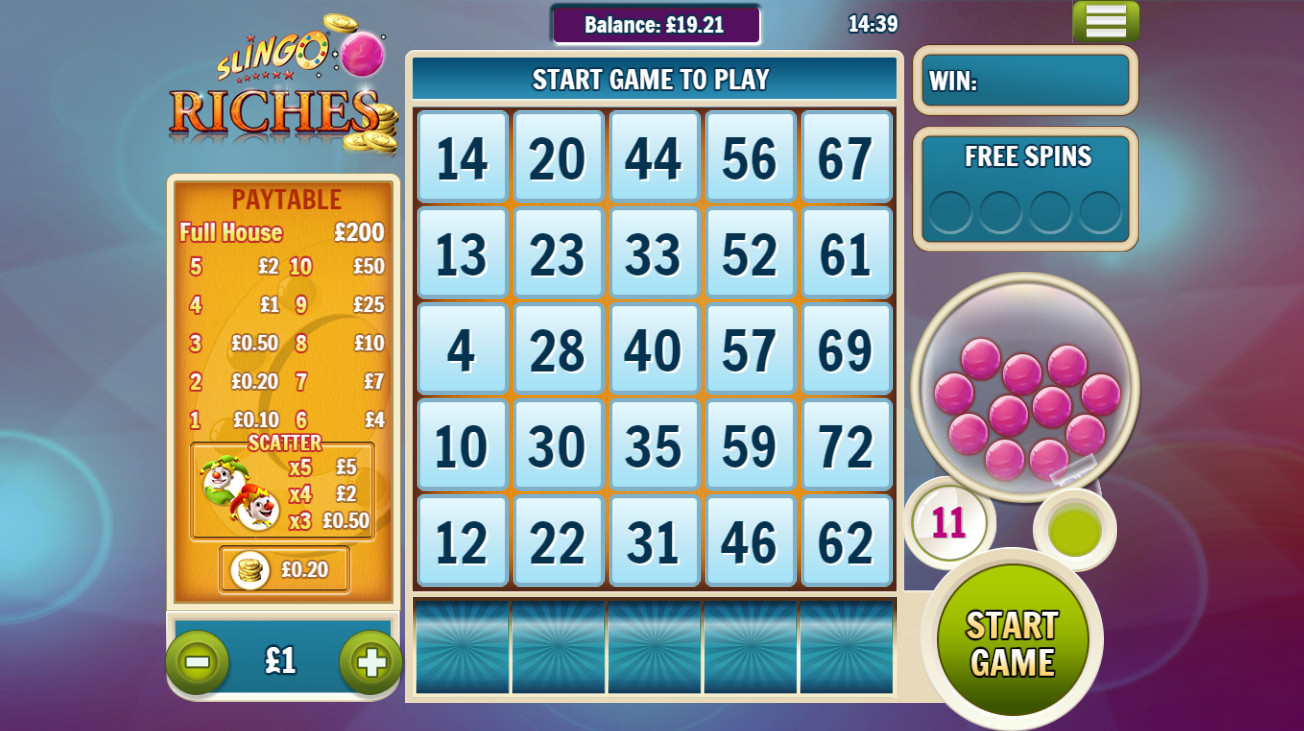 Slingo is a unique blend of bingo and slots. Most games are played on a 5x5 grid of numbers, similar to a bingo ticket. Below these numbers is a 5 reel slot. When you place a bet, these slots spin revealing numbers and symbols.
If a number matches a space on the grid, the area will be marked off. traditionally with a star icon. Marking 5 numbers vertically or horizontally in a row will award you with a Slingo. The more slingos you get in the game - the more significant your final prize.
Games like Slingo Rainbow Riches even feature bonus rounds for hitting a specific number of Slingos.
Step 1: Select your stake
Before you start aiming for that full house clear, you will need to first choose your total wager. Use the plus or minus buttons to change your stake - once you're ready, press "Start Game".
Top Tip: The size of your wager will also impact the price of extra balls later, so choose your bet wisely!
Step 2: Achieve as many Slingos as possible
On each bet, you will receive 10 Slingo balls (or games). With each spin, you will use a ball - which will spin the mini slot machine revealing various numbers or symbols. The aim of the game is to match as many numbers as you can before you run out of balls.
Top Tip: The slot machine can reveal wilds, which will allow you to mark a number of your choice. There are two types of wilds - and the differences are explained below.
Step 3: Buy more balls to complete extra Slingos
Once you have used up all your balls, you will be offered the opportunity to buy more. Purchasing extra slingo balls gives you a chance to cover the grid, allowing you to reach for that top prize or elusive bonus.
Top Tip: Buying extra balls can complete a winning puzzle - but the extra bets can become costly. Keep in mind that the fewer spaces left, the harder it will be to get the correct number/symbol.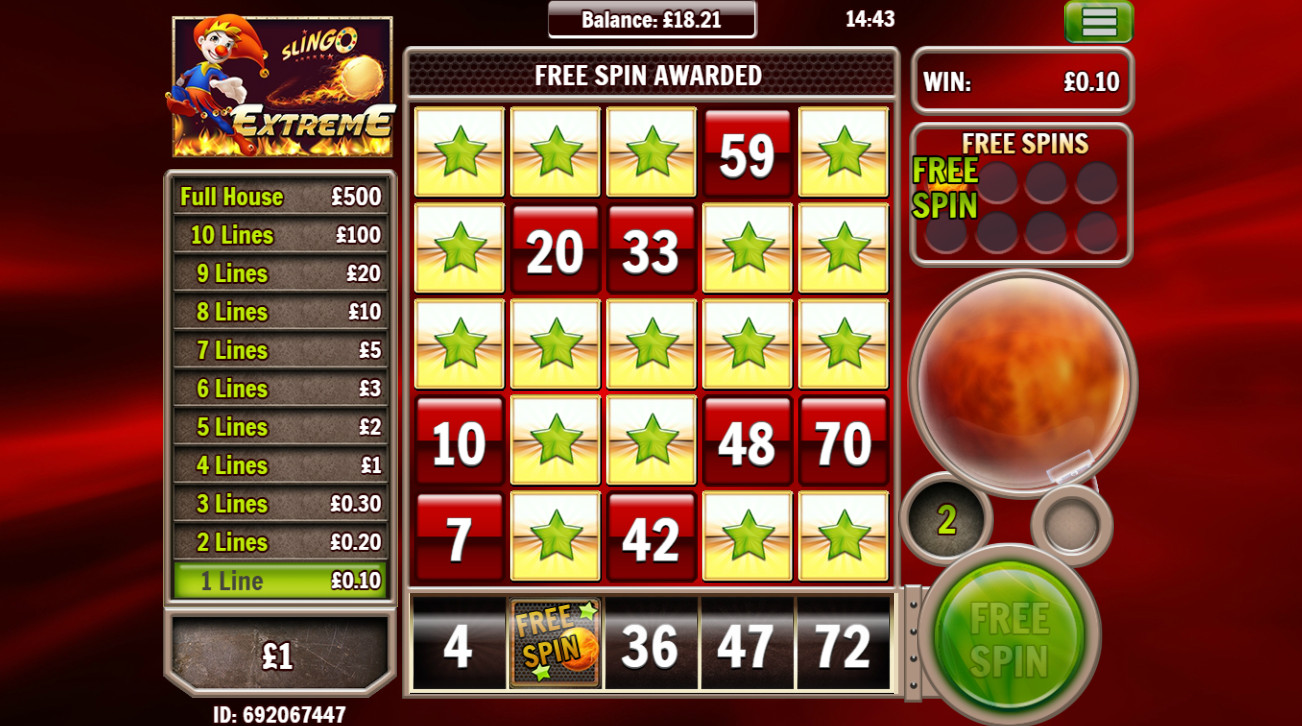 To win a Slingo game, you need to have the minimum number of line wins based on the paytable.
For a cash based slingo game (like Slingo Extreme) even one line is enough to win a cash prize.
For bonus style games you will need to hit a minimum number of slingos to trigger a bonus. For example in Slingo Rainbow Riches, you won't qualify for a cash prize if you hit less than 5 slingos.
What are the Slingo Symbols?
There are several familiar Slingo symbols that appear.
Joker: The wild that can mark any number on a line
Super Joker: A wild that can mark any number on the playing grid
Devil: A blocker symbol that takes the space of a number
Coin: Awards an instant cash prize
Free Spin: Gives you an extra free ball to make more slingos.
Slingo Tips and Tricks
Here are some of the best tips for playing Slingo:
In the event of a wild, always mark a number that will result in the most slingos. The more numbers marked off the grid, the bigger your chances of receiving a significant prize.
Related to the above, you should always try to fill the middle spot as it is worth 4 slingos
It's best to purchase extra slingo balls if you are very close to the next tier of prize
Be careful when purchasing extra balls, especially on the final areas of the grid - these can be pretty expensive
Best Slingo Slot Games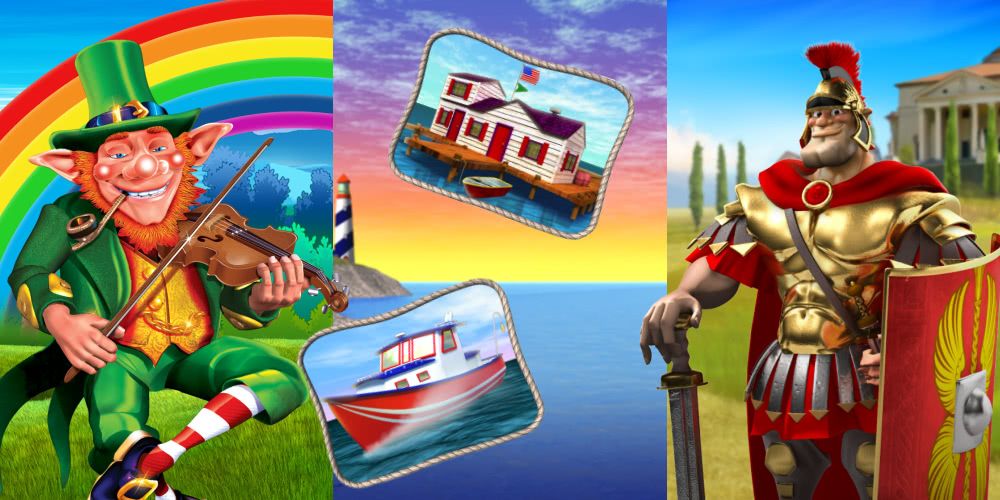 Slingo games come in all sorts of flavours - ranging from original games to titles based on popular slots. Here's a selection of the best games you can play:
Bless your lucky charms with this lucky Irish Slingo game! Based on the famous slot Rainbow Riches, this game comes with all your favourite bonuses including the Wishing Well Pick, Pot of Gold Bonus and the Road to Riches.
Take a trip to the sandy beach and load up on the lobsters - this game comes with jackpot overlays and even bonus spins on slot machine style reels - juicy!
Witness the mighty of the Roman empire... slingo style! All of your favourite features return for some serious Winnus Maximus. Hit all spaces on the 5x5 game grid to win the Wild Power Spins, giving you a chance to win with a solid 3x3 block of wild shields!
FAQ
Can I win real money on Slingo?
Yes, Slingo is a real money casino game - but there are also social versions which won't pay out real cash.
Where can I play Slingo?
Right here at MrQ - we offer all your favourite slingo games, with all winnings paid as real cash.
What is the best Slingo?
Slingo Rainbow Riches remains one of the most popular due to the fun uplifting Irish theme and the vast range of bonuses.