About Frog Grog
What's going on? We're in a laboratory in an old house, where there lies all manner of different potions and a huge cauldron featuring a questionable yellow liquid. Take everything in, from the tense, mysterious music to the empty bird cages hanging from the ceiling and the dimly-lit candles illuminating the room.
There's an almost CGI-like quality to the graphics in this Thunderkick slot, and a lot of bright, glowing colours as we can barely even begin to imagine what's being made in this puzzling location. There's no need to ask so many questions, however, as you're sure to find out in good time. Just relax and embrace the wonders of Frog Grog.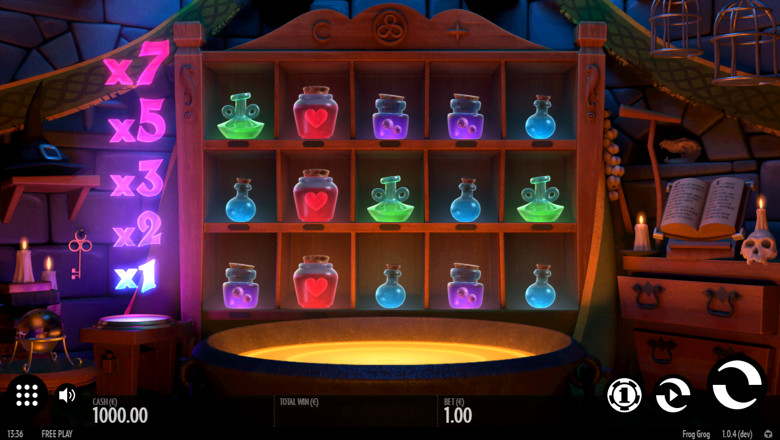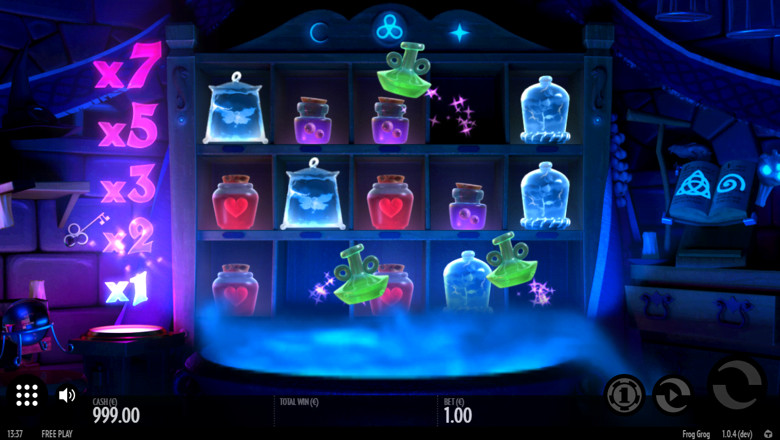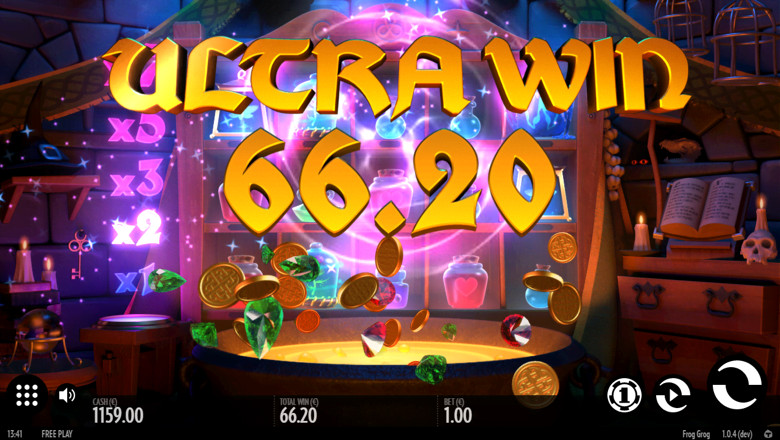 How to play Frog Grog
The shelving unit containing these otherworldly potions doubles up as our playboard, and there are 5 reels, each with 3 potions - 23 paylines might seem like an odd number, but there's a fair few chances to win here. There are only 6 different regular symbols here, all potions at varying stages of progress. The Blue symbol is the least valuable, paying a maximum of £2 from a £1 bet, but they gradually increase in value until you get to the Moth symbol, which looks like it's almost finished developing - you could get £10 from a £1 bet, but only if you match 5 of them!
When symbols form part of a winning pay line, they'll be replaced with new symbols thanks to the Dropping Symbols feature, and each time that happens, the Multiplier will increase one step up to x7; think of all the chances to win you'll be offered here!
Pay table symbols (based on a £1 stake)
Blue bottle
Green bottle
Purple bottle
Red bottle
Flower
Butterfly
Bonus symbols
Bonus features
Although there aren't any Scatter symbols anywhere in Frog Grog, you might get the chance to have a go on the Mystery Game. It'll sometimes trigger randomly when there aren't any more symbols to be dropped on the reels - all symbols apart from the Moth, the Flower and the Wild Frog will be removed, and they will award wins as per the pay table, up to a symbol count of 5. Once the Mystery Game ends, the Multiplier will increase one step for each Mystery Game win too, so even when you're back on the base game you can get some big wins!