Halloween is just around the corner and it's time for the ghosts and ghouls of slots to take the moon-drenched spotlight. Draw the curtains, turn off the lights, and be ready for frights that excite with our top 10 Halloween slots for you to get your fangs around.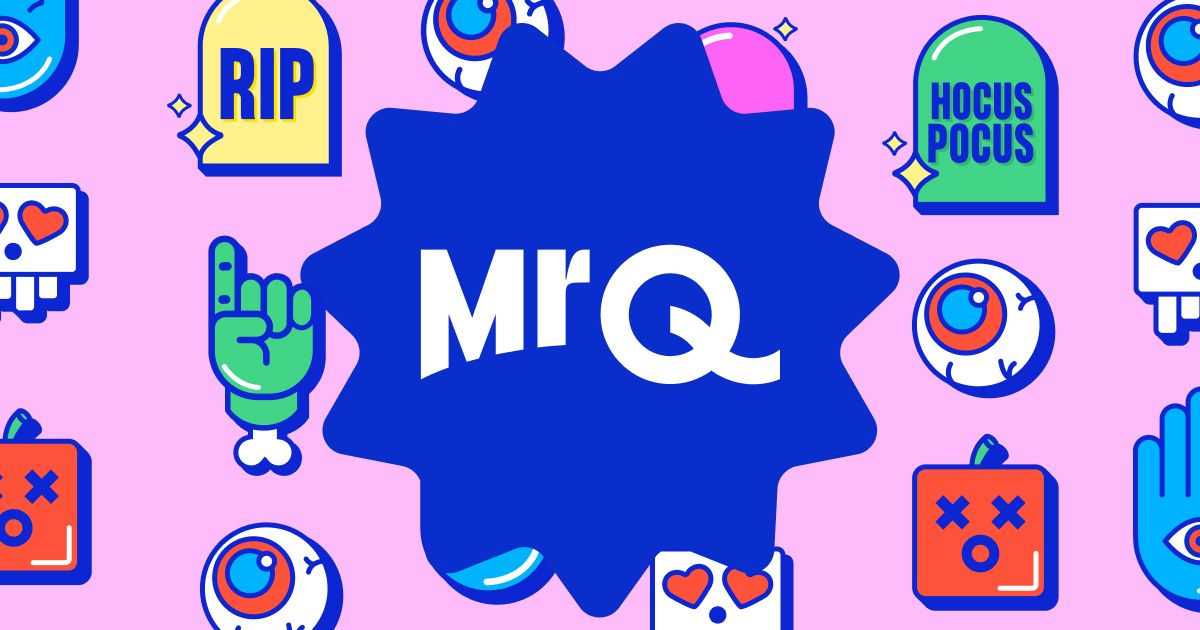 You can find all of the top Halloween slots on MrQ.com
Top 10 Halloween Slots
#1 Mental
Enter the asylum, if you dare, and unlock the horrors of its sinister past. The spirits that haunt the halls don't take kindly to your snooping but, if you play your spins right, they just might let you go with more than you bargained for. Survive the haunted halls, uncover the true secrets of its tortured former residents, and make it out with up to 66,666x your total bet in prizes. 
Mental Bonus Features
Mental Transform- Spider symbols can appear on reels 2 and 4 and transform symbols into 1 of 5 gruesome symbols. Split your symbols for double the wins, turn into a Dead Patient Wild, or a high-paying Dead Patient symbol. 
Mental Free Spins- Unlock the ultimate nightmare in the free spins mode with enough bonus features to drive you mad. Collect Dead Patient symbols during the mode and activate increasing multipliers applied to all wins involving the Patient symbol. 
#2 Curse of the Werewolf Megaways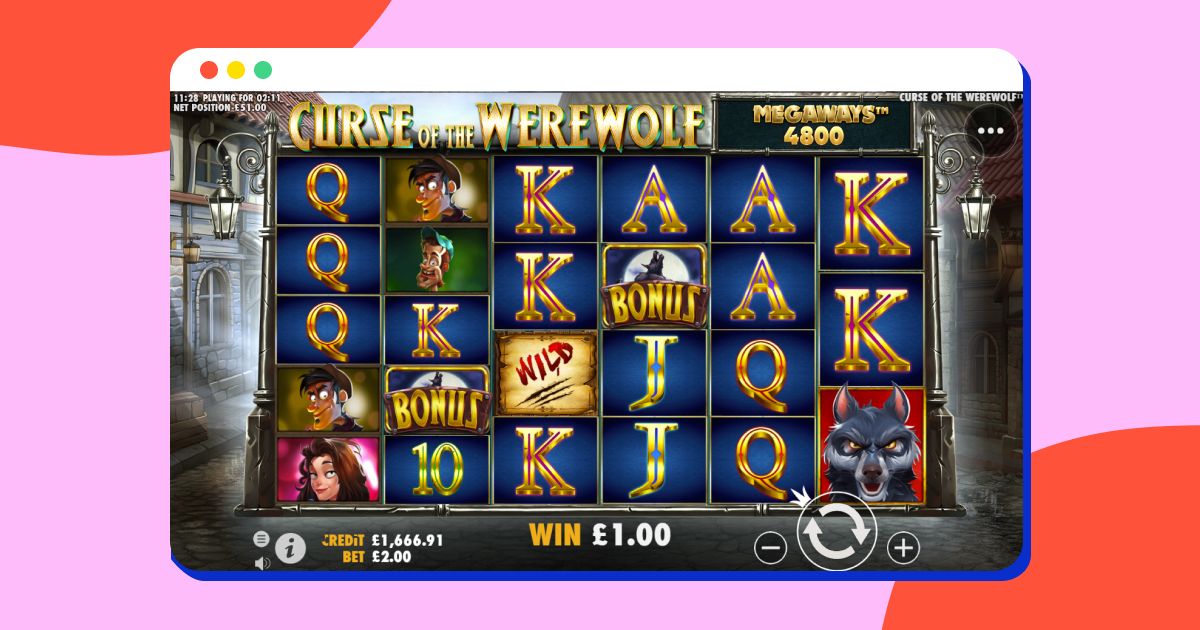 Curse of the Werewolf Megaways features over 46,000+ ways to win
Bark at the moon on the moonlit streets and watch out for the hulking beast of night. Featuring up to 46,656 ways to win on any spin and up to 7 symbols per reel, this promises to be a Werewolf hunt worthy of legend. Slay the beast or get in touch with your inner monster and achieve howling wins of up to 40,000x your total bet. 
Curse of the Werewolf Megaways Bonus Features
Super Spin- During play, a mob of high-paying symbols can appear and stack up on the reels. Alternatively, the crowd can line up for a guaranteed high-symbol win on the reels. 
Free Spins- Activate the free spins mode and watch out for a Werewolf attack! Each character symbol will be given 1-5 lives to fend off the night and, if they lose all their lives, the inner beast will be unleashed with that character transforming into a Werewolf symbol for the rest of the free spins mode. 
#3 Book of Shadows
Brush up on the occult and polish off a few chapters of the most haunted tale around. Open up the devilish Book of Shadows and reveal the evils that lie in the fog including the sinister free spins mode. Gamble with your wins for the chance to double the value to bag up to 30,000x your total bet in cash prizes. 
Book of Shadows Bonus Features
Free Spins- The free spins mode has the chance to possess a payline symbol and unleash its hidden powers. When you are close to a win, the chosen symbol will expand to cover the entire reel to assist with your wins. 
Gamble- After any win, you can choose to gamble the value for the chance to double it. Select from Red or Black and, if you are correct, your win is doubled. This can be played multiple times until you press Collect or are incorrect. 
#4 Slingo X-Scream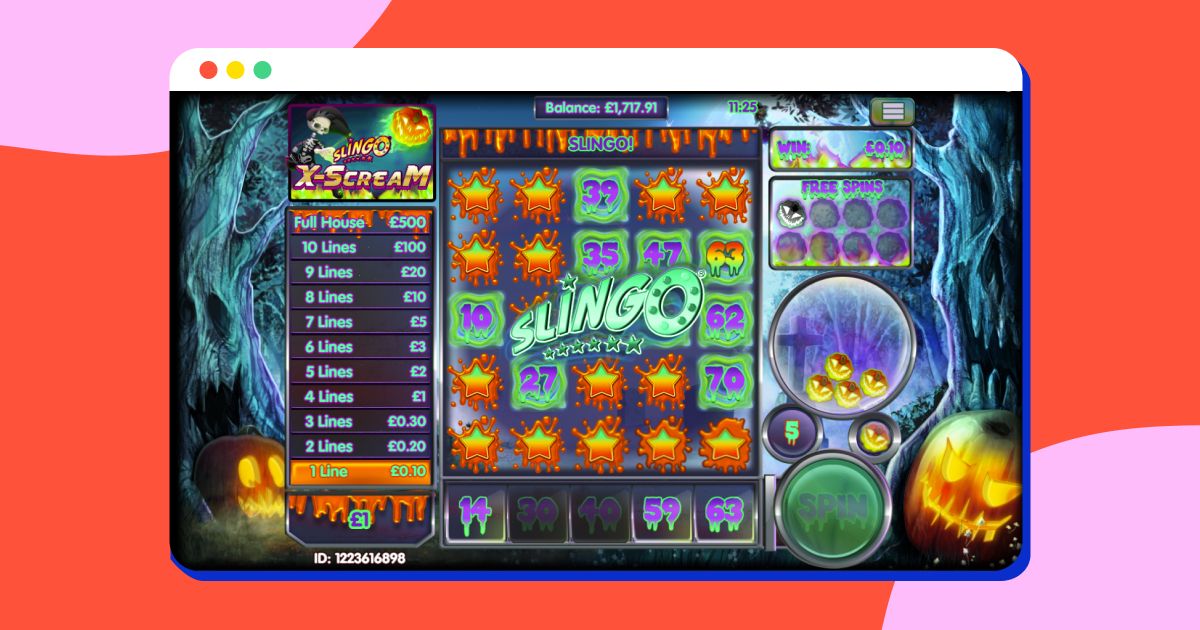 Create Slingo lines to take home spooky cash prizes
Slingo just got scarier with glowing lanterns, blood splatters, and creepy skeletons covering the reels. Enter the haunted graveyard and create lines on the Slingo board to work your way up the ladder of ghostly prizes. Keep your eyes peeled for hidden treasures that can award instant cash prizes on your travels.
Slingo X-Scream Bonus Features
Instant Cash Coins- During play, special golden Coin symbols can appear on the reels and award an instant cash prize. On a £1 bet, Coin symbols can award an instant prize of 20p with up to 5 Coins available on the reels on any spin. 
Wild/Super Wild Instant Prizes- Matching 3 or more ghoulish Wild or Super Wild symbols on the reels in the same spin triggers an instant cash prize. Fill the reels with up to 5 for the maximum prize of 5x your total bet. 
#5 Wild Walker
The dead have risen and it's up to you to get out alive. The dead are nipping at your heels as the stacked zombie Wild will cover one of the active reels and roam around on every spin (don't get too close). Get your hands on up to 4,900x your total bet in cash prizes, before the armies of the dead get their hands on you. 
Wild Walker Bonus Features
Roaming Wild- On every spin, a stacked Wild symbol will be present on the reels and substitute for any paytable symbols in a line win. The Wild has a chance to switch to a different reel on any spin. 
Free Spins- During the free spins mode, collecting special Bonus symbols will upgrade the free spins mode and add up to 3 extra reels to bag wins across. With more space, comes more of the undead, as up to 4 stacked Wild symbols are available to add to the 8 available reels and help create even bigger wins. 
#6 Immortal Romance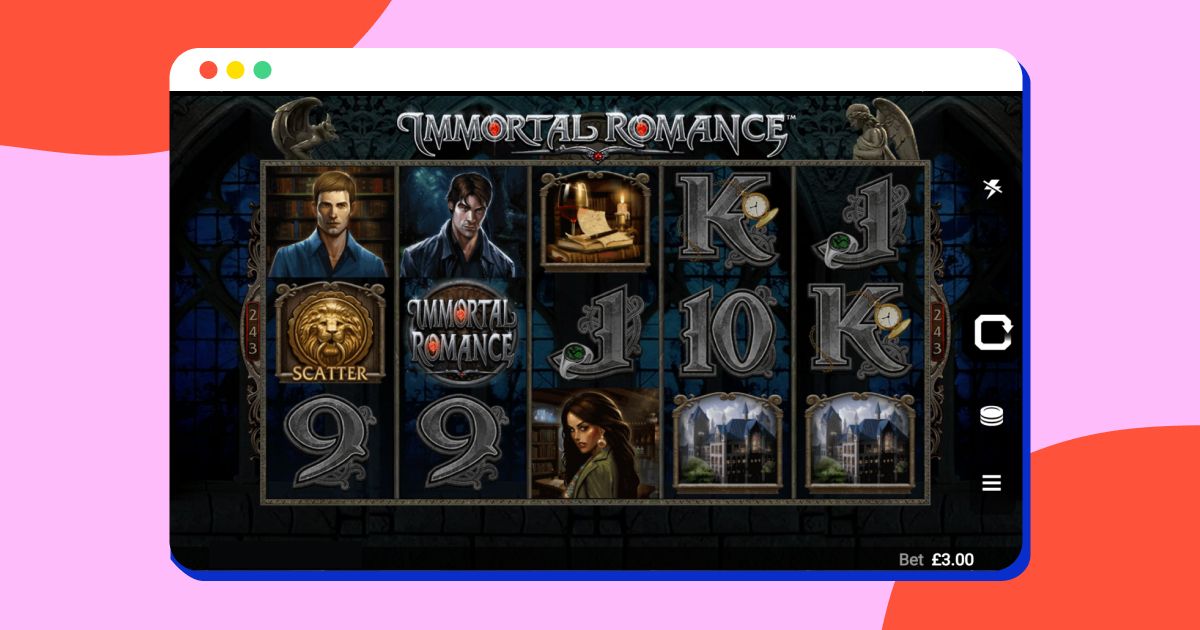 Sink your fangs into Immortal Romance with up to 4 bonus games
Join the children of the night and sink your teeth into a slot adventure in the glint of twilight. Join the creepy cast of vampiric characters who each have their own unique bonus game. Join the brood and bag yourself over 12,000x your total bet in delicious cash prizes. 
Immortal Romance Bonus Features
Wild Desire- On any spin, the reels can become possessed by their inner bloodlust and turn up to 5 reels Wild. A Wild reel will substitute for any paytable symbol in a winning line. 
Chamber of Spins- Activating the free spins mode unleashed the Chamber of Spins with up to 4 unlockable character bonus games. Retrigger the feature to unlock each bonus game including Amber's 5x win multiplier, Troy's transforming symbols that can add up to a 6x multiplier, Michael's gargantuan 20 free spins, and Sarah's di-vine growing vine symbol that will wrap around symbols and transform them into Wilds. 
#7 Alive! Megaways
It's alive! Join the mad scientist as he brings his latest and greatest creations to life. Become the star of a monster movie brought to life featuring the mad scientist, helpless damsel, and the hulking bolt-necked monster himself. Discover over 200,000+ ways to win and bag electrifying prizes. 
Alive! Megaways Bonus Features
Free Spins- A doctor's work never ends and, in the free spins mode, neither does the multipliers. Add 1x to the total win multiplier for every cascading win that can increase to an unlimited number. 
Must Win Jackpots- There's no need to jump when these jackpots appear as you have a chance to trigger juicy Must Win Jackpots on any spin. Spin at any bet level and bag progressive jackpot prizes that are sure to put 20-volts of excitement in your spook-tastic adventure. 
#8 Reel Spooky King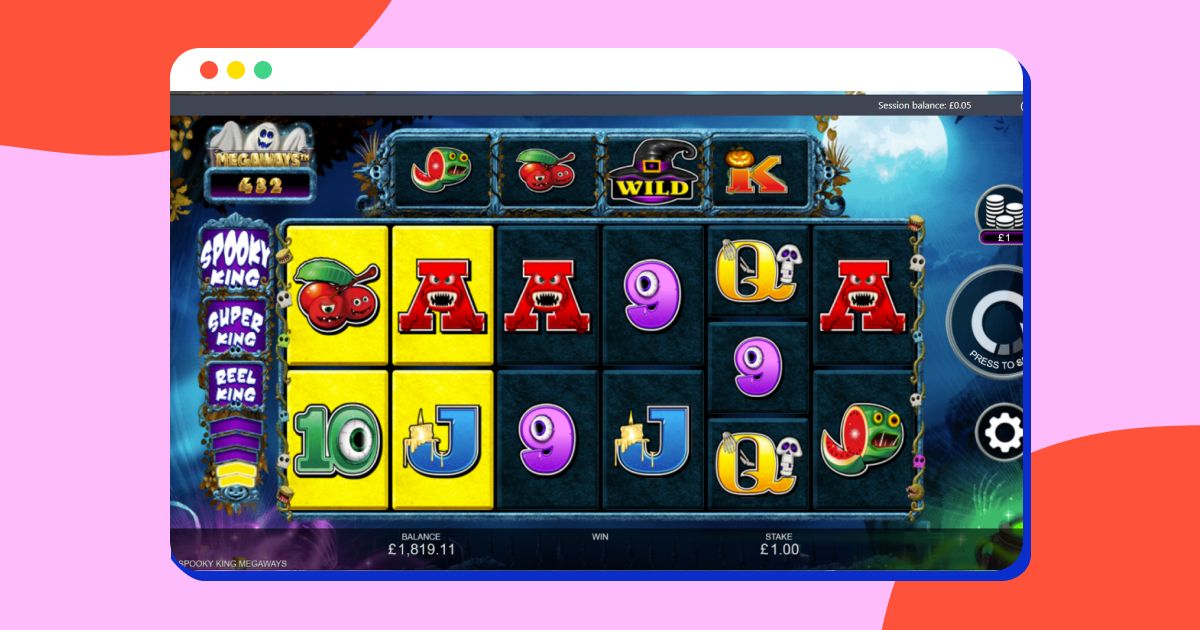 Make your Reel King adventure horrific with up to 117,649 Megaways paylines to create wins 
The Reel King is back with a spooky new makeover befitting the ghostly occasion. Along with his new ghostly form, the Reel King has brought monstrous Megaways paylines of up to 117,649 ways to win. Light up the night (and the reels) and bag up to £125,000 in creepy cash prizes. 
Reel Spooky King Bonus Features
Spooky Trail- Light up all 6 of the available reels for the ultimate terror-ific bonus game. Cause multiple cascades to upgrade up to 2 additional times to have up to 6 Reel Spooky King symbols appear. Each Spooky King will spin its reels and if 3 reels light up, you move along the trail. If a Spooky King does not light up, it will be taken by the night until no more Kings remain. Land on a trail space for cash prizes or to unlock the freaky free spins mode. 
Free Spins- During free spins, each cascading win will increase the total win multiplier by 1x. Each cascade will also light up the reels with 6 lights summoning the Spooky King to award additional free spins or add 3x to the total multiplier. 
#9 Castle of Terror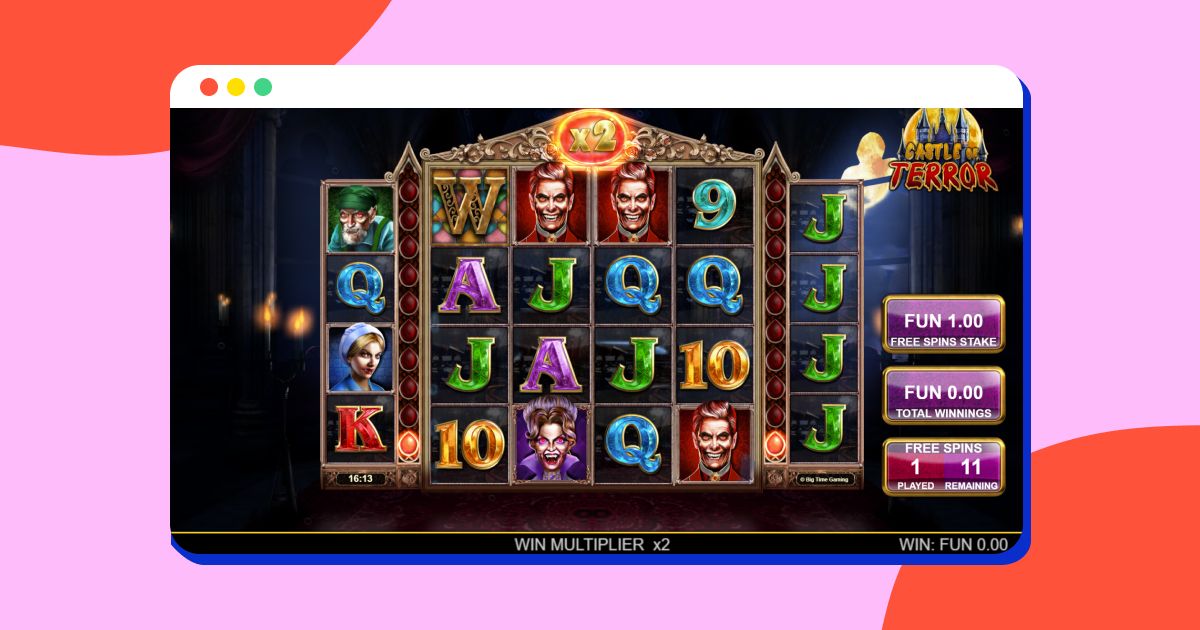 Transform character symbols into Wilds with cleansing Holy Water
Embark on a horrifying slot adventure that's more than meets the eye. The bright countryside hides many secrets and its suspicious residents hide even more. Activate the free spins mode to reveal the true fear that awaits and purge the night with Holy Water to escape with your life.
Castle of Terror Bonus Features
Holy Water Transform- On any spin, Holy Water can be cast on the reels and, if it hits a character symbol, it will replace them with a Wild symbol. Before burning away, their true monstrous form is revealed. 
Free Spins- During the free spins mode, Holy Water is active on every spin and cover multiple spaces on the reel. For every creature of the night slain on the reels, the win multiplier is increased by 1x with additional spins revealed for every time the multiplier adds 20x to its total value. 
#10 Fat Drac
Drac is back and he's had more than his fill of tasty blood. Give the prince of darkness a feast fit for a king and expand him up to a 5x5 giant symbol on the reels. Triple size the terror of Transylvania and escape the grounds with up to 50,000x your total bet
Fat Drac Bonus Features
Coffin Pick- When a Coffin symbol appears on the reels, the Coffin Pick feature activates and awards 1 pick for each Coffin. Choose from a number of creepy Coffins and crack them open to reveal instant cash prizes, free spins, or special Goblet symbols that Fat Drac will guzzle down before expanding. 
Free Spins- During the free spins mode, Fat Drac will make his presence known on the reels as 2x2 sized Wild symbol. Discover special Goblet symbols and watch as Fat Drac expands with the more blood he chugs down. Supersize the prince of darkness up to a 5x5 Wild symbol that will substitute for any paytable symbol and award up to 11 additional free spins. 
Halloween Slot RTPs & Max Wins
| Game Name | Provider | RTP(%) | Max Win (X) |
| --- | --- | --- | --- |
| Reel Spooky King Megaways | Inspired | 95.56% | Up to £125,000 |
| Curse of the Werewolf Megaways | Pragmatic Play | 96.50% | 40,000x |
| Mental | NoLimit City | 96.08% | 66,666x |
| Book of Shadows | NoLimit City | 96.19% | 30,338x |
| Slingo X-Scream | Slingo | 95% | 500x |
| Wild Walker | Pragmatic Play | 94.53% | 4,900x |
| Immortal Romance | Games Global | 96.86% | 12,150x |
| Alive! Megaways | Skywind | 96.51% | 200,000x |
| Castle of Terror | Big Time Gaming | 96.72% | 61,720x |
| Fat Drac | Push Gaming | 96.57% | 50,000x |
| Tricks and Treats | Red Tiger | 95.73% | 1,696.8x |
| Cossacks: The Wild Hunt | Games Global | 96.19% | 10,000x |
How to play Top Halloween Slots
Ready to get your claws on some spook-tacular slots? Follow these simple steps to join the scares this Halloween season:
Select your game of choice from the MrQ lobby
Set your bet value and press spin to play
Match symbols along the reels to trigger a payline win for real cash prizes
Each game contains its own set of bonus features that can be activated randomly or by discovering special Scatter/Bonus symbols 
Some games also contain a Wild symbol that can substitute for any paytable symbol in a winning combination
Top Tips for Halloween Slots
Shop Around- Every slot is a different beast so find which slots click best with you. Whether you prefer light-hearted scares or are looking for something a little more sinister; there's a slot for all tastes. 
Master your Fears- Slots come in all kinds of gruesome shapes and sizes including Megaways and Slingo. Find the style that works best for you and become a master of the rules of the specific slot type to maximise your experience.  
Get in the Spirit- Draw the curtains, light some candles, or just boot up your favourite spooky playlist and immerse yourself in some truly terrifying slots. 
Set Limits- Above all else, keep it fun, and don't spend more than you are comfortable with. If you need a helping hand with setting limits on your account, check out our range of Safer Gambling Tools for more info
FAQ
---
What Halloween slot has the highest RTP?
The Halloween slot with the highest RTP is Immortal Romance with an RTP of 96.86%. For every £10 bet, the average return to player is £9.68 based on long periods of play.
---
What Halloween slot has the highest max win?
The Halloween slot with the highest maximum potential win is Alive! Megaways with a max win of 200,000x your total bet.
---
Can I win real cash playing Halloween Slots?
All of the spooky slots available on MrQ are real money games where winnings can be withdrawn for real cash prizes.
---
What is Slingo X-Scream?
Slingo X-Scream is the premiere Halloween game from Slingo. Spin the reels and match up ghostly numbers on the Slingo board to win real cash prizes including up to 500x your total bet.
---
Can I play Halloween Slots on mobile?
Bring your ghosts and ghouls on the go as all of our range of fantastically frightening slots are fully compatible on all mobile devices. Sign up to MrQ today and win real cash prizes on over 900 real money mobile slots and casino games.
---