About The Rift
Do you dare to play The Rift? This Thunderkick slot taps into the recent popularity of supernatural horror with a dark, foreboding atmosphere as you vye to keep yourself - and the symbols - away from the deadly Rift. Throughout the game, and particularly when you spin, there's an uneasy bluesy guitar riff which will keep you on the edge of your seat, and dimly-lit graphics of a cobbled street with blurred street lights.
The bonus features are what you've come to expect from Thunderkick, but with the added extra of Rift Spins. They might not be as sacred as their Free Spin cousins, but can definitely give you a helping hand. Don't be scared - come right up to The Rift and play. You won't fall in, we promise...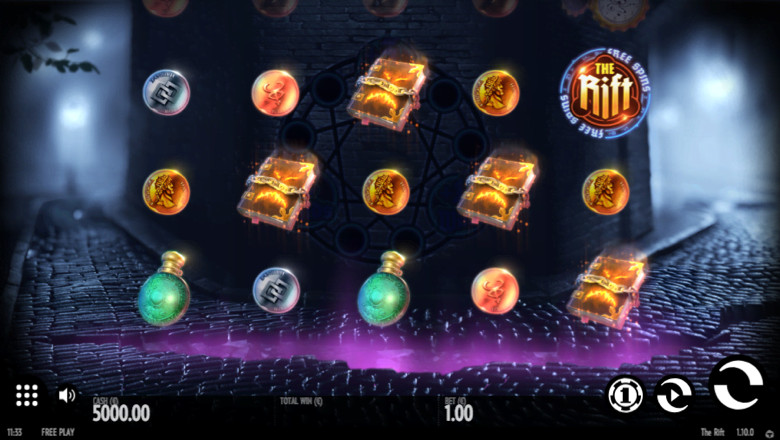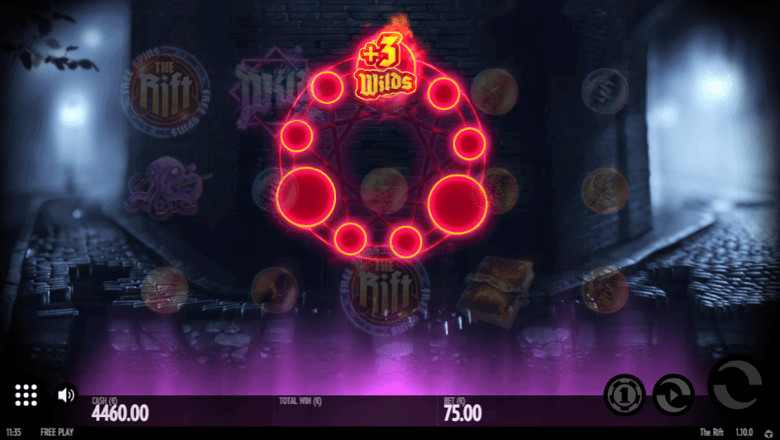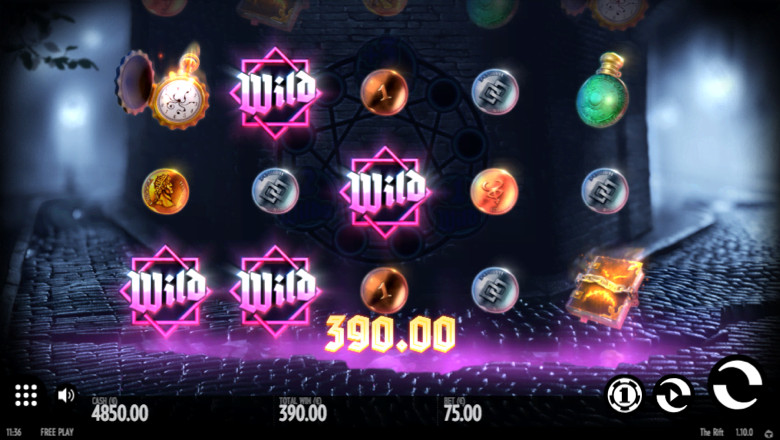 How to play The Rift
You might get a little confused by the coin symbols at first, as there are four of them to keep an eye on, all with varying values. Despite being the least valuable of the symbols, they can pay out some respectable sums, awarding you up to £6 from a £1 spin. The other symbols are a little different too, with books and potion bottles giving a clear vibe of the paranormal.
Wild symbols can substitute all regular symbols too, and if you match 5 will pay out at the same level as the highest-value regular symbol. With 17 paylines, you have chances to win here, but for the best success you'll be hoping to reach the bonus features.
Pay table symbols (based on a £1 stake)
Dark bronze coin
Light bronze coin
Silver coin
Gold coin
Green vial
Octopus
Pocket watch
Book
Bonus symbols
Wild
Bonus symbol
Sticky Wild
Bonus features
The Bonus symbols are a great help in this game, and you don't have to reach down and risk falling into the rift to get them - they can just pop up on your spins! Should you find 2, you'll get a chance to play the Rift Spin, a feature unique to this slot, When the Rift Spin is triggered, all Wild symbols not already on winning paylines will become sticky, while a maximum of 3 extra Sticky Wilds will also join the board. These don't appear in the base game - just in the bonus rounds, where they remain either until the end of the round, or until they form part of a winning payline.
If a Rift Spin just isn't enough, you can get Free Spins too! 3 Bonus symbols give you 10, 4 give you 15, and 5 give you 20. Any additional Bonus symbols will get you another 5 Free Spins too. When a Bonus symbol appears on the reels, it activates 1 step on the Rift seal until it gets filled. Once every third step is triggered, you'll be granted 2 additional Free Spins, with an extra Sticky Wild on each remaining spin of the bonus game too. It's almost worth falling into the Rift for!