About Birds On A Wire
What do you get when you cross 15 birds with 3 power lines? Birds On A Wire, of course! This Thunderkick slot is full of fun, cartoony graphics and a bouncy backing track, getting you ready to find out which birds are going to cross your path.
Of course, they wouldn't be on a wire without a bit of electricity, and this game has some electrifying features you'll really feel the buzz of! Dropping Symbols (we thought birds could fly?) and High Voltage Multipliers give a little bit of tension, while you're sure to love the Inwinity Spin if you're lucky enough to get to it - stick your beak in and give this one a go!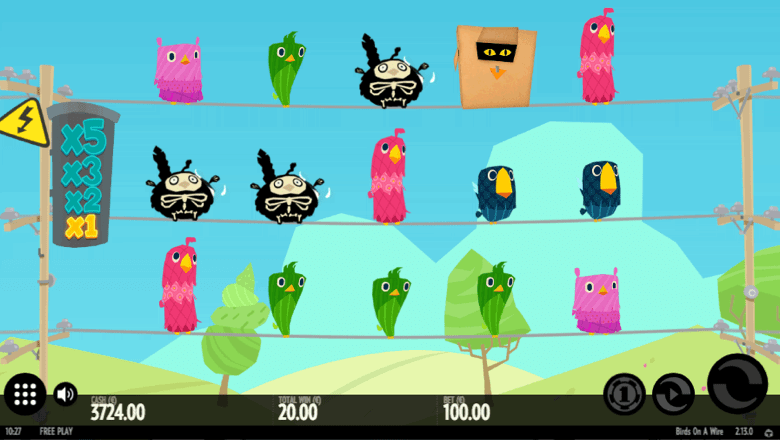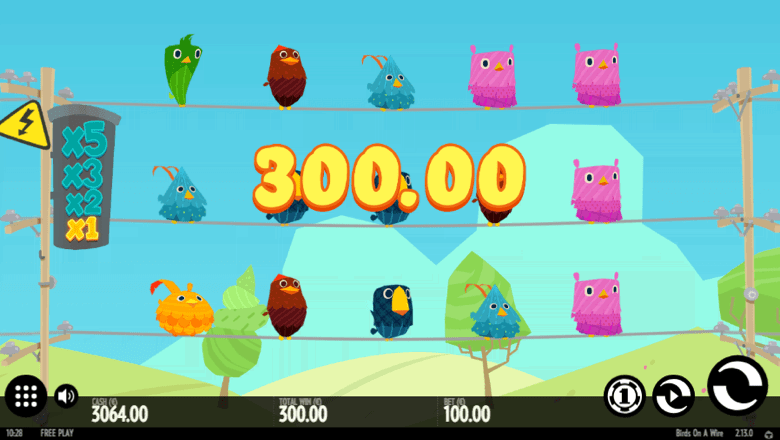 How to play Birds On A Wire
Here, we have 5 reels, each with 3 symbols, and all birds are sitting contently on power lines. When you win by matching symbols along one of the 17 paylines, they'll be replaced by symbols dropping down, or new symbols swooping in from above, so you'll continue to get your avian fix. If you win on through Dropping Symbols, the Multiplier will increase by a level, going up to 5x on the base game at 20x on Free Spins.
All symbols here are different coloured birds, as is the Wild symbol, which pays out if you get 5 on a line but also substitutes for the other paying symbols. Sounds simple enough, right? Just wait until you hear about the bonus features!
Pay table symbols (based on a £1 stake)
Dark Blue Bird
Tall Pink Bird
Round Orange bird
Light Blue Bird
Green Bird
Small Pink Bird
Brown Bird
Bonus symbols
Bonus features
The Bonus symbol is a little different, and looks suspiciously like a cat pretending to be a bird - you'll see what we mean when you give it a spin. Just find 3 or more of these symbols and you'll activate the Bonus Game, starting at 10 Free Spins. Want any more Free Spins? You'll have to get even more Bonus symbols, as each one gives you 2 more, up to a maximum of 20 Free Spins!
As we said earlier, the Multipliers are larger in the Bonus Game too, so you could be in line for a big win. If you win 5 times in a row on the same spin, all your winnings are multiplied by a huge 20x! Last but not least, don't forget about the Inwinity Wire feature - it's activated when all Free Spins in a Bonus Game have been played, and it'll allow you to keep spinning until you win something - isn't that generous?