About Beavis and Butt-head
Based on the cult tv show, Beavis and Butthead indulge in their favourite pastime, glued to the big screen. They aren't afraid to take risks, no matter what the consequences. The more dangerous the better for these two tabasco swilling delinquent teens. Blueprint gaming has resurrected this duo for those of us who have been missing the show, perfectly capturing the show's original artstyle in the process. During play the duo interact with the slots as they watch them cascade on their own TV. The remote control is used to to award bonus multipliers or features, as does the odd snigger or two.
Beavis and Butthead's 'Bonus Stuff - Kick Ass - feature' yields more than the already generous free spins. During the spins, tokens are collected for extra prizes, but the super spins token is the one to look out for! With one of these goodies, spin the wheel to win one of 6 bonuses that give you even more chances to win big! To enhance your enjoyment, the game is accompanied by the trademark piano synthesia. All the old familiar characters are true to the original show, you feel among friends as the ivories tinkle away in the background. Don't be a buzzkill, fans of the duo will not be disappointed.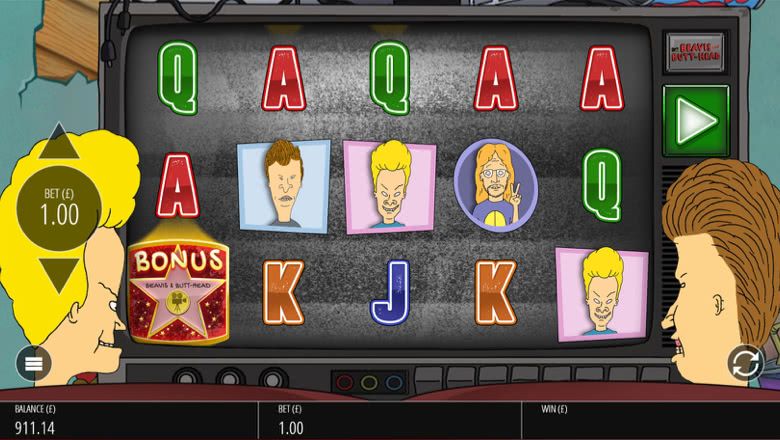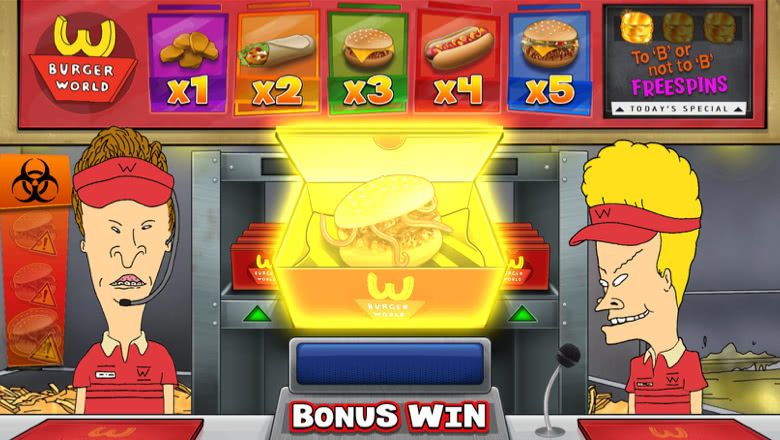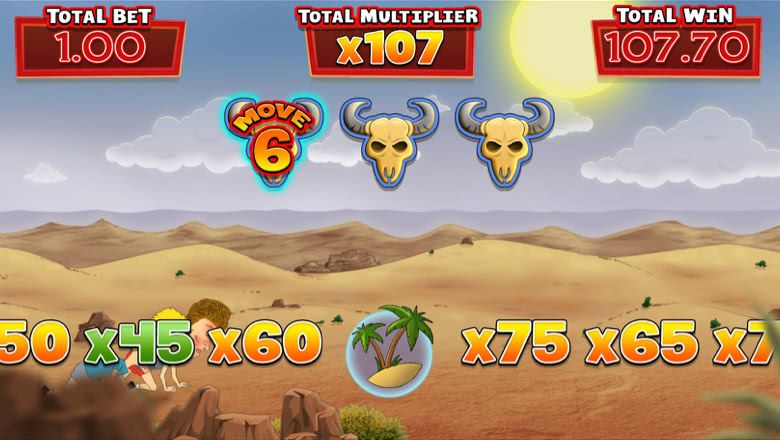 How to play Beavis and Butt-head
The game begins when you hit the green play button built into the television set. Each spin has the opportunity to activate one of the game's many bonus features or modifiers. It's time to celebrate when the piano music is momentarily interrupted by a congratulatory electric guitar solo!
You'd think Beavis and Butthead wouldn't want to see their teachers in the game. But Mr Van Driessen and Principal McVicker can produce exceptional results. Perhaps, the lads are enjoying making them dizzy on the fast spins. Although we think they are just making themselves dizzy, as reel five cascades at a fast pace before their eyes.
Alongside the characters, there is a nice selection of wild symbols. Standard Wild, Fly Wild, Cornholio Wild, Colossal Wild, Beavis Wild, Butthead Wild, Maxi Gulp Wild. One of the two most valuable symbols in the game, it can be used to help form line wins by substituting other symbols. The other most valuable win is from the super stacked logo symbols.
Pay table symbols (based on a £1 stake)
Bonus symbols

Wild Substitutes every symbol except scatter symbols or bonus symbols.

Scatter 3 or more symbols to activate the bonus feature.
Bonus features
The boy's behaviour is truly wild during this game. If the teens start to snigger you may have activated a Couch Your Cash Modifier.
Die Fly, Die! - Time for Beavis and Butthead to swat that pesky fly on the TV. Any symbol they touch with the swatter will turn into a wild.
Cornholio Wilds - Cornholio Colossal appears on the screen to award some fully stacked Wild Reels. Some potentially big bucks here.
Colossal Couch Fishing - Only Butthead would mess with a fishing rod while watching TV. But as he can use it to catch mega symbols we can let this one go. If he happens to cast his line into the TV chances of winning are increased if he bags himself a 3X3 reel.
So Nacho! - Butthead has always been a messy eater! If he opens his Nachos they will explode all over the TV covering symbols and transforming them. They will transform into matching symbols increasing the chances of a win.
Butt Flambe - Beavis chugs a bottle of hot sauce which explodes across the reels. Cheekily, his burning butt can set fire to the symbols increasing the chances of a win.
Some Like it Hot - After daring each other to chug hot sauce they will burp fire onto the reels. Big win alert!
Sofa Slugfest - Butthead is at it with that rod again. But this time if he catches Beavis's hair with it, he will go flying across the reels knocking out symbols for a guaranteed big win.
Change the Channel - After a spin Butthead can choose to change the channel, the reels will re-spin and settle nicely on a winning combination.
Grab yourself 3 or more bonus symbols to activate the bonus feature. During the bonus feature free spin tokens can be accumulated in order to play for extra prizes. The Super Spins token opens up a choice of 6 other mini spin games to choose from. One of which is to take a gamble all the way to 'Just Desserts, Big Money'. Beavis and Butthead can trigger a reel upgrade during any spin. Not often they're found doing something nice for anyone!