About Beavis and Butthead
Beavis and Butthead are back and still glued to the TV in this slot adventure. Spin the reels and entertain the lazy duo by matching up some of the iconic characters from the show including Beavis and Butthead themselves. Tackle with their usual hijinks as they change channels, drop bundles of cheesy nachos, and set the reels on fire to bring chaotic bonus features to your slots game.
Beavis and Butthead's 'Bonus Stuff - Kick Ass - feature' yields more than the already generous free spins. During the spins, tokens are collected for extra prizes, but the super spins token is the one to look out for. With one of these goodies, spin the wheel to win one of 6 bonuses that give you even more chances to win big.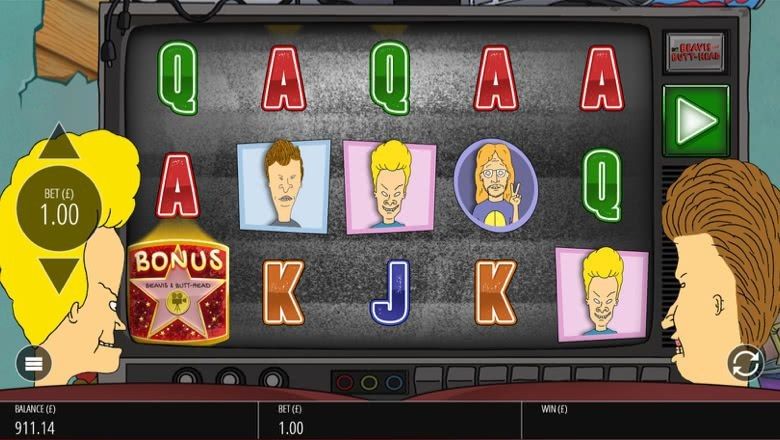 How to play Beavis and Butthead
Choose your bet level and press the spin button on the TV to start
Match up 3 or more 'really cool' symbols along the 20 available paylines to win
Discover Scatter symbols to activate free spins mode
Activate one of 8 modifiers randomly on any spin
Pay table symbols
Bonus symbols

Wild Substitutes every symbol except scatter symbols or bonus symbols.

Scatter 3 or more symbols to activate the bonus feature.
Bonus features
The boy's behaviour is truly wild during this game. If the teens start to snigger you may have activated a Couch Your Cash Modifier. These modifiers include:
Die Fly, Die! - Time for Beavis and Butthead to swat that pesky fly on the TV. Any symbol they touch with the swatter will turn into a wild.
Cornholio Wilds - Cornholio Colossal appears on the screen to award some fully stacked Wild Reels.
Colossal Couch Fishing - Only Butthead would mess with a fishing rod while watching TV. But as he can use it to catch mega symbols we can let this one go. If he happens to cast his line into the TV chances of winning are increased if he bags himself a 3X3 reel.
So Nacho! - Butthead has always been a messy eater! If he opens his Nachos they will explode all over the TV covering symbols and transforming them. They will transform into matching symbols increasing the chances of a win.
Butt Flambe - Beavis chugs a bottle of hot sauce which explodes across the reels. Cheekily, his burning butt can set fire to the symbols increasing the chances of a win.
Some Like it Hot - After daring each other to chug hot sauce they will burp fire onto the reels. Big win alert!
Sofa Slugfest - Butthead is at it with that rod again. But this time if he catches Beavis's hair with it, he will go flying across the reels knocking out symbols for a guaranteed big win.
Change the Channel - After a spin Butthead can choose to change the channel, the reels will re-spin and settle nicely on a winning combination.
Free spins- Grab yourself 3 or more bonus symbols to activate the bonus feature. During the bonus feature free spin tokens can be accumulated in order to play for extra prizes. The Super Spins token opens up a choice of 6 other mini spin games to choose from. One of which is to take a gamble all the way to 'Just Desserts, Big Money'. Spin the wheel and unlock one of the free spins bonus features including:
Don't Be a Buzzkill- Choose from Beavis or Butthead to reveal either a cash prize or a Buzzkill token that will be added to a filling bar. If the bar is filled, then the feature ends. Accumulate multiple cash rewards before the Buzzkill bar is filled. If the megaphone sounds, then you've unlocked an extra chance to spin again and pick from the other 5 available features.
Customers Suck!- Select a food box to reveal an icon. Each icon is matched to a different bet multiplier and will be applied to the total win when found. Finding the upgrade symbol in a box will upgrade all of the potential multipliers for each food item. Watch out for Beavis and Butthead's disgusting signature dish as discovering 3 Worm Burgers will end the feature.
To 'B' or Not to 'B' Free Spins- Free spins are awarded and, on every spin, either the Beavis or Butthead symbols can be transformed into Wilds. Overlays will also appear on the reels and have the chance to unlock up to 3 Super Spins or immediately unlock the Just Deserts bonus feature. If Super Spins is activated, both the Beavis and Butthead symbols will be turned into Wilds for the duration of the mode.
Maxi Mart Free Spins- Free spins are awarded and the special Maxi Gulp Wild will be unlocked. During the feature, if a Maxi Gulp Wild lands, it will re-trigger all previously landed Maxi Gulp Wilds to create big wins. Overlays can also appear on symbols that can trigger up to 3 additional Super Spins or immediately transport you to the Just Deserts bonus game. If Super Spins are activated, then all landed Maxi Gulp Wilds will re-appear and stick to the reels for the duration of the feature.
Super Cornholio Free Spins- Free spins are awarded with Cornholio randomly turning reels into expanding Wilds. Overlay symbols will also appear on the reels and will award either extra free spins or have the chance to instantly activate the Just Deserts bonus feature.
Just Deserts- Pick an icon to advance the duo along the desert path. Reach an Oasis space to reveal a mystery prize value. If you make it to the end of the trail, you will get the chance to pick a Super Big Money multiplier that will be applied to the total feature wins.
FAQ
---
Can I activate free spins on Beavis and Butthead?
Free spins can be awarded for landing 3 or more Scatter symbols on the reels which will activate the bonus game.
---
How do I activate Couch your Cash bonus feature?
The Couch your Cash bonus feature can activate on any random spin adn apply 1 of 8 awesome features including random wilds and entirely new reels.
---
What is the RTP for Beavis and Butthead?
The RTP for Beavis and Butthead is 95.49%. For every £10 bet, the average return to player is £9.54 based on long periods of play.
---
Can I play Beavis and Butthead slot on mobile?
Beavis and Butthead is fully compatible with all smartphone devices meaning you spin with the troublesome duo wherever you are. Sign up to MrQ and play all of the top slots from Blueprint on the go.
---