About Free Bet Blackjack
Bring the excitement of the casino to your favourite devices with Free Bet Blackjack from Evolution. Featuring a live dealer and up to 4 awesome side bets, this is more than your average game of Blackjack. Draw your cards and tussle with the dealer and you get as close as possible to that all-important 21. Double your chances on any pair or supercharge your current bet with the free bet Split and Double features that can let you double your current bet for no additional cost.
That's not all that Freebet Blackjack has to offer as there are 4 new side bets to heat up the action. Gain an extra prize on any pair, win on a dealer hot hand, or gain additional prizes for busting the dealer with increasing payouts for every additional card the dealer busted on. Side bets can be activated as well as your main bets meaning you have the chance to maximise your Blackjack game with a variety of winning combinations.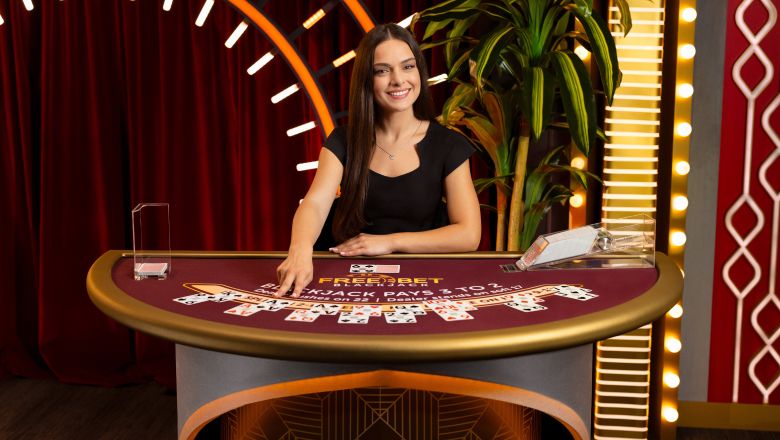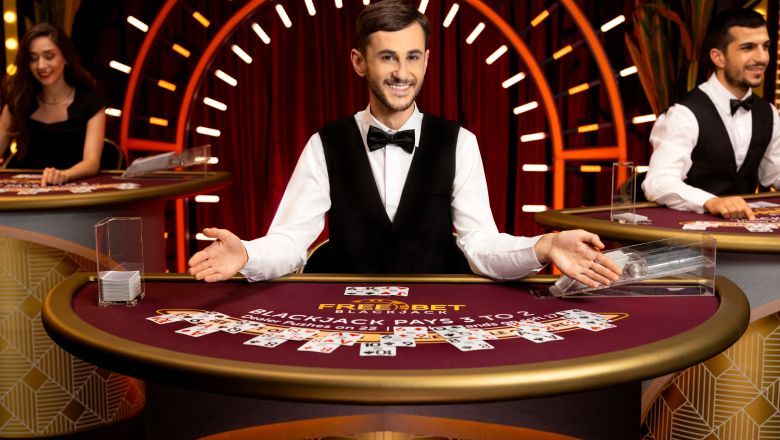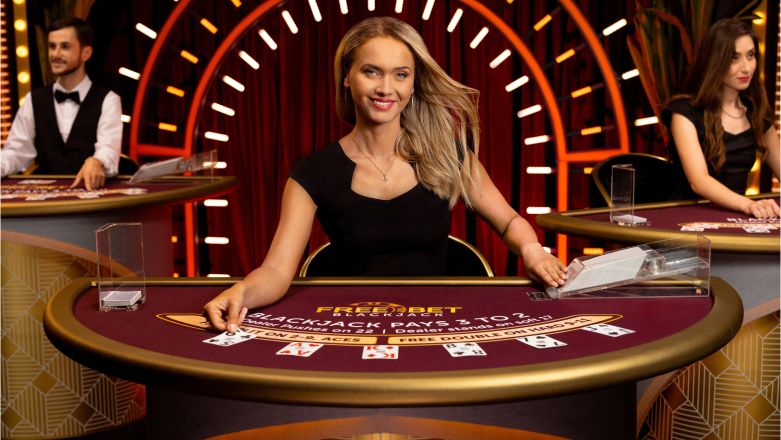 How to play Free Bet Blackjack
The goal of Free Bet Blackjack is to have a hand value closer to 21 than the dealer without going over. Here's how the game works:
Choose your chip size and press bet in the designated betting period
The dealer will draw 2 cards for the player and themselves
Choose whether to stand, hit, double, or split (if you have pairs)
When a Split or Double is active they can be activated for no additional cost on the initial bet
The dealer will now carry out the player hand actions and do the same for their hand
The side closest to 21 without going over wins the round and winnings are paid based on the bet ratio of the hand
Going over 21 will bust the hand and the round will end immediately with the other side instantly winning
Bonus features
Free Bets- When your two-card hand has been distributed, you are given the options to activate 1 of 2 different free bet features. These are:
Free Double- On every hand, you have the choice to select the Free Double feature which will add an additional 100% to your current bet at no additional cost. If you win the round, then you bag the Double bet value as real cash prizes. This feature only applies to hand values with a total of 9, 10, or 11.
Free Split- If your 2-card hand is a pair of the same value, you can select the Free Split feature to split your 2 cards into individual hands. This will mean that each card of the pair will be treated as its own individual hand and the current bet will be duplicated on the second hand for no additional cost. You win for each hand that successfully beats the dealer. This feature does not apply to pairs that are 10-K value.
Free Bet Blackjack Side Bets
On any game round, you can play the following side bets - giving you extra chances to win:
21+3- A classic side bet where you wager on the dealers up card and your own two cards. If the three cards form a poker combination, you win the bet.
Any Pair- If your first two cards are a match - you win the bet, with the highest prizes paid for exact pairs.
Hot 3- If the dealer has a hot hand then you can still bag a juicy win. A total of 19, 20, 21, suited 21 or a 7-7-7 combo all pays out with up to 100:1 available to win.
Bust It- If the dealer busts on 3 cards or more,ypu can bag a bonus prize. The more cards the bust on, the bigger the winnings up to a total of 250:1 for a bust on 8.
Free Bet Blackjack Payouts & Odds
| Bet | Outcome | Payout |
| --- | --- | --- |
| Any Pair | Suited, Pair Pair | 25:1, 8:1 |
| 21+3 | Suited Trips, Straight Flush, Three of a Kind, Straight Flush | 100:1, 40:1 ,30:1, 10:1, 5:1 |
| Hot 3 | 7-7-7, Total 21 suited, Total 21 unsuited, Total 20, Total 19 | 100:1, 20:1, 4:1, 2:1, 1:1 |
| Bust It | Bust with 8+ cards, Bust with 7 cards, Bust with 6 cards, Bust with 5 cards, Bust with 4 cards, Bust with 3 cards | 250:1, 100:1, 50:1, 9:1, 2:1, 1:1 |
FAQ
---
What is the Free Bet Blackjack RTP?
The RTP for 98.45%. For every £10 bet, the average return to player is £9.84 based on long periods of play.
---
How do I activate free bets?
After the initial two cards are drawn, you are given the chance to activate the free double feature which will add an additional 100% bet for no additional cost. The free split feature can also be activated when you have 2 cards of the same type in your hand.
---
What bet has the highest potential payout?
A successful Bust It bet featuring 8 or more cards awards the highest potential payout of 250:1 meaning a return of £250 on a £1 bet.
---
Can I play Free Bet Blackjack on mobile?
Hit the table whenever you like as Free Bet Blackjack is fully compatible on all mobile devices. Sign up to MrQ today and play over 900 real money mobile slots and top live casino games.
---