About Crazy Time
Join the excitement and take home some crazy prizes with the Crazy Time live casino game by Evolution. Place your bets, spin the wheel with the real dealer, and win some stunning real cash prizes! Activate the special bonus games to increase the fun with up to 4 unique games including Pachinko, Shooting Range, and the ultimate Crazy Time wheel. When we say it's a crazy time, we ain't lying!
Crazy Time is a live money wheel game similar to some of Evolution's other thrilling money wheel games like Monopoly Live and Dream Catcher. Crazy Time sets itself apart from the pack with its variety of exciting carnival-style bonus games including shooting galleries, coin flips, and special Pachinko multiplier games. Land on the super special Crazy Time bonus game to be transported to a stunning virtual world and spin the multiplier wheel to earn mouth-watering real cash rewards.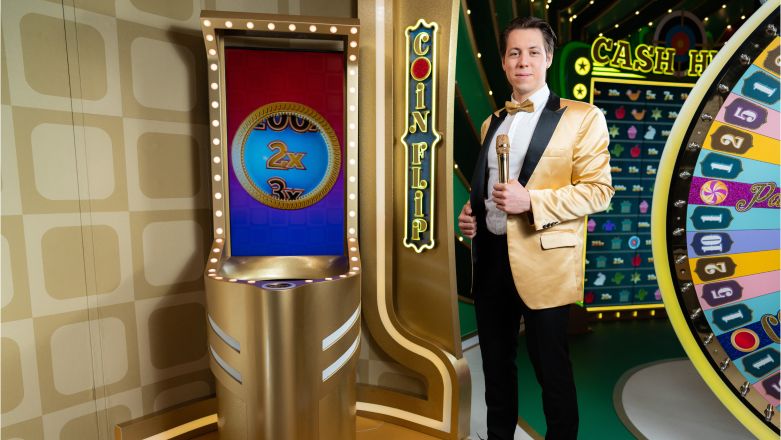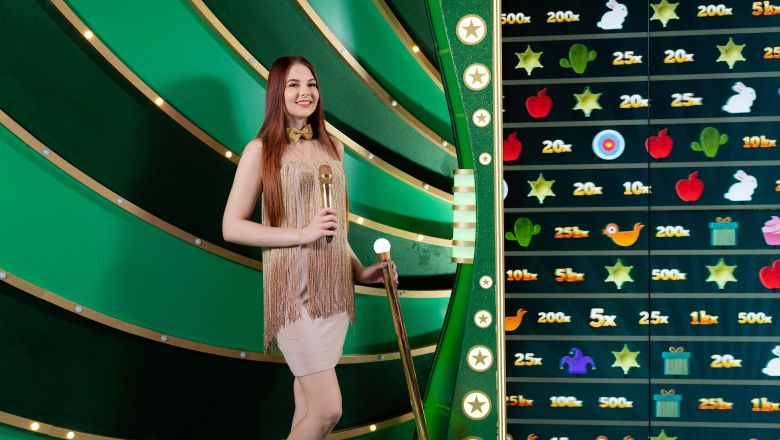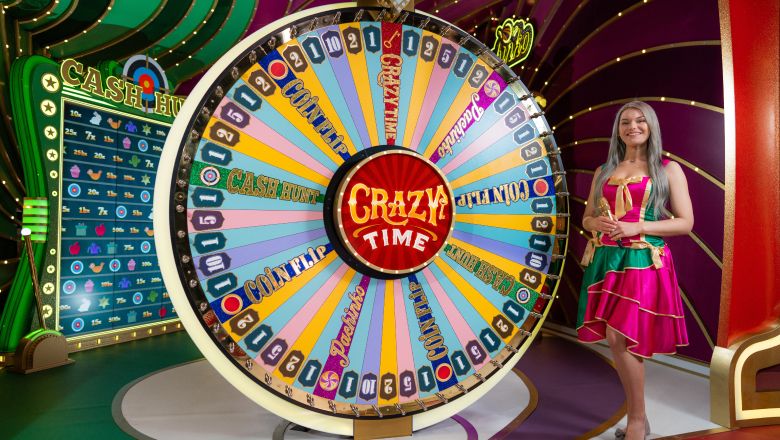 How to play Crazy Time
Choose your total chip size in the betting window
Place your chips on single number bets
Once bets close, the dealer will spin the Crazy Time wheel
The Top Slot will now spin a random segment and multiplier prizes
Special Cash Hunt, Coin Flip, Pachinko, and Crazy Time spaces will award one of 4 bonus games
If the wheel stops on a bet on number, then you win real cash prizes
How to Win Crazy Time
The way to win in Crazy Time is to successfully predict the correct segment that the coloured wheel will land on at the end of a spin. There are a number of different segments relating to different bets with the 1 space having the highest number of available segments at 21 and a payout of 1:1. 10 has the lowest number of segments for an instant cash prize space with just 4 and a payout of 10:1.
As well as standard cash prize spaces, Crazy Time also features up to 4 stunning bonus games that have the chance of activating on any spin. Each of the 4 bonus games can be played as long as a bet is placed on their space when activated and all have a max potential prize of £125,000.
Bonus features
Top Slot- When the betting timer comes to an end, the two reels above the wheel will spin - revealing a random multiplier prize and a wheel segment. If the wheel lands on the highlighted segment, any prizes will receive the extra multiplier - this multiplier also boosts the value of any bonus games.
Bonus Games- To be eligible for a bonus game, simply place your bet on the feature of your choice. If the wheel lands on your bet bonus, you get to take part in the bonus! You can bet on all four bonuses at once, giving you extra chances to win a crazy cash prize. The available games are:
| Bonus Game | Description |
| --- | --- |
| Cash Hunt | Behind each symbol is the chance of adding a delicious multiplier bonus to your total winnings. Pick from one of the available 108 symbols, take aim, and reveal the secret bonus hidden behind. |
| Coin Flip | multiplier values are added to both sides of the coin (red/blue) and the coin is flipped to decide which multiplier is applied to all winnings for that round. |
| Pachinko | The puck is dropped into the large Pachinko board and the multiplier space it lands on at the bottom will apply to all winnings for that round. If the puck lands in a double space then all multiplier values are doubled and the puck is dropped again. |
| Crazy Time | Enter a virtual world, pick your colour on the Crazy Time wheel, and spin the wheel with the push of the big red button. The wheel is covered in multipliers and whichever colour lands, the multiplier on that space will be applied to all winnings. Land on the Double or Triple space and all multipliers will be increased 2x-3x and a re-spin will be awarded on the wheel. |
Crazy Time Payouts & Odds
| Bet Type | Number of Segments | Payout Ratio |
| --- | --- | --- |
| 1 | 21 | 1:1 |
| 2 | 13 | 2:1 |
| 5 | 7 | 5:1 |
| 10 | 4 | 10:1 |
| Cash Hunt | 2 | Up to £125,000 |
| Coin Flip | 4 | Up to £125,000 |
| Pachinko | 2 | Up to £125,000 |
| Crazy Time | 1 | Up to £125,000 |
FAQ
---
How do I win on Crazy Time?
In Crazy Time, you win by placing a successful bet on one of the 8 potential bets and having the wheel land on the numbered space. Each space pays at a different payout ratio with 10 paying out the highest single number bet at 10:1.
---
Can you win real money on Crazy Time?
Yes, you can! All of the Evolution live casino games, including Crazy Time, are real money games where winnings can be deposited and withdrawn for real cash.
---
How many bonuses are in Crazy Time?
There are four bonus in Crazy Time: Cash Hunt, Coin Flip, Pachinko and the mega money Crazy Time.
---
What is the max win on Crazy Time?
Max single number bet win for Crazy Time is £25,000 for betting on the number 10 at 10:1. Highest potential bonus game winnings cap at a maximum of £125,000!
---
What is the RTP for Crazy Time?
The RTP for Crazy time is between 94.33%-96.08%. Highest single bet RTP is the number 1 with an RTP of 96.08%
---
Can I play Crazy Time on mobile?
Have every day crazy as Crazy Time can be enjoyed from anywhere on your favourite mobile devices. Sign up to MrQ today and play authentic live casino game show games with all winnings paid in cash.
---