About Jack in the Box
The circus is here, and you might be able to come away with a prize! This Pariplay slot incorporates every sight and sound of a day at the circus, with cartoon graphics showing friendly animals and exciting tents as the sun goes down after a long day. With Jack in the Box, nothing is ever as it seems - look out for the ? symbols which will magically turn into others, and enjoy the Bonus Game as you might win a cash prize or some Free Spins. There's so much to do at this circus, you're sure to feel like you're really there - you won't want to leave!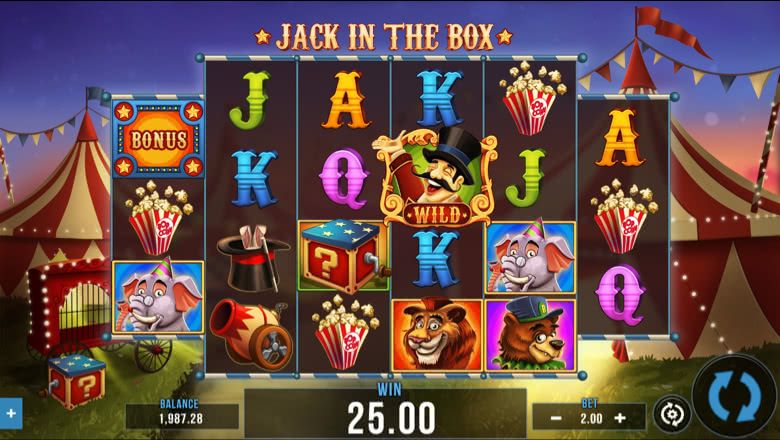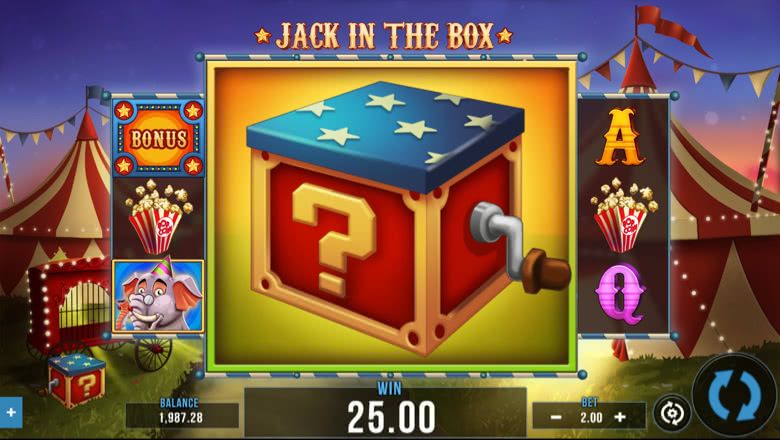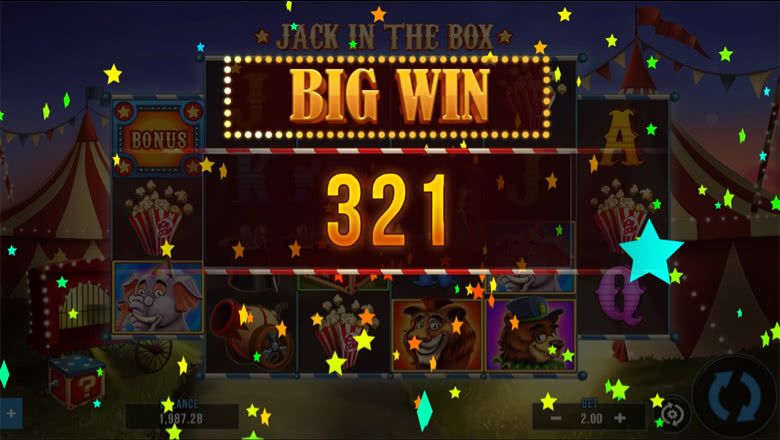 How to play Jack in the Box
100 paylines is not to be sniffed at. Although some of the symbols might not look too valuable at first glance, the sheer number of paylines give you numerous chances to win as each spin can conjure up more matching combinations that a magician has tricks! Look out for the animal symbols in particular, as these are the most valuable, excluding the Wild of course.
Speaking of the Wild symbol, it substitutes for all symbols apart from the Bonus symbol - as does the ? symbol. This symbol will turn into another symbol at random (excluding the Bonus symbol) when the reels have stopped. And if this wasn't enough excitement already, you might get a 4x4 Mega Symbol over the middle reels. How many wins will that give you?
Pay table symbols (based on a £1 stake)
Bonus symbols

Wild This symbol substitutes any other symbols in a payline apart from Bonus symbol

Bonus 2 on reels 1 and 6 triggers Bonus Game

? Symbol Turns into any symbol apart from Bonus symbol after reels stop
Bonus features
You came to the circus to win a prize, and a prize is what you might get! You just need to find 2 Bonus symbols on reels 1 and 6 to trigger the Bonus Game, where you'll be faced with a load of boxes - is Jack inside? Match 3 and you'll find out what your prize is. You might win a cash prize. Alternatively, there are a few different Free Spins packages available, from 10 Free Spins with x5 payouts to 20 with x2 payouts, played on lines 1 to 40. The jewel in the Free Spins crown is undoubtedly the Free Spins Bonus, which gets you a whopping 50 Free Spins, with each bonus win increasing the payouts multiplier by 1 for remaining wins.
If you really aren't clowning around, there's the Jack is on Fire prize too. Here, you get 7 Free Spins, but Jack locks Wild symbols in place and wins increase the payouts multiplier by 1 for remaining wins. Should you find a ? symbol anywhere on the reels, you'll get an extra Free Spin too. Make sure you arrive at the circus before it leaves, and see what you can win!