The game
You thought the free bingo rooms were just for new customers? Think again! Our Freedom room is open to all MrQ players, new and old! As long as you've made a deposit on the site before, you'll be able to take part in our free 90 ball bingo room whenever there's a game on.
How to play
It couldn't be simpler to join, simply claim your tickets in the Quick Buy section before the game starts. Remember, this is a free game of bingo, so there's no need to buy tickets!
When the game starts, bingo balls will start rolling in! Don't worry about missing a number, our auto dabber will mark off the numbers on the 3x9 grid ticket. Sit back, join the chat and enjoy the fun!
Your ticket should look something like this.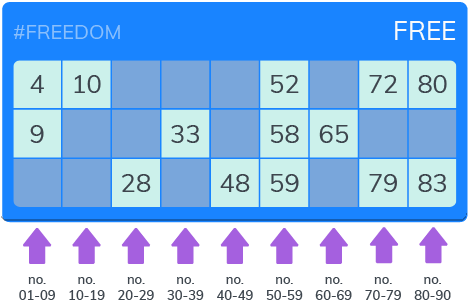 How to win
You have 3 chances to win a share of the Freedom jackpot: one line, two lines and a full house. If you're the first player to complete a line on a ticket, you'll win the first prize.
To win the two line prize, you must have all the numbers called on two lines of the same ticket and for a full house, you'll need to complete all the numbers on a single ticket.
Remember, if more than one player wins at the same time, the prize is shared equally.