What is Pinch a Penny Bingo?
Pinch a Penny Bingo is classic 90 ball bingo at its finest; no frills, just pure bingo fun. Join the excitement and play the best 90 ball bingo games at 1p per ticket! It's a bingo party every day at MrQ and everyone is invited.
You can join the fun at:
12pm-2pm & 6pm-10pm every day
How to play Pinch a Penny 90 ball bingo
Got a penny spare? Here's how you can play the top 90 ball bingo game today for just 1p:
Buy your 1p tickets from the lobby
The action start 12pm-2pm & 6pm-10pm
Match the numbers as they are called on your 3x9 ticket.
Balls are numbered 1-90 and are called out one by one. Don't worry about missing a number, our auto dabber will mark your cards for you.
Win stunning real money bingo prizes and be in the chance of turning pennies into pounds!
Here's what your ticket should look like: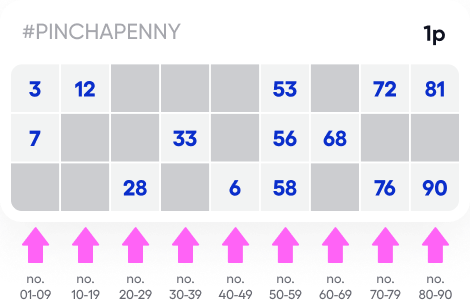 How to win 90 ball bingo
In 90 ball bingo, you usually have three chances to win: one line, two lines and a full house. If you're the first player to complete a line on a ticket, you'll win the first prize.
To win the two line prize, you must have all the numbers called on two lines of the same ticket and for a full house, you'll need to complete all the numbers on a single ticket.
Unlike the bingo hall, you won't need to call bingo, we'll do it for you! This way, you'll never miss a win.
FAQ
---
How do I win Pinch a Penny 90 ball 1p bingo?
To win Pinch a Penny 90 ball bingo, you need to make a line by scoring off called numbers. To win the jackpot, you need to be able to fill all of the numbers on the sheet as they are called out.
---
How much is a ticket for Pinch a Penny bingo?
You can purchase a ticket for Pinch a Penny bingo for just 1p! You read that right - cheap as chips bingo with real cash prizes.
---
Can I win real money playing 1p bingo?
Yes, you can! All of the bingo games available on MrQ are real money games where winnings can be withdrawn for real cash.
---
What is the jackpot for Pinch a Penny 1p bingo?
Pinch a Penny features a rollover jackpot that builds up and is added in each game until it is won. This means there is a chance of taking home some juicy jackpots for just 1p per ticket!
---
Can I play 1p 90 ball bingo on mobile?
Join the 90 ball bingo action and play for as little as 1p on all of your favourite iOS and Android mobile devices. Sign up to MrQ today and play for real cash prizes on bingo games available daily.
---