What is Cheap as Chips bingo?
Cheap as Chips bingo is classic 90 ball bingo with tickets for as little as 10p each. It's all that and a bag of chips at MrQ with real money prizes and a rollover jackpot that increases each game until it's won.
Join the fun at:
How to play Cheap as Chips 90 ball bingo
Here's how you can join the action today:
Buy your 10p tickets from the game lobby
The fun begins 7pm-11pm daily
Match the numbers as they are called on your 3x9 ticket.
Balls are numbered 1-90 and are called out one by one. Our handy auto dabber will track the numbers and mark your cards for you.
Win real cash prizes and be in with the chance of turning chips into cheddar
Here's what your ticket should look like: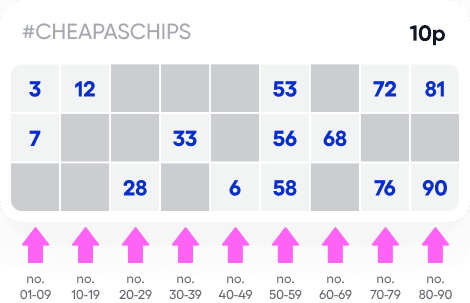 How to win 90 ball Bingo
90 ball bingo features three different chances to wi including one line, two lines and a full house.
If you're the first player to complete a line horizontally, vertically, or diagonally on a ticket, you'll win the one line prize. Two lines works the same way but, as the name suggests, you need to match 2 lines worth of called numbers.
For a full house, you'll need to complete all the numbered spaces on a single ticket.
Unlike the bingo hall, you won't need to call bingo as all winnings will be triggered automatically meaning you never miss a win.
FAQ
---
How do I win in 90 ball bingo?
The way to win in 90 ball bingo is to have the numbers on your ticket match the ones called out during the game. If the numbers called create a line vertically, horizontally, or diagonally on your ticket then you win. The full house prize can be won by having all numbered spaces on an individual ticket filled in a certain number of bingo calls.
---
Can I win real money playing Cheap as Chips bingo?
All of the bingo games available on MrQ are real money bingo where winnings can be withdrawn for cash.
---
How much is a ticket for Cheap as Chips bingo?
You can purchase tickets for Cheap as Chips bingo for just 10p each with the Quick Buy feature allowing you to purchase multiple tickets at once.
---
What is the jackpot for Cheap as Chips bingo?
Cheap as Chips features a rollover jackpot that builds up from each game until it is won. This means there is always a chance to bag some juicy jackpot prizes on any game.
---
Can I play Cheap as Chips on mobile?
No need to pop to the chip shop for some tasty bingo action as Cheap as Chips can be played on all of your favourite iOS and Android mobile devices. Sign up to MrQ today and play for daily rollover real cash prizes.
---