About Mega Ball
Bingo and lottery come together for the ultimate clash in Mega Ball. Mega Ball is a live original game show from Evolution that mixes the line matching mechanics of 90 Ball Bingo with the numbered ball machine of your favourite lottery drawings.
Purchase your tickets, watch as the 20 balls are revealed, and match lines on your Mega Ball ticket to win instant cash prizes.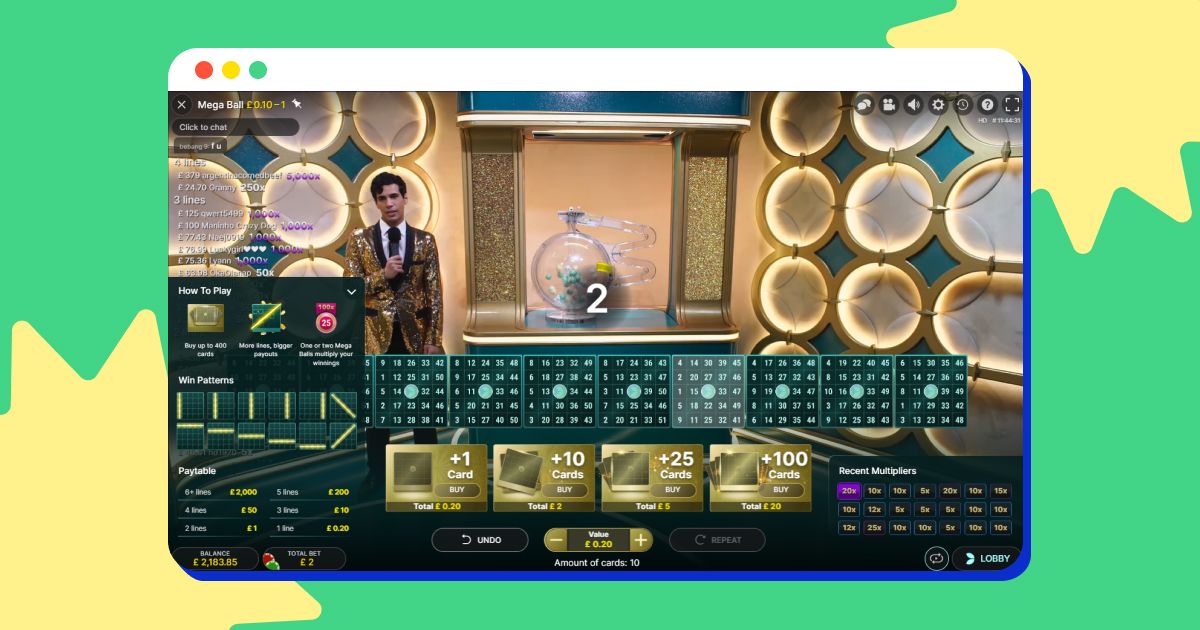 How to Play Mega Ball
Looking to join the Mega Ball action. It's as simple as following these easy steps:
Set your chip and purchase your Mega Ball tickets (you can purchase 1-400 tickets total)
Once the betting phase has ended, the game begins and the Mega Ball machine will start spinning
20 numbers will be revealed one at a time with matching numbers being crossed off on your purchased tickets
If you create a line of matched numbers vertically, horizontally or diagonally then you win a cash prize
Match multiple lines to increase your total prize value
Once all 20 numbers have been called, the Mega Ball multiplier wheel is spun to reveal a multiplier 5x-100x
The Mega Ball machine is spun again with the 20 numbers called out during the game and the number revealed adds has the multiplier added to it
All card wins involving the Mega Ball number will have the multiplier applied to the total win value
Randomly on any round, an extra Mega Ball multiplier can be added to a second number for even more multiplier madness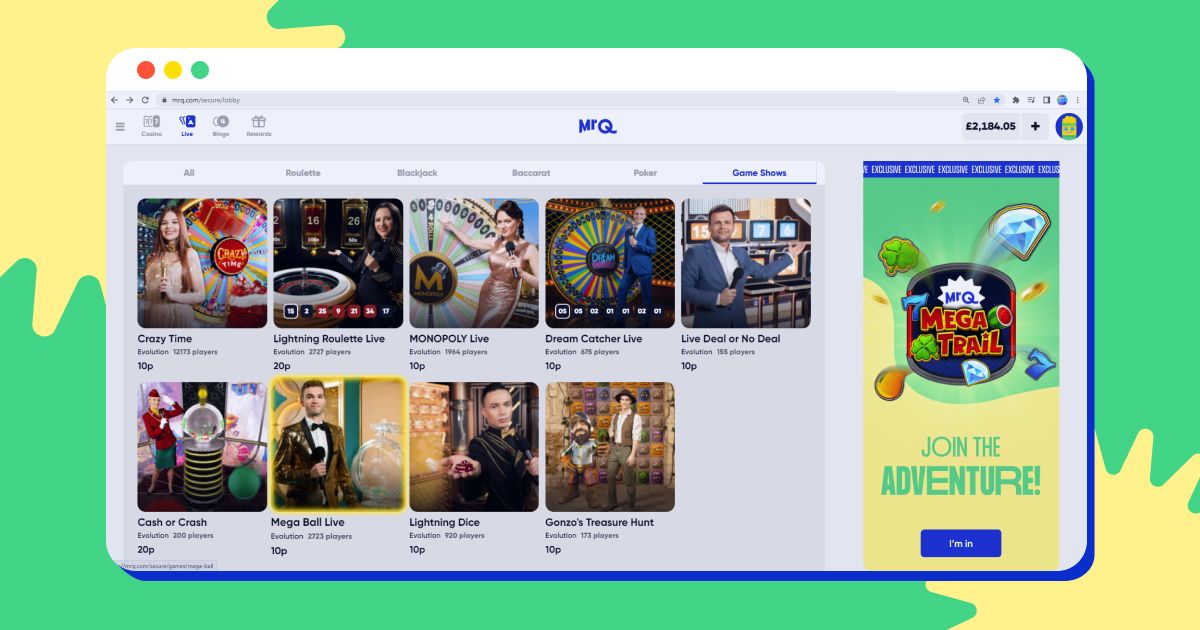 Where to find Mega Ball in the lobby
How to Win Mega Ball
Winning Mega Ball is a lot like winning 90 ball bingo where creating lines of matched numbers vertically, horizontally, or diagonally will trigger a win. Create multiple lines during the round to increase your overall prize at the end of the round.
You can purchase between 1-400 tickets which has a chance to increase the odds of having winning tickets. The highest available prize is for achieving 6 or more lines which can award up to 9,999x your total bet value.
Mega Ball also features the aptly named Mega Ball feature where, after all 20 balls have been called in the base game, a multiplier is spun and applied to 1 of the 20 balls. When a multiplier has been applied, it will add to the total card win of any card containing the Mega Ball number increasing your winnings. On any random round, up to 2 Mega Balls can be triggered and applied to winning tickets.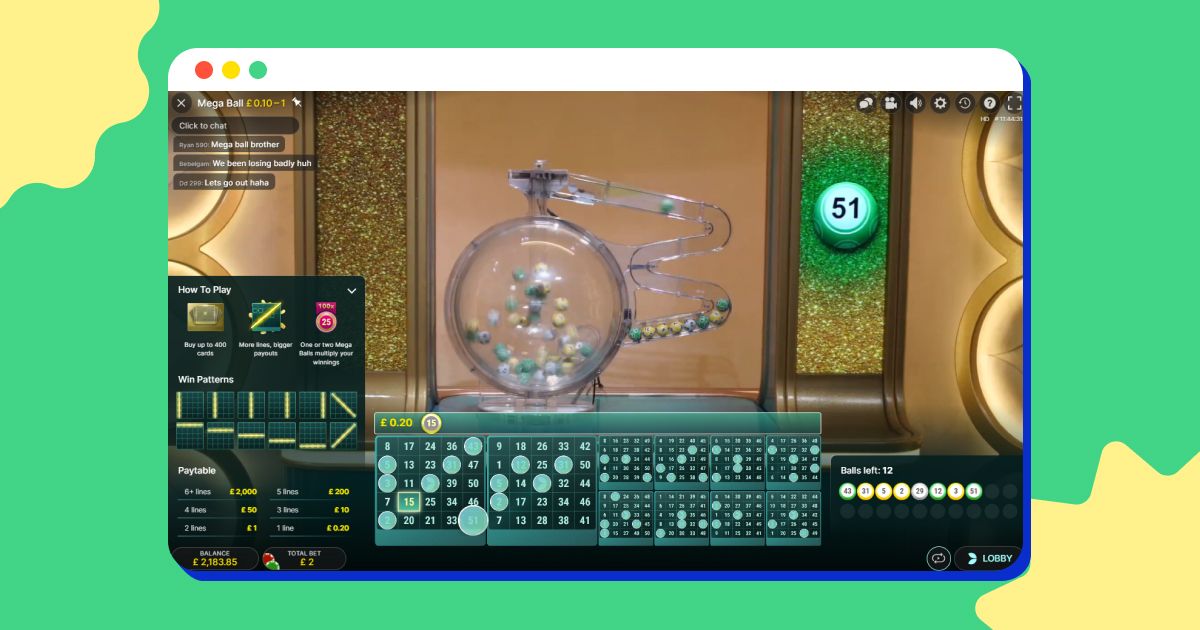 Mega Ball Strategies
#1 Little and Often
Purchase a small amount of cards that you can keep better track of for winnings. This has the chance to maximise your potential return as purchasing a small amount minimises your potential losses and means, if a card is a winner, you have a better chance of making back more of your initial bet.
#2 Full Monty
You can purchase up to 400 tickets total and, by purchasing the full amount, you have a higher potential chance of having more numbers matched on your cards. This strategy also increases the chance of you having numbers that are selected as the Mega Ball and can add some juicy multipliers to your winnings.
Make sure you set limits and don't spend more than you are comfortable with. If you need help with setting limits, check out our fully customisable range of Safer Gambling Tools .
#3 Lucky Numbers
Make a note of a few of your lucky numbers and, when purchasing cards in the betting phase, keep cards that contain some/all of your lucky numbers. This is best done by purchasing a small amount of cards that you can keep better track of the numbers on each card with less than 10 being a recommended amount.
#4 Mix it Up
Variety is the spice of life and this strategy is no different. Experiment on different rounds with purchasing small and large numbers of tickets to get a feel for what works best for you. This strategy is less intense than the Full Monty strategy while still maximising your potential chances to hit those Mega Ball multiplier numbers.
#5 The Mega Ball Martingale/Reverse Martingale
The Martingale is one of the most popular betting strategies and was originally created for use with Roulette. Essentially, for every round that you lose, double your bet value until your next win. The concept is that, on every win, you recoup the losses from the previous round.
Set yourself a number of tickets and a bet value and, when you record a loss on your total bets, then double the total value on all cards. Once you achieve a win, lower the value back to your original value and repeat. The Reverse Martingale is the same strategy but backwards with every loss lowering the value until you win to minimise your losses.
Mega Ball Bonus Features
Mega Ball's big bonus feature is the Mega Ball bonus round where multipliers of 5x-100x is applied to 1 of the 20 numbers called during the base game. When a multiplier is applied to the Mega Ball, all tickets containing that number will increase their winnings by the multiplier attached to the Mega Ball.
This can be triggered up to 2 times on any round meaning there is a chance to apply 2 Mega Ball multipliers to your winning cards. For a card to qualify, it must have a minimum of 1 line successfully filled on the card.
Here's a quick example of how the multipliers are applied and won:
You have a winning ticket on a £1 bet containing 2 lines including the number 23
The standard base payout would be £5
The Multiplier Wheel is spun and a 10x multiplier is activated
The Mega Ball is spun again with the 20 available numbers and 23 is chosen as the Mega Ball
A 10x multiplier is applied to the £5 value on the winning ticket for a total value of £50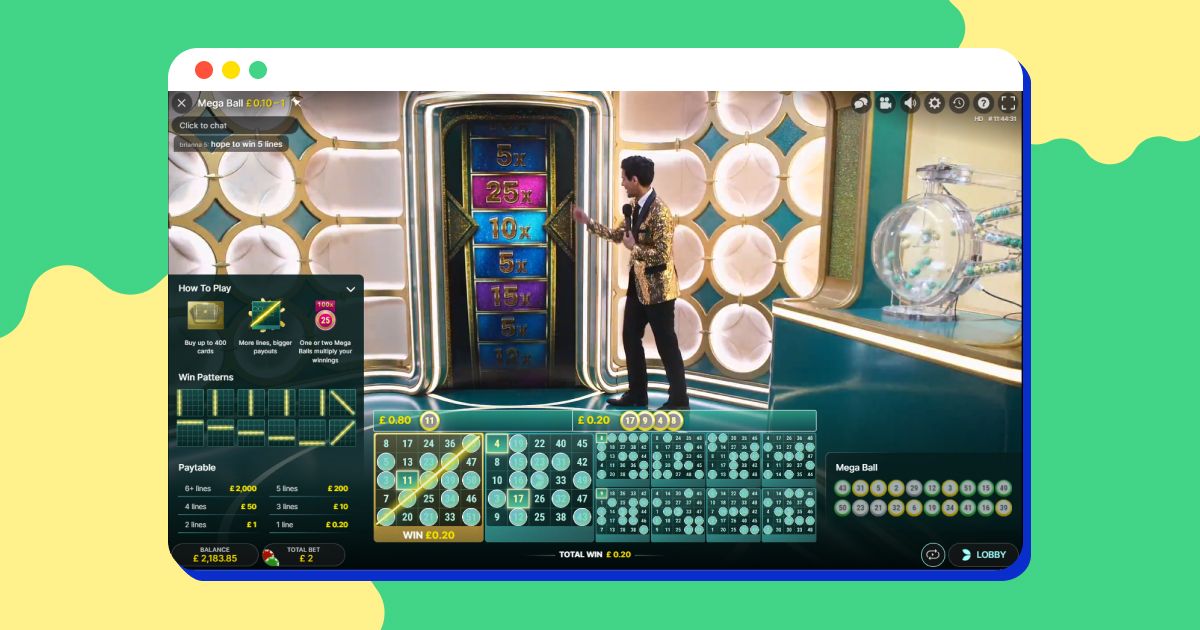 Mega Ball Payouts & Odds
| Number of Lines | Payout Ratio | Winnings (based on a £1 bet) |
| --- | --- | --- |
| 6+ Lines | 9,999-999,999:1 | Up to £125,000 |
| 5 Lines | 999-99,999:1 | £999-£99,999 |
| 4 Lines | 249-24,999:1 | £249-£24,999 |
| 3 Lines | 49-4,999:1 | £49-£4,999 |
| 2 Lines | 4-499:1 | £4-£499 |
| 1 Line (push) | 1x (push)- 99:1 | £1(push)- £99 |
Games Similar to Mega Ball
FAQ
---
How to win Mega Ball?
The way to win Mega Ball is to create lines of matched numbers on your bingo-style ticket sheet with more lines awarding higher prizes. The Mega Ball numbers can also add multipliers to your total win if your cards contain the Mega Ball number.
---
Does Mega Ball feature a live dealer?
Mega Ball features a live casino dealer who will activate the lottery tumbler on each round and call out the numbers that appear. You can also interact with the dealer at any time with the chat function.
---
What is the max win for Mega Ball?
The max win for Mega Ball is 100,000x your total bet.
---
What is the Mega Ball RTP?
The RTP for Mega Ball is 95.40%. For every £10 bet, the average return to player is £9.54 based on long periods of play.
---
Can I play Mega Ball on mobile?
Experience the ultimate fusion of bingo and lottery and play live casino games anywhere on your favourite iOS and Android mobile devices. Sign up to MrQ today and play real money live casino games including the top live game show and table casino games.
---