The Cameo Rich List
Which celebrities earn the most sending personalised messages to their fans on Cameo? Cameo is the perfect way to surprise a friend with a personalised message from their favourite celebrity, with stars from TV and film, music, gaming, sports and more available on the platform. You could also meet your favourite star 1-on-1 in a private live video chat you'll always remember.
But with Cameos ranging from $5 up to hundreds of dollars, who is earning the most on the platform and is a firm fan favourite?
The most expensive celebrity Cameos
Of all of the celebrity Cameos on our list, the most expensive is for media personality Caitlyn Jenner, who usually charges $2,500 per message, although she's currently unavailable on the platform (as of May 2021).
Second place goes to rapper Boosie Badazz, who is charging £1,125 per video to fans and the third most expensive Cameo is Kevin O'Leary, also known as Mr Wonderful from America's version of Dragon's Den, 'Shark Tank', who is charging £900 per video.
Just over a fifth (20.67%) of celebrities on our list, including reality, TV stars and actors to sports stars and singers, are charging £750 for each video.
Discover the Cameo rich list for all celebrities and broken down by each category below!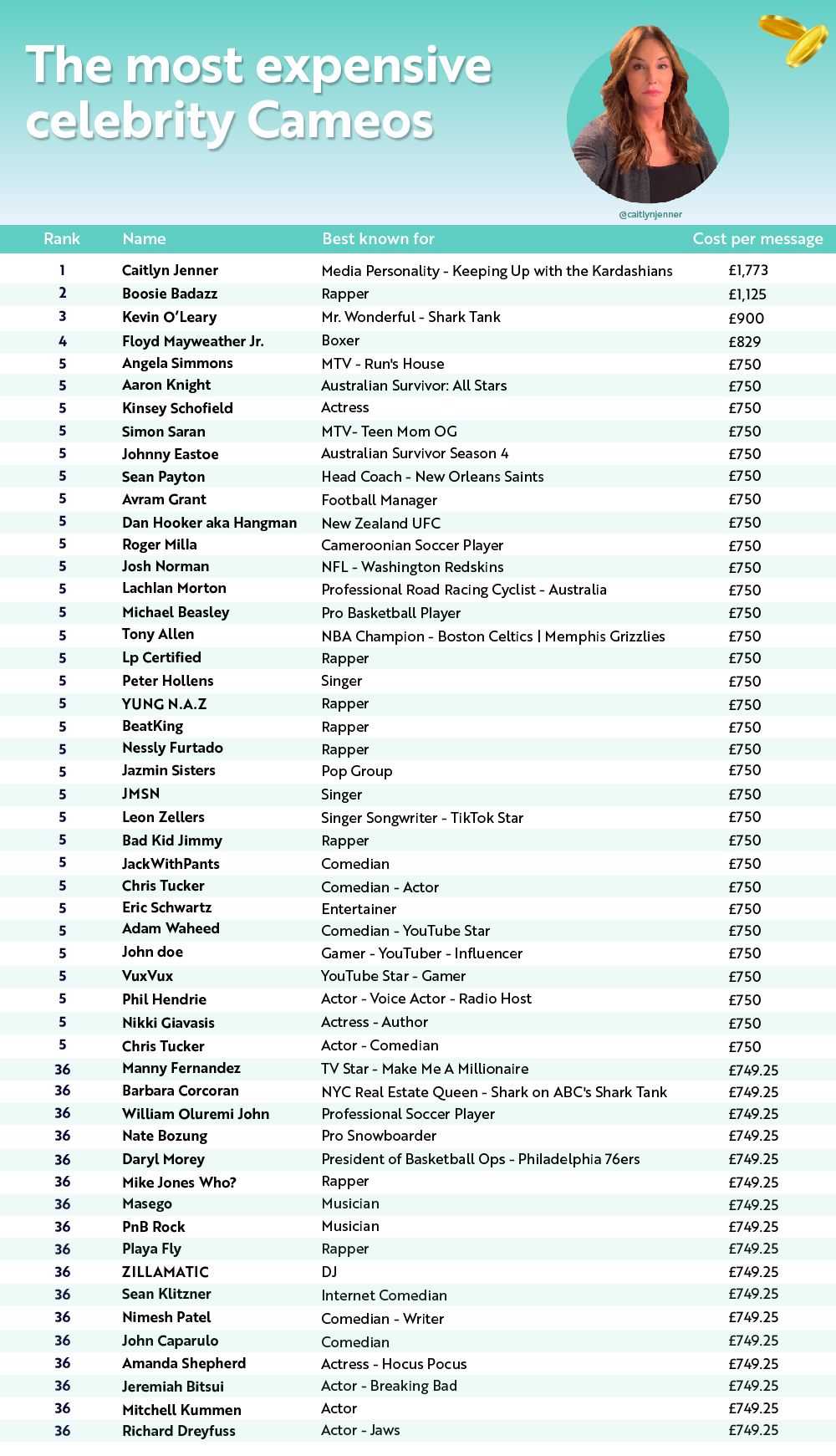 The most expensive Cameo actors
Charging £750 for their Cameos are Phil Hendrie, Nikki Giavasis and Chris Tucker, known respectively for voiceover talent, background acting, and for portraying Detective James Carter in the Rush Hour film series, making them the most expensive actors to purchase a Cameo from.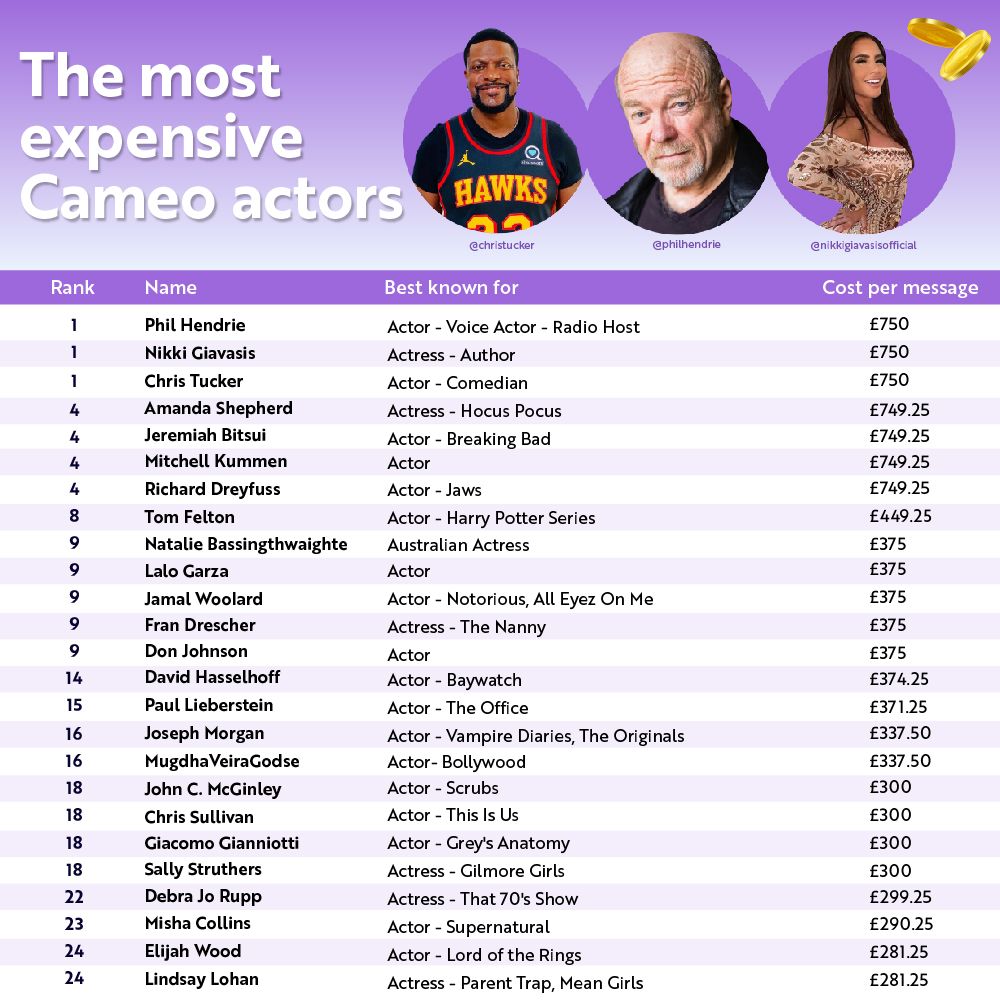 The most expensive Cameo athletes and sports stars
Eight of the top 25 athletes and sports stars on Cameo are charging £750 per video for their fans, but the top spot goes to Floyd 'Money' Mayweather, who has proclaimed that he wants to become the first celeb to make $1 million on Cameo and charges £829 (although he isn't currently active on the platform) . Whichever sport you're into, from NFL and NBA players to professional snowboarders and everything in between, there is likely to be an athlete on Cameo that you will love.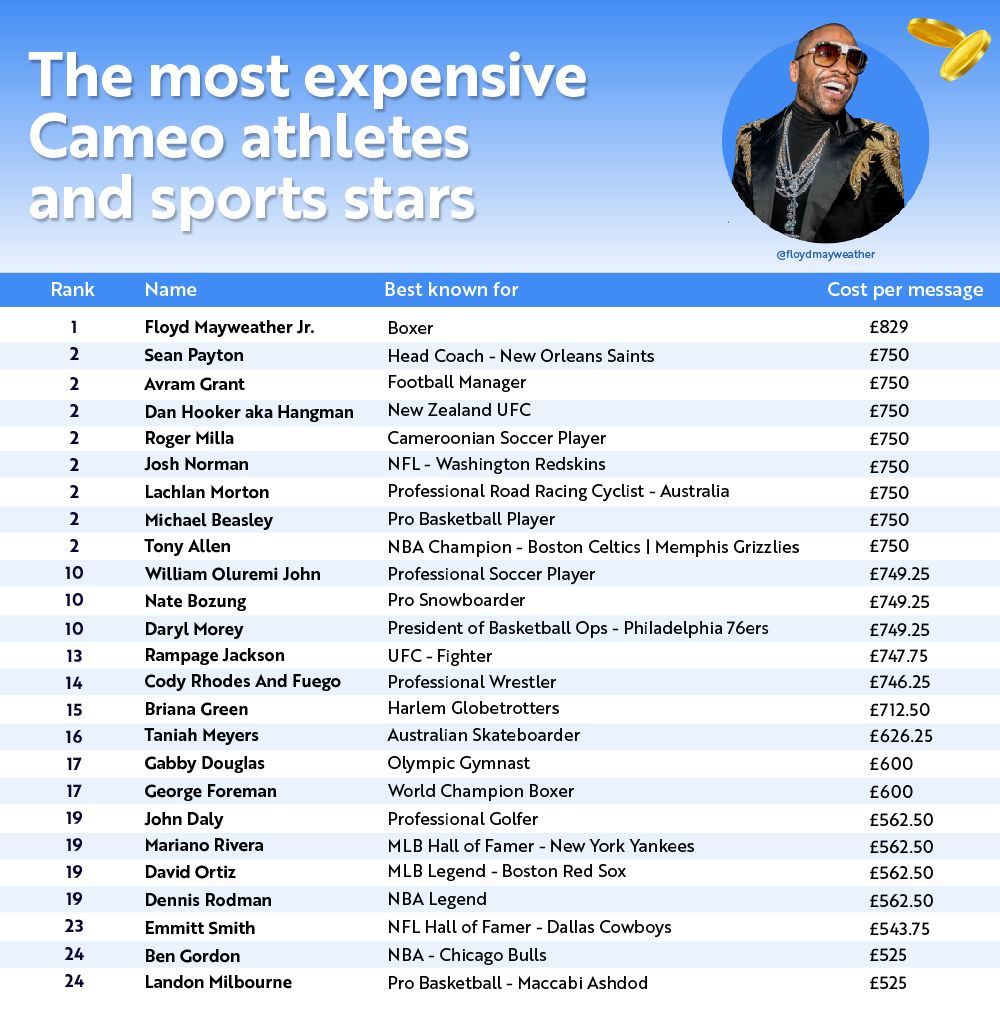 The most expensive Cameo comedians
TV comedians, entertainers and YouTube stars can also provide you with humorous birthday well wishes or motivational quotes for £750. Again, Chris Tucker tops the list here, along with TikToker JackWithPants, YouTuber Adam Waheed and comedian Eric Schwartz, also known as "Smooth-E".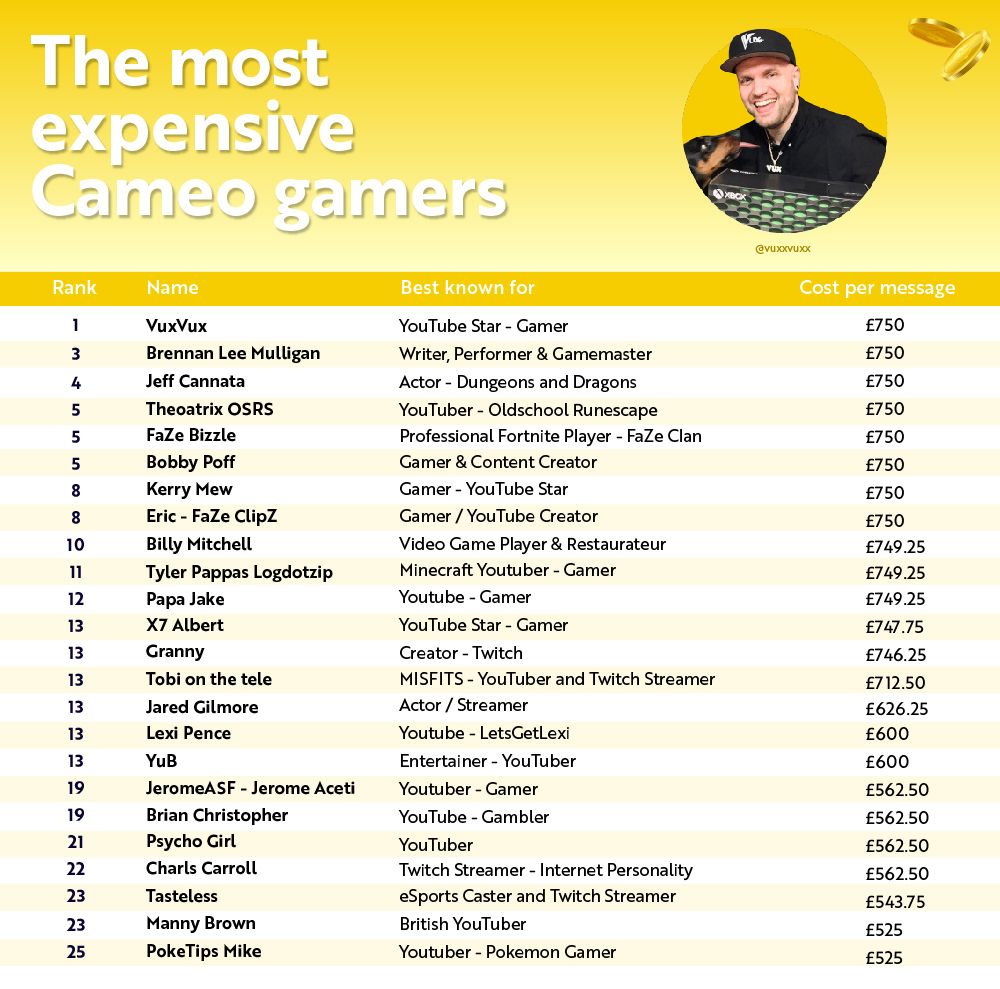 The most expensive Cameo gamers**
With over 3 million subscribers between them, you could get a personalised video by John Doe and VuxVux for £750. In third place for gamers, Brennan Lee Mulligan is charging £90 for a personalised video from the professional gamesmaster.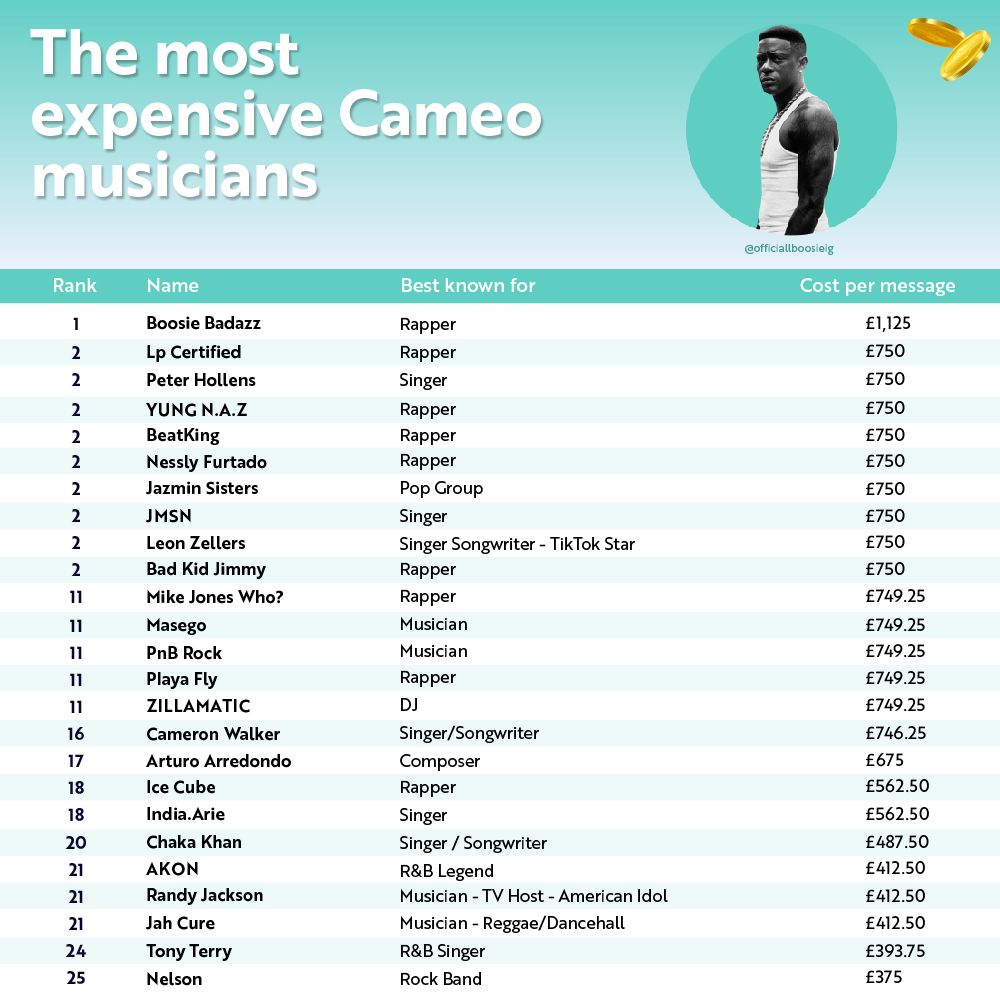 The most expensive Cameo musicians
Taking the top spot on our overall list comes Boosie Badazz, the rapper, who is charging £1,125 per Cameo video. Over half of the musicians on our list are charging over £740, including many rappers.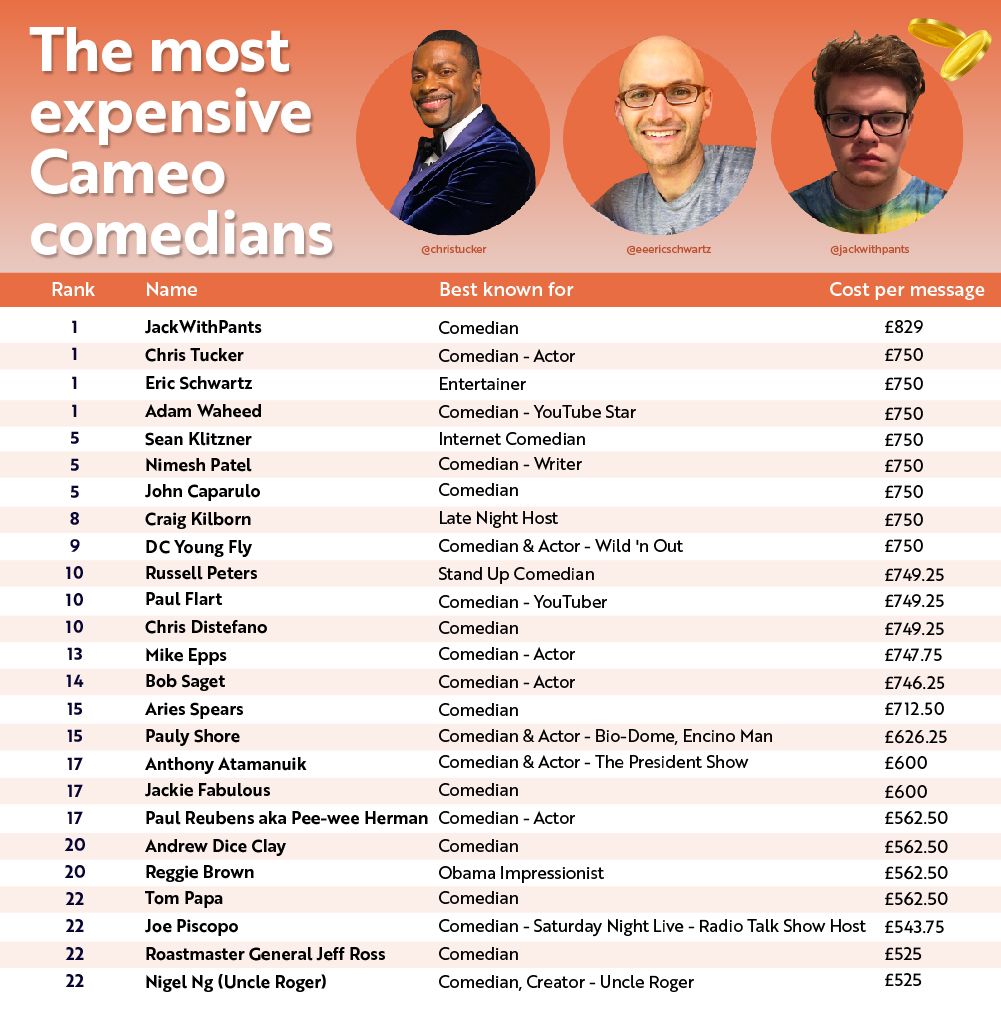 The most expensive Cameo reality TV stars
The most expensive reality TV star on our list by some distance is Caitlyn Jenner, followed by Kevin O'Leary, also known as Mr Wonderful, as seen on America's version of Dragons Den 'Shark Tank'. Other reality TV stars you could purchase a Cameo from are Aaron Knight from Australian Survivor: All-Stars (£750), Nyesha J Arrington from Bravo's Top Chef (£375) and Bethenny Frankel from Real Housewives of New York City (£261.75).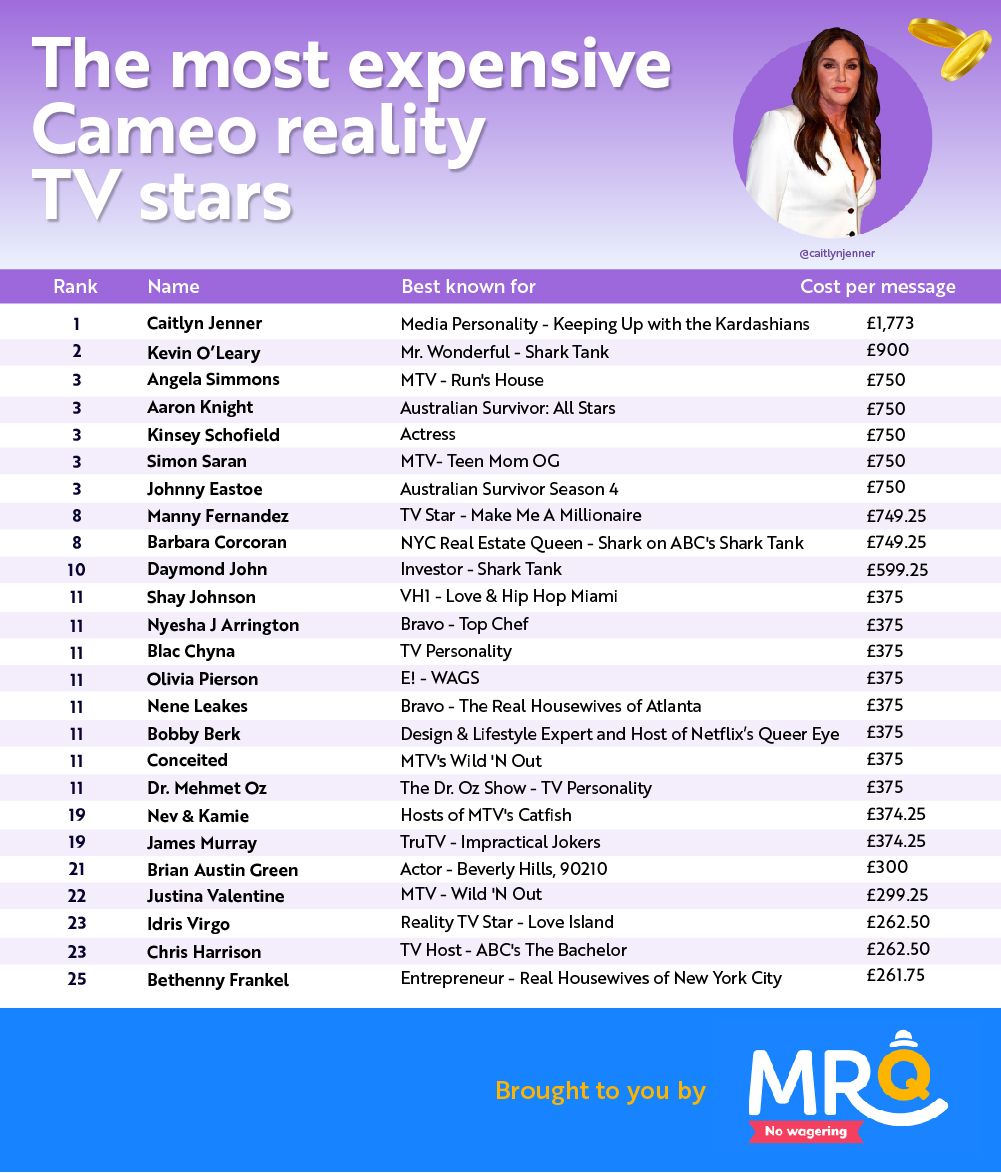 Methodology We took the top 25 celebrities from the Actors, Athletes, Comedians, Gamers, Musicians and Reality TV categories on Cameo, filtered highest to lowest price, for which data was available. We have also provided the most expensive celebrity Cameo's broken down by category to compare costs across industries. Prices for Floyd Mayweather Jr. and Caitlyn Jenner were sourced from the following articles:
https://www.thesun.co.uk/sport/12057533/floyd-mayweather-expensive-cameo-mike-tyson/
https://www.wired.com/story/cameo-personalized-celebrity-video-messages/