The game
75 ball bingo might not be the bingo game you're most familiar with, but it's just as fun! This is how they play bingo in the USA, but it's also played in Australia where they call it 'housie'. You might find 75 ball bingo more interesting to play too, as instead of simply filling out lines, you're looking to fill in a pattern!
How to play
To play, simply buy your tickets in the lobby, enter the game and wait for the balls to be called out. Match your numbers on your 5x5 grid ticket and see if you're a winner!
The balls are numbered 1-75 (duh!) and are called out one by one. Don't worry about missing a number, our auto dabber feature makes sure you never will. Sit back, join the chat and have fun!
Your ticket should look something like this.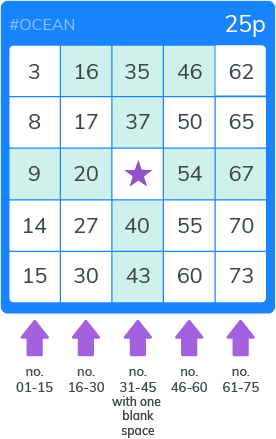 How to win
Also known as pattern bingo, 75 ball bingo is trickier than 90 ball. That's because you need to match a set pattern of numbers to win. It might seem like more work, but with only one winner there's no sharing the prize - winner takes all!
Check the left hand side of the room for the pattern, match that on your ticket and you're the winner! Alternatively, 75 ball sometimes plays with "coverall" rules where you'll need to mark every number on your ticket to win