The Ultimate Party Playlist
We all have our favourite songs we like to listen to before a night out or attending a party. Whether it's dance, house or disco, it all comes down to personal preference, but what songs feature the most on party playlists across the UK? We would like to analyse Spotify data to discover which are the most common songs on the party playlists of thousands of users across the country. Once the data has been found, we will then create an index of the most common songs and artists, in order to reveal the ultimate party songs and playlist. With lockdown restrictions slowly easing and people now allowed more freedom to enjoy a night out, this concept will create a hook for entertainment and music press.
The Biggest Party Bangers on Spotify
Summer is here, and it's gonna be buzzing! After a difficult few years of isolation and restrictions, we're all eager to let our hair down and have a good time. Whether this means throwing crazy house parties, having big nights out on the town, hitting up the casino or hosting BBQs for friends and family, we're all ready to party. But what is a party without music? Many of us have been missing the chance to take to the dancefloor and get our boogie on, so we're all forgiven if our moves are a little rusty. With this in mind, we wanted to find the biggest and most loved party bangers that are sure to even get your gran busting a move! Having trawled through hundreds of user-made party playlists on Spotify, we've found the most popular party tunes that will set the mood for everything from house parties and BBQs to pre-drinks and big nights out. We've also found the biggest party songs from each year since 1970, so you can party your way through the decades, from golden oldies to the biggest party song of 2021!
So get ready to get your groove on, and check out our ultimate party playlist.
Party bangers: the ultimate playlist
These are the 20 most popular party tunes from hundreds of Spotify playlists. Together, they'll get the party started and light up any dancefloor.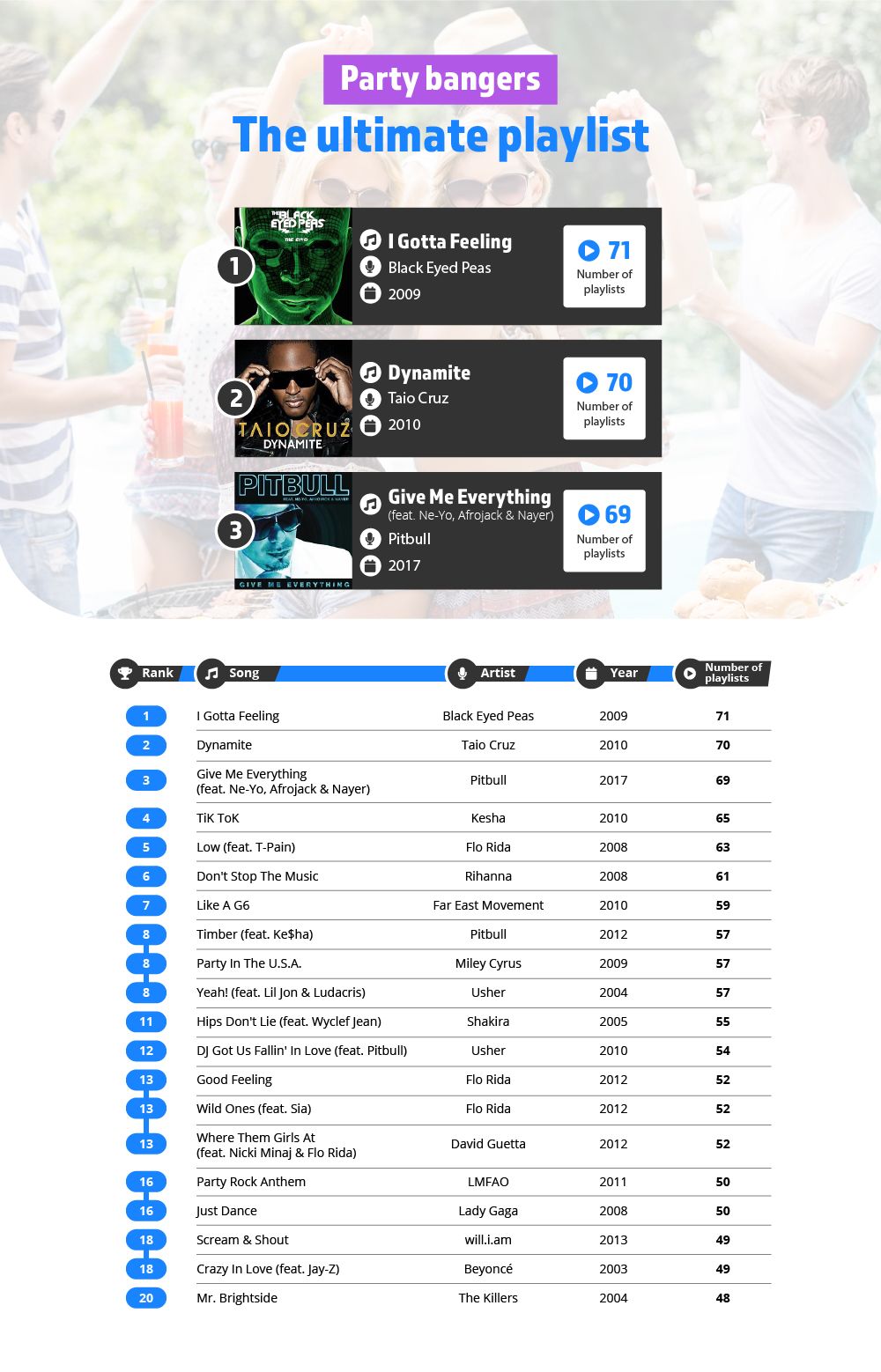 I Gotta Feeling - Black Eyed Peas No. of playlists: 71
The biggest party tune is I Gotta Feeling by Black Eyed Peas, having featured on 71 playlists from our sample of hundreds. This chart-topping banger was released in 2009 and was a mainstay of nightclubs and house parties for years after. I Gotta Feeling was the longest-running number-one single of 2009, according to the Billboard Hot 100 US charts and as of June 2019, had been downloaded over 9 million times, making it the most downloaded song ever on iTunes.
Dynamite - Taio Cruz No. of playlists: 70
The second-most popular party track is Dynamite by Taio Cruz, appearing on 70 of our sample playlists. This song was designed for the club, bringing the hype to any party or pre-drinks. Released in 2010, Dynamite topped charts across the world and sold over 5.7 million copies in less than two years after its release.
Give Me Everything - Pitbull No. of playlists: 69
Released as the second track on Pitbull's 6th album, Planet Pit, Give Me Everything is the third most popular party tune, having appeared on 69 playlists. This absolute banger has been a staple of many people's clubbing experience and takes a well-deserved prominent place in our playlist.
---
The best party artists
Having looked at the most popular songs for party playlists, we now turn our attention to the artists that were featured the most often. Use this as inspiration to create your own summer party playlist, picking your favourite tunes from each artist.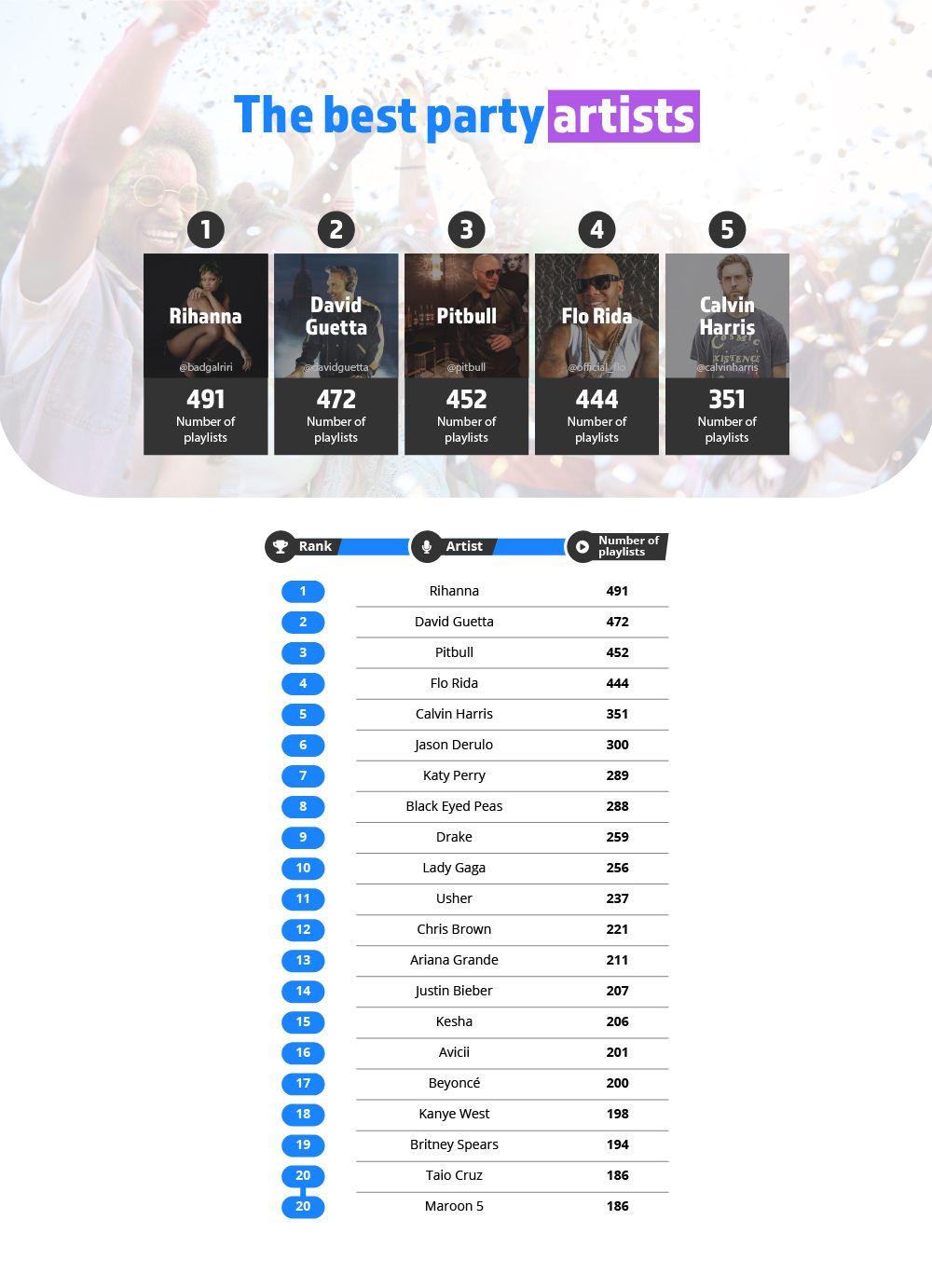 1. Rihanna Times featured: 491
Rihanna is the most featured artist on community-created party playlists on Spotify, making 491 appearances across the lists we analysed. With seemingly endless hits such as Only Girl, Rude Boy and We Found Love, Rihanna is undoubtedly the queen of party bangers.
2. David Guetta Times featured: 472
The second most popular artist for party music is French DJ David Guetta, who appeared on party playlists 472 times. One of the most prolific and successful DJs out there, Guetta's tunes are often staples of clubs and nightlife all over the world.
3. Pitbull Times featured: 452
In third place is Pitbull, with 452 appearances on party playlists. A prolific rapper and singer, Pitbull's career kicked off in the early 2000s, and his debut album M.I.A.M.I. was released in 2004. His distinctive hip-hop sound and prolific output have made his music a core feature of many DJ sets and house party playlists. A nightclub that doesn't play Pitbull tracks is hard to find, and with good reason.
---
Biggest Party Tunes by Year
Still haven't found the party vibes you're looking for? Well, worry no longer! We've taken a deeper look into the data to identify the party songs from each year that were featured the most in Spotify party playlists.
So get up, get moving, and boogie your way through over 50 years of party bangers!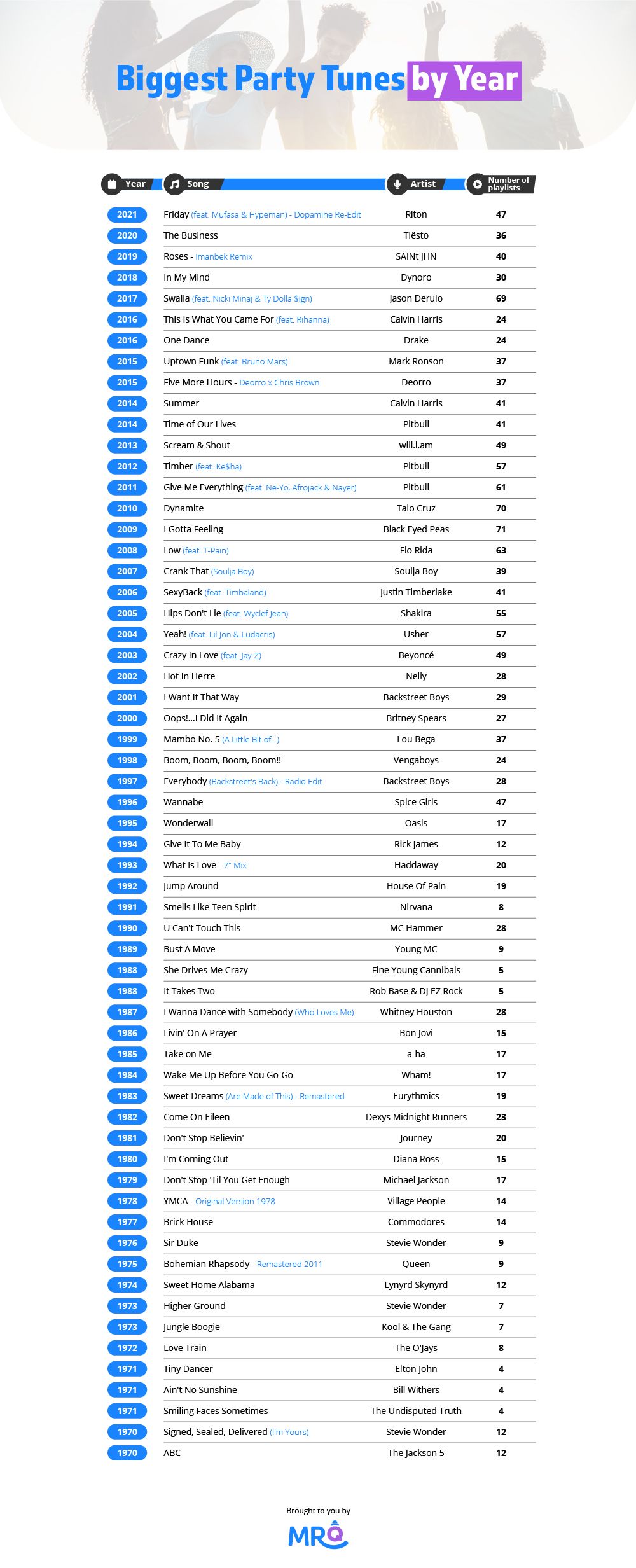 ---
---
---
Methodology
We wanted to find out which music tracks are the most popular for party playlists. To find this out, we scoured Spotify for playlists with "party" in the title. We only used user-made playlists, avoiding those created by Spotify so that the data would be completely user-generated and might better reflect the mixed tastes of the public.
Once we had gathered hundreds of playlists, we compiled them into several master playlists and uploaded them to Sort Your Music. We were then able to transfer the data into a spreadsheet format to explore in more detail.
We sorted the data by song and artist, finding the number of times each song was included in our combined master playlist, which totalled around 50,000 individual tracks. Once we had found how many times each song was included, we did the same for artists, so that we had the most featured party songs and artists and could rank them by their popularity.
Additionally, we wanted to find out which were the biggest party songs in each year. We sorted the data by the songs' release date and the number of times they featured, recording the winner from each year. We were then able to present a table of the most popular party tunes by year, going back as far as 1970.