Looking to become a Blackjack pro? We have all of the top strategies to make you the envy of the dealer with these handy Blackjack strategy charts. Consider this your cheat sheet to becoming a casino table master!
New to the world of Blackjack? Check out our guide on how to play to learn everything about putting those fancy new skills into practice.
What are the moves in Blackjack?
Before we get started with revealing all of the juicy strategies to make you a Blackjack pro, here is just a quick reminder of the core moves possible in each game. Each move has also been labelled so you know exactly what each move on the chart means.
Hit (H)- Adds an additional card to the total value of the hand
Stay (S)- The hand value of the two dealt cards is the final value
Double Down (D)- Adds an additional 100% bet to a player hand and draws one final card before staying
Pair Split (PS)- Activates when identical value cards are dealt and become their own individual pairs
Surrender (Su)- The player folds and is given back half of their initial stake.
The Blackjack Chart
Now that we have all that we need, it's time for the main course! The Charts are separated depending on if the dealer stands or hits on a soft 17 so you know exactly what to do on any move.
Dealer stands on soft 17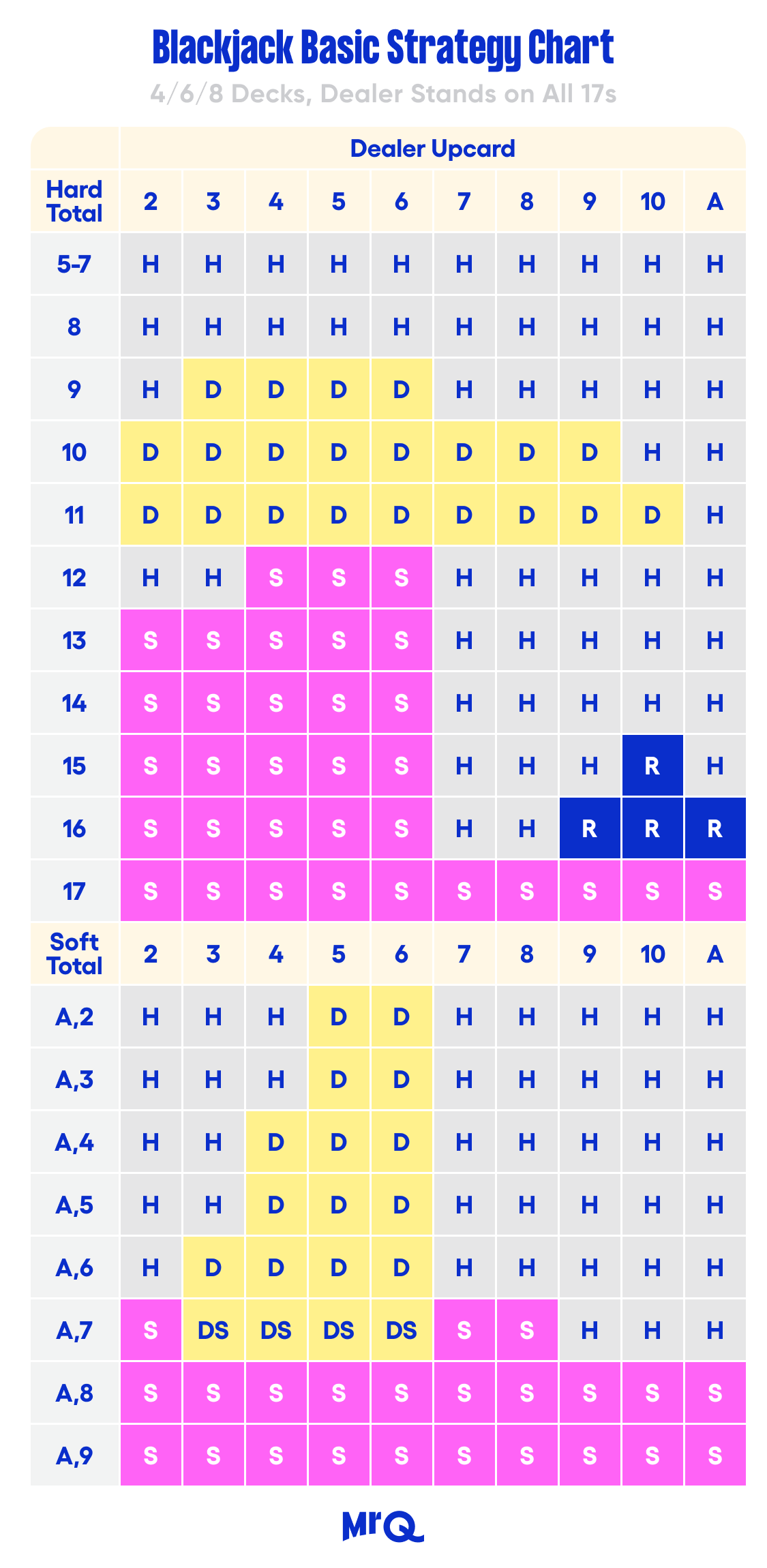 Dealer hits on soft 17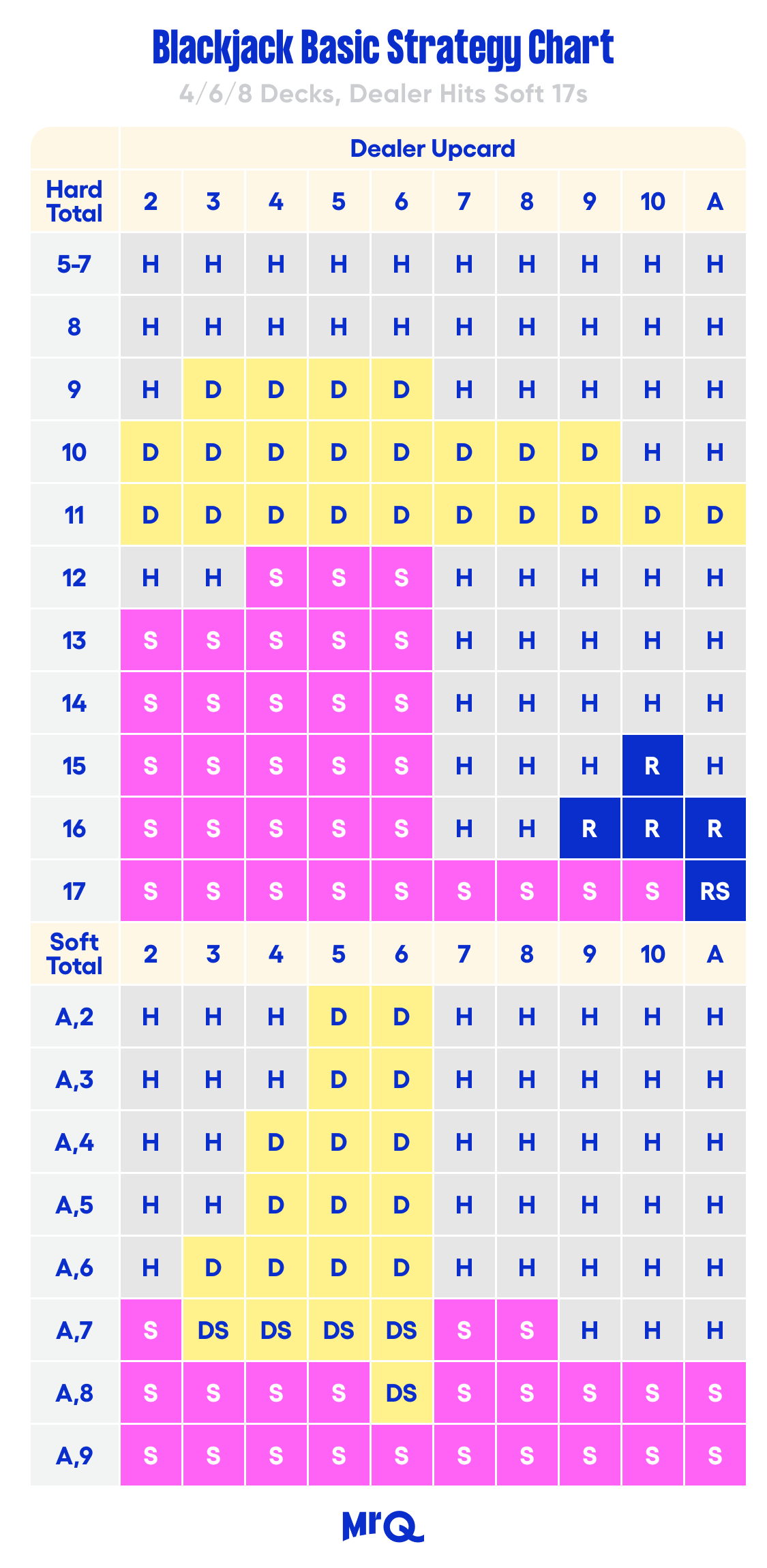 Top tips for using Blackjack Charts
Practice makes perfect- Online Blackjack is the perfect place to try out your shiny new knowledge as it gives you the time and patience to test out your strategies.
Memorise your game- If you want to take your skills to the live casino level, try to memorise some of the major combinations so you know what to do in a split-second decision.
Take your time- As the cliche goes, Rome wasn't built in a day. Take your time and don't be expected to get it perfect your very first game.
No strategy is perfect- while we have tailor-made the optimal way to beat the dealer, there is sadly no invincible strategy to winning 100% of the time.
Where can I try out Blackjack games online?
You can try out all of the top Blackjack games, including a thrilling catalogue of live Evolution Blackjack games, on MrQ. Here are some of our personal favourites to get you started:
Blackjack- As pure as they come for classic Blackjack. The #1 choice if you are just dipping your toes into learning the ropes.
Infinite Blackjack- One of our finest live Blackjack offerings with a real casino dealer. This exciting variation also adds some juicy side bets to test your skills!
Blackjack Platinum VIP- Our premiere live high-roller Blackjack table with up to £1,000 maximum bet. Recommended for the seasoned veterans who know a thing or two about the competitive land casino experience.
FAQ
---
What is the best hand in Blackjack?
The best hand in Blackjack is to draw a natural 21 with your two first drawn cards e.g. King and Ace equals natural 21.
---
Can I win real cash playing Blackjack on MrQ?
Yes, you can. All of the casino card games available on MrQ are real money games where winnings can be withdrawn for real cash. Sign up today to play the finest Blackjack games including the a delectable selection of Evolution live real dealer Blackjack.
---
When should I decide to hit?
You should hit on any two-card hand that has a value of 15 or less. This will maximise your chances of having a higher hand value than the dealer.
---
Should I stand on 16 or higher?
Yes. If your two-card hand makes up 16 or higher then the smartest move is to stand. Choosing to hit on 16 or higher has a higher chance of the hand going bust.
---
Where can I play Blackjack online?
You can play the top online Blackjack games, including the best live casino games, on MrQ. Sign up today and play premier card casino for as little as £1 per game.
---