When it comes to getting frisky under the sheets, there are a number of different ways people get themselves in the mood. With music having a huge influence on how we are feeling, it can also play a huge role in the bedroom.
But which songs really are the best to get you in the mood to and have sex to?
We've analysed 1,661 songs across Spotify's top 20 playlists that include the words 'sex' or 'sexy', to determine the ultimate sex playlist. We've also revealed the most featured artists, as well as analysed the beats per minute, to determine the best songs depending on the mood you're in.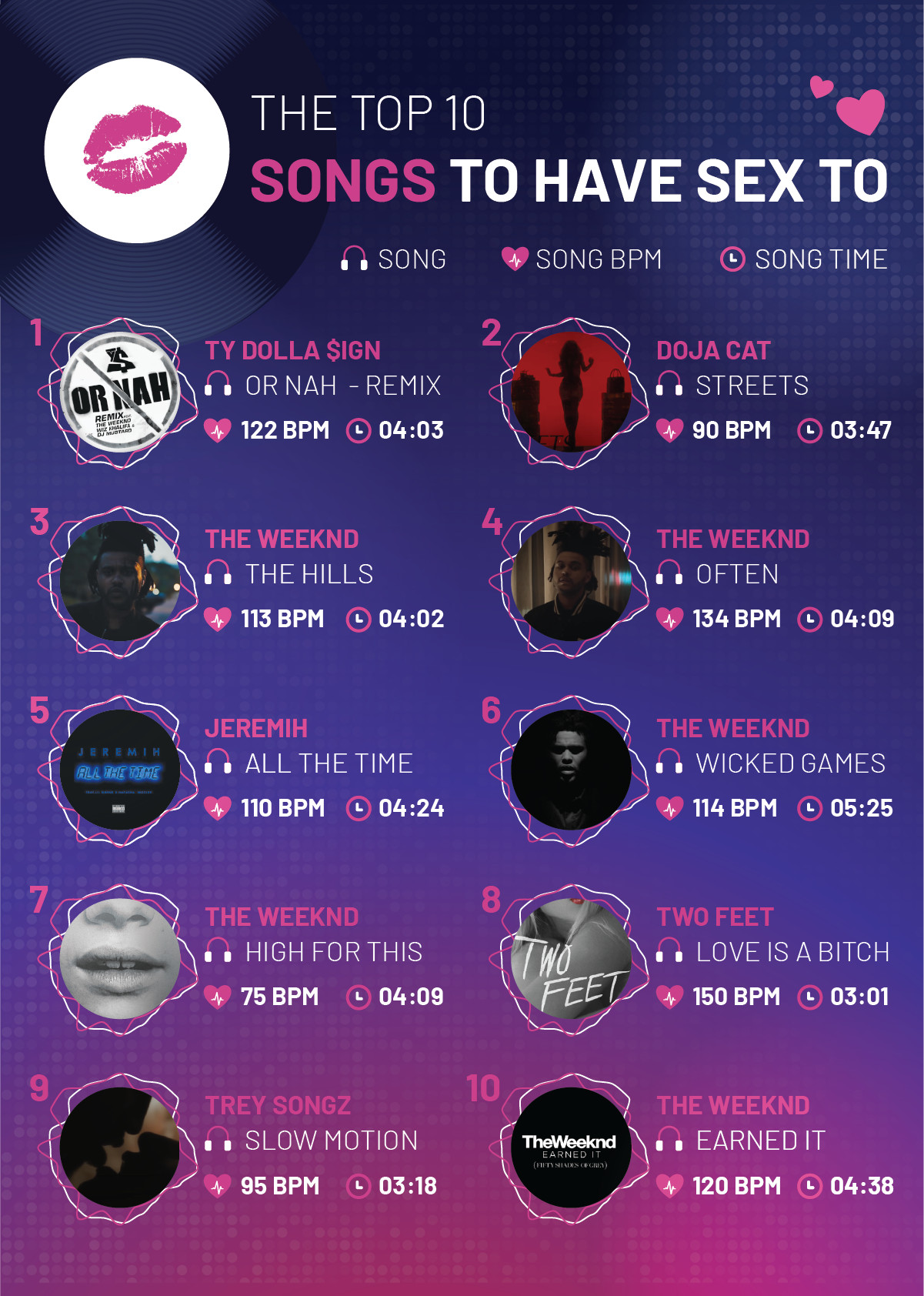 Ty Dolla $ign's 'Or Nah' and Doja Cat's 'Streets' rank joint first as the best songs to have sex to
Two American rappers rank as the world's best songs to have sex to, featuring 10 times across the playlists analsyed. Ty Dolla $ign's 'Or Nah', featuring The Weeknd, Wiz Khalifa & DJ Mustard, has stood the test of time since its release in 2014 and it's no surprise with steamy lyrics including 'Do you like the way I flick my tongue'.
Doja Cat's 'Streets' is far more recent, released in 2019 and one of the slowest songs of all 1,661 analysed. At just 90 bpm, this song is slow and sensual.
The Weeknd dominates the playlist, with five of his songs featuring in the top 10
It comes as no surprise that the Canadian singer's singles rank as some of the most popular songs to have sex to. Known as one of the sexiest music artists in the game today, his hit song 'The Hills' ranks as his best song for the bedroom, followed by 'Often', 'Wicked Games' and 'High For This'.
In fact, The Weeknd is so known for his sexy sound that his song 'Earned It' for the notoriously raunchy film Fifty Shades of Grey ranks 10th overall.
The Weeknd, Trey Songz, and Rihanna all feature as the top artists whose music is the best fit for the bedroom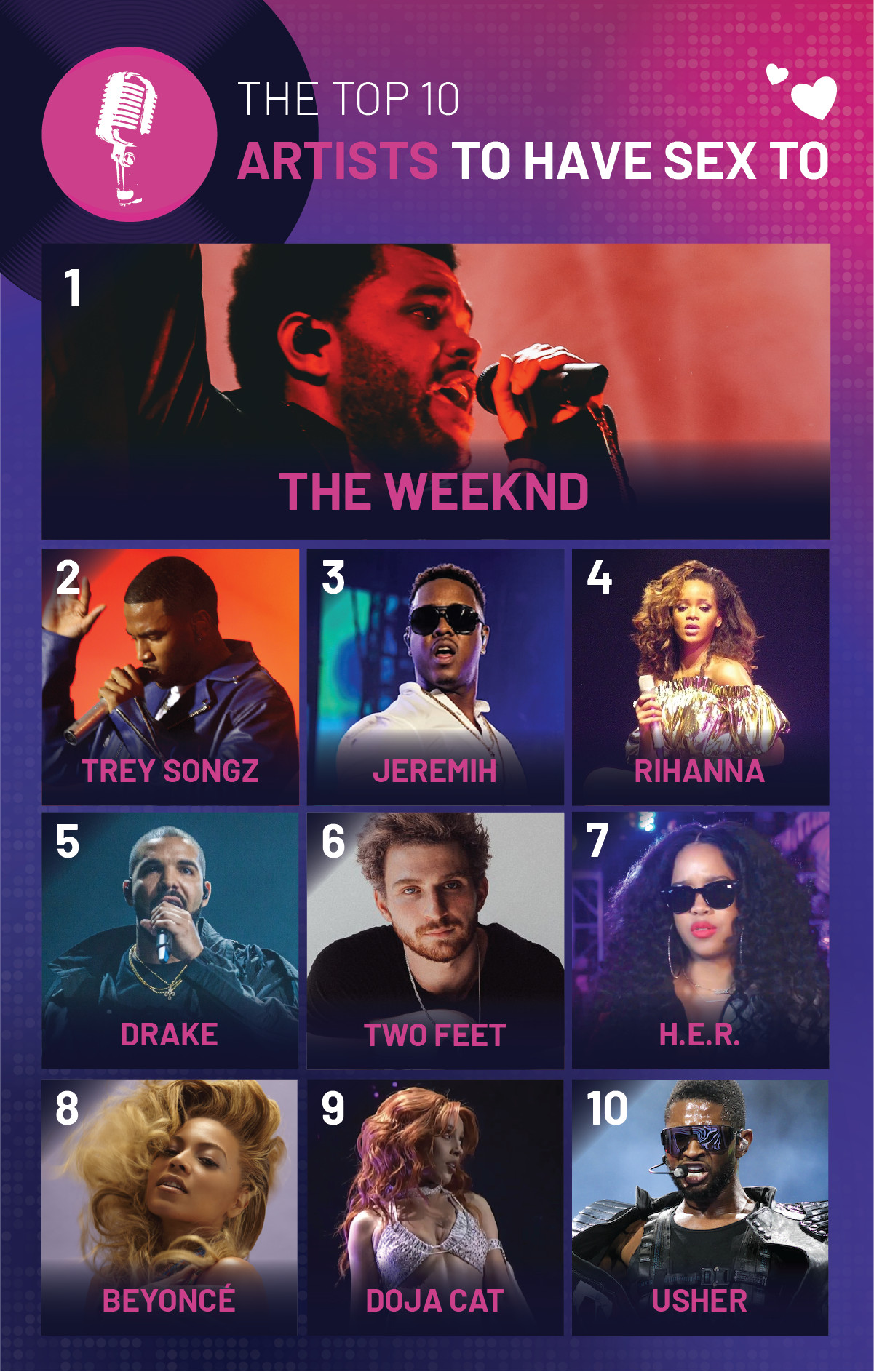 The Weeknd dominates the analysis with his songs featuring more than double the number of times compared to any other artist at 79. Trey Songz comes in as the second top artist to have sex to, with his song 'Slow Motion' featuring ninth in the singles to have sex to. Rihanna is the top female artist to get freaky to, followed by H.E.R. in seventh, Beyonce eighth and Doja Cat ninth. Usher rounds off the top 10.
Beats per minute, the best songs to have sex to based on your mood
From slow and sensual to more fast-paced and wild, we've put together the top 10 best songs to have sex to based on beats per minute, to cater to all moods.
The best songs to have slow & sensual sex to based on BPM
| Song Title | Artist | BPM | Song Length |
| --- | --- | --- | --- |
| The Take | Tory Lanez | 57 | 03:31 |
| Birthday Sex | Jeremih | 60 | 03:47 |
| Six Feet Under | Billie Eilish | 68 | 03:10 |
| I Wanna Be Yours | Arctic Monkeys | 68 | 03:04 |
| OTW | Khalid | 73 | 04:23 |
| Get You (feat. Kali Uchis) | Daniel Caesar | 74 | 04:38 |
| High For This - Original | The Weeknd | 75 | 04:09 |
| Go Fuck Yourself | Two Feet | 75 | 02:10 |
| Best Part (feat. Daniel Caesar) | H.E.R | 75 | 03:29 |
| Location | Khalid | 80 | 03:39 |
The best songs for fast & wild sex based on BPM
| Song title | Artist | BPM | Song length |
| --- | --- | --- | --- |
| Buttons | The Pussycat Dolls | 211 | 03:46 |
| Heaven | Julia Michaels | 200 | 03:12 |
| Partition | Beyoncé | 186 | 05:19 |
| One Way | 6LACK | 184 | 04:47 |
| As You Are | The Weeknd | 174 | 05:40 |
| I Put A Spell On You | Annie Lennox | 174 | 03:31 |
| Love On The Brain | Rihanna | 172 | 03:44 |
| Toxic | Joss Austin | 172 | 03:10 |
| Do It for Me | Rosenfeld | 165 | 03:23 |
| Sweat | ZAYN | 162 | 03:52 |
Based on our findings we've created the ultimate sex playlist with the top 100 songs
https://open.spotify.com/embed/playlist/1XRBLGoLezHbti07HknzW5?utm_source=generator