Poker is one of the most popular table games available online today. Featuring many exciting variations including Texas Hold'Em, Caribbean Stud, and a number of 3-card and 5-card play modes; there is no limit to the number of ways to play Poker. With a ton of ways to play comes a gargantuan number of different strategies; some specific and some more general. 
We've picked out the top of the range of Live Poker strategies to maximise both your 3-card and 5-card play. If you want to become a Poker pro in minutes, check out our How to Play Poker for more info and get the most out of your selected strategies. 
How to Play Live Poker- a Quick Recap
Before getting stuck into the best strategies for Live Poker, here's a quick recap on how to play Live Poker for both standard 3-card and 5-card Poker.
How to Play Live 3-Card Poker
Place your Ante bet to begin
The dealer will dish out 3 cards to the player and dealer
If you wish to play with the 3 cards, then an additional bet is added on Play
If you do not wish to play then you Fold and the game is over
The dealer will draw 3 cards for themself and the two 3-card hands are matched against each other
Side with the best combination of 3 cards wins
5-card Poker is played in a similar fashion but with the best combination of 5 cards winning the hand. 5-card Poker features new potential winning hands including the Royal Flush which is the best hand in 5-card Poker consisting of a 10,J,Q,K,A of the same suit. 
If you need a reminder of Poker card values and how best to maximise your Poker play, we've got you covered with Poker Hand values to get you up to scratch.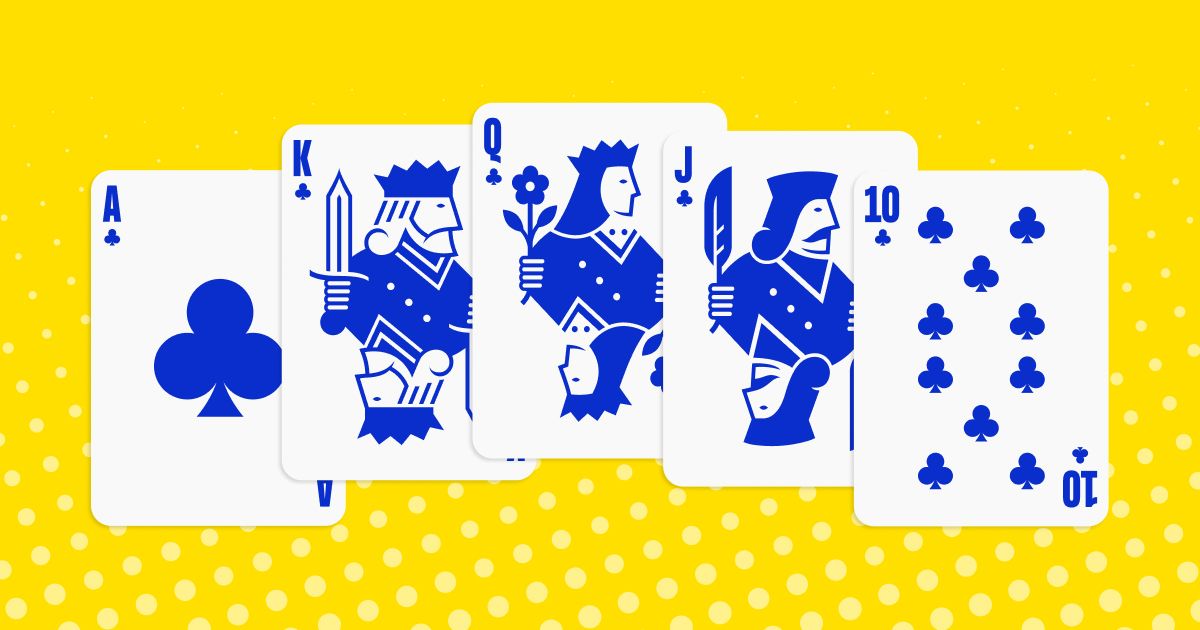 Live Poker Strategies
Here are the top strategies to dominate the live casino Poker table today. Remember that no strategy is bulletproof and your success rate will also depend on the draw of the cards. Use these strategies as guidance but do not expect to win 100% of the time.
#1- High Card Honcho
This strategy focus on the card values as the most important aspect of the game. Focus on hands with high-valued cards of 10-A and follow through with bets that use those high cards. 
For any round where you are presented with non-pair low numbers, then the best action is to fold the round as putting extra bets behind a low-valued hand has a high chance of being beaten by the dealer.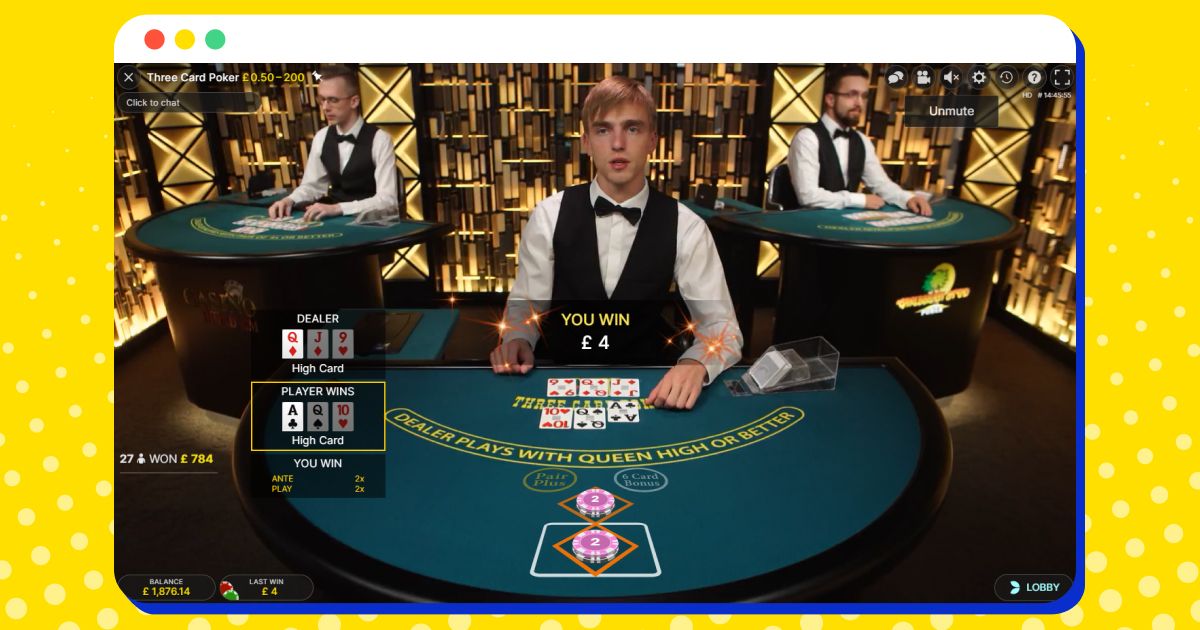 #2- Pairs Make Perfection
In Poker, pairs are king and this strategy laser-focuses on them. Focus on pushing hands that involve a pair and fold on hands that are reliant on a high-card win. A pair of 2s still beats out a high-card Ace and could mean the difference between winning and losing. 
#3- Poker Martingale/Reverse Martingale
The Martingale is one of the most popular Roulette strategies and can be modified for use in Live Poker. Simply put, for every hand you lose, double the bet level and continue until you win a round. Once a win is achieved, lower the bet level until the next loss and repeat. This strategy means that any values lost are recuperated by the winning values on the next round. This strategy focuses on making no raises and playing with the initial bet value on each round.  
#4- Selective Play
This strategy focuses on a combination of high cards and pairs as the primary strategy. On each round, focus on high cards and high card pairs as the main focus and raise/fold when hand values appear strong or weak. Don't take chances on weak hands or high card hands that don't involve face cards (J,Q,K,A). This strategy is very flexible to how you play and primarily focuses on the quality of each hand rather than any rigid system to follow.
#5- Side Bet Bonanza
Beating the dealer isn't the only way to win in Live Poker as a number of Poker variations include unique side bets. Test out some Live Poker variations including Caribbean Stud Poker, Side Bet City, or Teen Patti and branch out to discover brand new ways to win. Focus on side bets as the primary focus as they can present higher potential payouts than a winning hand or have winning requirements that can be achieved through both the player and dealer hand. 
Top Tips for Live Poker
Focus on Pairs- Pairs are the name of the game and should be the priority at all times. Remember that even a pair of 2s wins over a High card Ace so consider the possibilities of your current hand before deciding to fold. 
Experiment with different games- There are many Poker variations that bring new side bets, mechanics, and play styles to enjoy. Test the waters and find what style works best for you. 
Try out unique side bets- Some Poker variations include unique side bets that can add some exciting new ways to win. Once you're comfortable with the basic play, try out some side bets to spice up your play.  
Set Limits- Above all else, keep it fun. Set limits and make sure you only spend what you are happy to play. If you need help setting limits including session and deposit limits, check out our extensive range of Safer Gambling Tools that you can apply to your account in seconds. 
Best Live Poker Games Online
Time to take your Poker skills to the table and flex your guns. Here are some of our personal recommendations to get you stuck into the Live Poker action:
Where can I play Live Poker Online
Hit the table and experience the premiere Live Poker games from Evolution on MrQ. Enjoy top live casino games on desktop, tablet, or iOS and Android mobile devices and win real cash prizes.
FAQ
---
Does Live Poker feature a real dealer?
Live casino Poker from Evolution features a live dealer that draws the cards, reads the results, and interacts with the live chat on any round. You can interact with them at any time in the chat function at the side of the screen.
---
Is Poker luck or skill?
Poker is very much a game of skill as formulated strategies can increase your chances of making smart moves and maximising your hand.
---
What live Poker game has the highest RTP?
The Poker game with the highest RTP is Caribbean Stud Poker with an RTP of 98.84%. For every £10 bet, the average return to player is £9.88 based on long periods of play.
---
What is the best strategy for Live Poker?
The best strategy for live Poker is to focus on pairs during play. Even low-card pairs beat out a high-card Ace so maximising your achievable pairs on each hand is key to success.
---
Can I play Live Poker on mobile?
Hit the table from the comfort of your favourite devices as you can enjoy all of the top Live Poker games from Evolution on MrQ. Play instant live casino games on desktop, tablet, or mobile and win real cash prizes on every winning hand.
---