Online scratchcards are a type of instant win game that are virtually identical to their paper counterparts. You scratch a section of the digital ticket to reveal symbols or cash prizes. The major difference is that you can receive your winnings instantly!
In this easy guide, we'll show you the best ways to play online scratchcards and reveal some juicy tips.
What you will learn in this article:
What is an online scratchcard
How to play Scratch Cards
How to win an instant lottery game
Online Scratchcard Tips and Tricks
Popular Online Scratchcards
FAQ
What is an online scratchcard?
Online scratchcards are categorised as an instant win game. Also known as "Instant Lotteries", they are almost indistinguishable from the cards you find in a shop.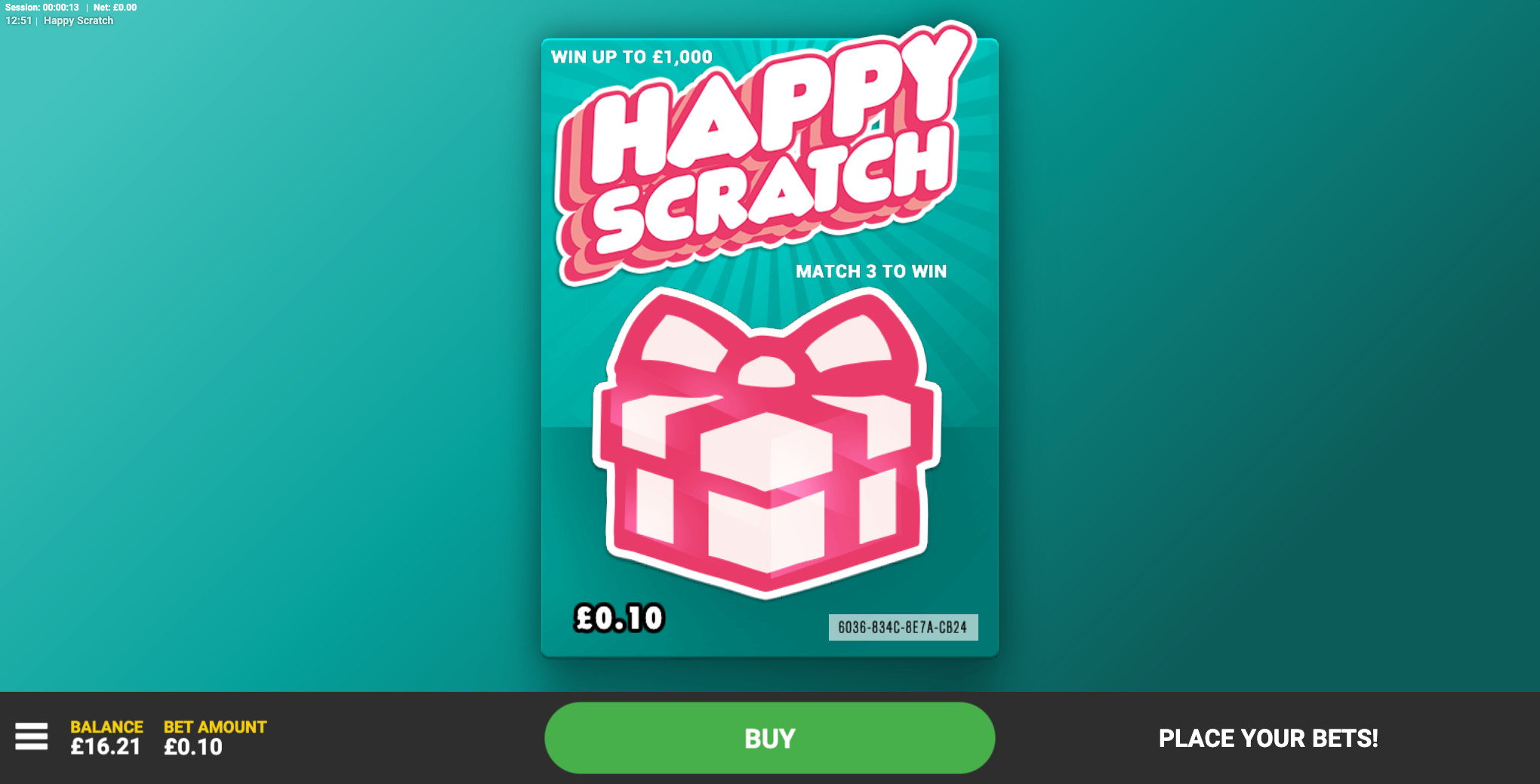 Just like those physical games, you scratch a decorative segment concealing prizes or symbols. Each scratch game will have its own unique pay combinations or prize mechanics.
Unlike a physical scratch game, your winnings will instantly be paid into your online account. There's no need to visit a venue with the card to collect your winnings.
How to Play Scratchcards
Step 1: Click the Buy Button on the ticket of your choice
Once you press the buy button, you can start scratching to reveal winning symbols. Prices for cards vary between 10p and up to £5.
Top Tip: Scratchcards usually come with a fixed price - no need to mess about with bet limits!
Step 2: Scratch the segment concealing the symbols
If you are on a mobile device, you can scratch using your finger. On PC, you will need a mouse.
Top Tip: You can skip the entire scratching process by clicking the "Scratch All" button.
Step 3: See if you win and scratch again
If you have matched any symbols on your card - congrats! You can now buy your next ticket and start the next game.
Top Tip: You can win as much as £100,000 in some scratch games - it's worth shopping around to see what's out there.
How to win an instant lottery game
Many of the games online are match to win - where scratching 3 or more identical values will award a prize.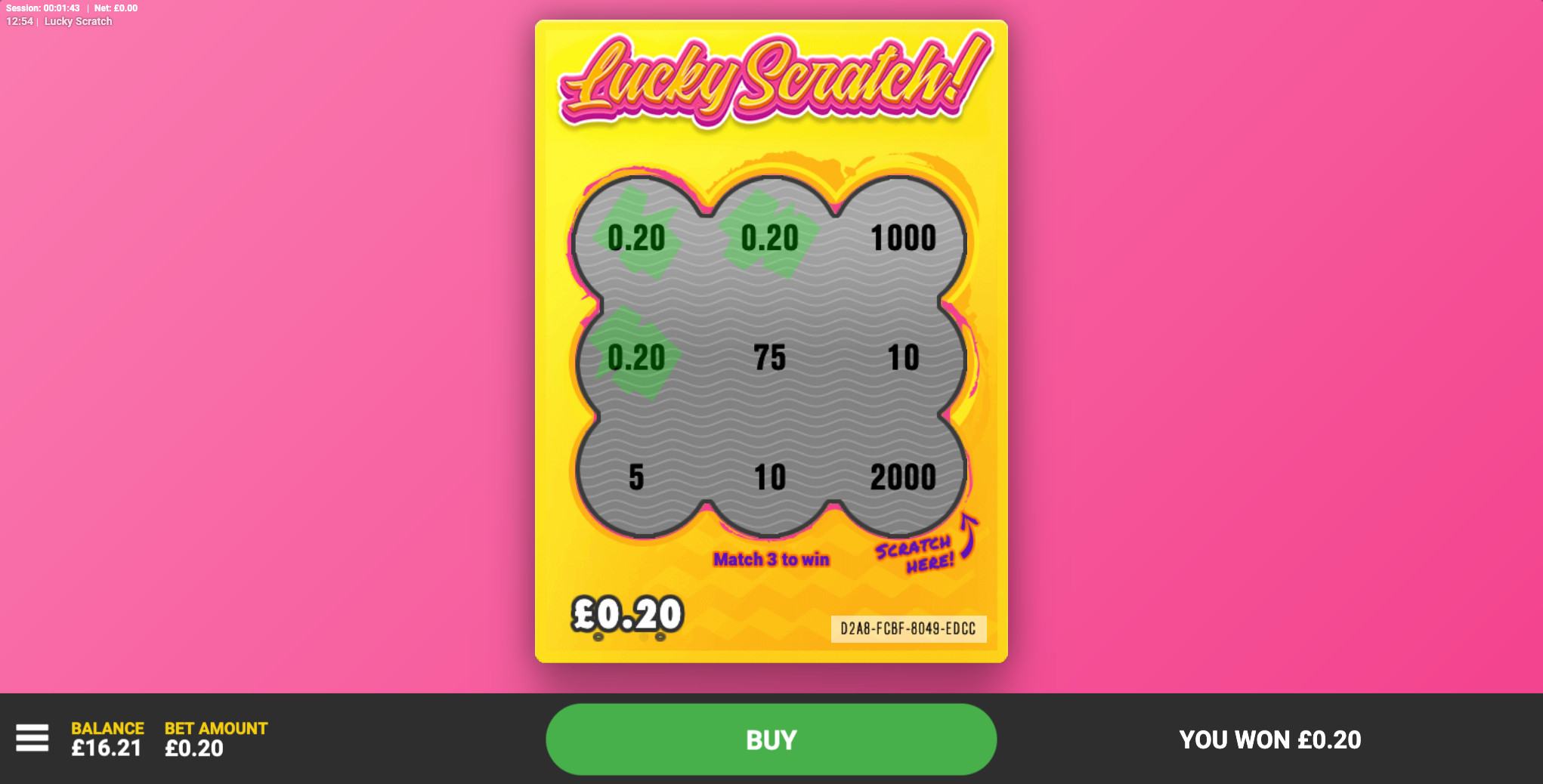 Once the card has been scratched, any winning values will be highlighted. Your balance should be instantly updated with the displayed prize value.
Typically, the prize paid will be equal to the matched symbols on the card.
While match to wins are the most common kind of online scratch games there are vastly more complicated games available. Some instant win lotteries even offer several games on a single card.
Online Scratchcards Tips and Tricks
Want to be a better instant win player? Check out our top tricks and tops for playing online scratchcards:
You can skip the scratching animation using the "Scratch All" feature. Handy for bigger cards with more scratching space.
Try out lots of different cards - each one comes with a different max prize, theme and style.
The mechanics of the card should be explained on the game screen - but for more detailed information, look for the info page.
Check the return to player - higher RTP online scratchcards theoretically pay out more over a long period of play.
Popular Online Scratchcards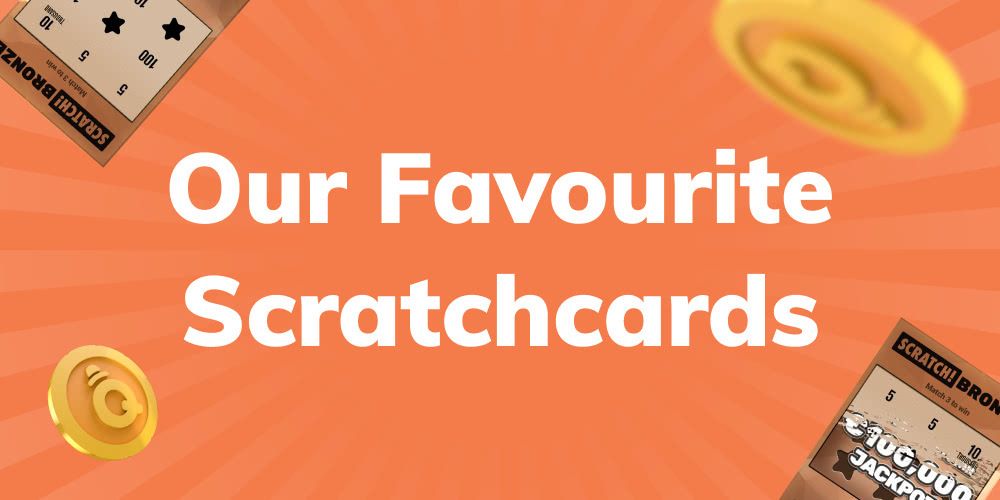 Have an itch for some instant win fun? Try out some of these recommended games, now available in the MrQ lobby.
Happy Scratch: From the tuneful whistle to the big inviting present - this card demands a scratch! Simply match 3 cash symbols to notch a win - there's top prizes of £1,000 up for grabs.
Avalon Scratch: Immerse yourself in the legends of King Arthur - and have a good scratch while you're at it. 3 golden crowns is all it takes to win the 1,000x prize.
Big Scratchy: You'll need all the Irish luck you can get with this sizzling scratcher. Peel back the 12 four leaf clovers to reveal a potential pot of gold - you might even score the £75,000 max prize!
FAQ
---
How much can I win on a scratchcard?
The biggest payout on a scratchcard in the UK stands at £4 million - there are a variety of cards online that can payout millions with a single play.
---
What is an instant win game?
Instant win games are a simple game of chance where completing a single action will result in a win/loss outcome. In the case of online scratchcards, you simply need to scratch to see if you win. Games in this category are typically easy and fast to play.
---
How do you know if you win on an online scratchcard?
The matching numbers will light up and a win animation will be played at the end of the game.
---