Looking to become a master shooter or just ready to roll the dice on a brand new casino game? We've got you covered here at MrQ with all the tools you need to sharpen up your Craps experience. Learn about Craps, how to play, and discover all of the top tips, strategies, and mechanics to make you a connoisseur. Just because it's one of the oldest casino games, doesn't mean it hasn't got some exciting tricks up its sleeves!
What is Craps?
Craps is a table casino game and is one of only two table games that use dice along with sic bo. Craps is played by placing bets on the table, throwing the dice, and matching the results to the bets made to see if they've won. The game stands as one of the oldest known casino games with history dating back to the 12th Century where it started as a little game known as Hazard. Over the course of history, the rules and name changed until, finally, Craps spread throughout the world; becoming a booming sensation by the 18th century. Nowadays, Craps is available in most land casinos and its popularity has spread to the online gaming scene where it has been adapted to include a mechanical shooter and instant results on each roll.
Craps, in practice, is most similar to Roulette in that it uses a betting table with sections of the table representing different types of bets. Chips are placed on individual spaces and payouts are based on how precise the bet is with 2 or 12 bets having the highest potential payout at 30:1. Games are super quick with online Craps recording the results instantly once the dice have landed. Simply place your bets and roll to see if you'll be a lucky winner.
A step-by-step guide to playing online Craps
Step 1: Place your bets
Once the betting window opens, set your bet value and place the chips on the game board to set your bets. Some online Craps games will give a brief explanation of each bet when highlighted so you can bet without needing to understand the lingo. As a rule, the safest bets are the ones that pay a 1:1 ratio including the Pass/Don't Pass and the Come/Don't Come bets.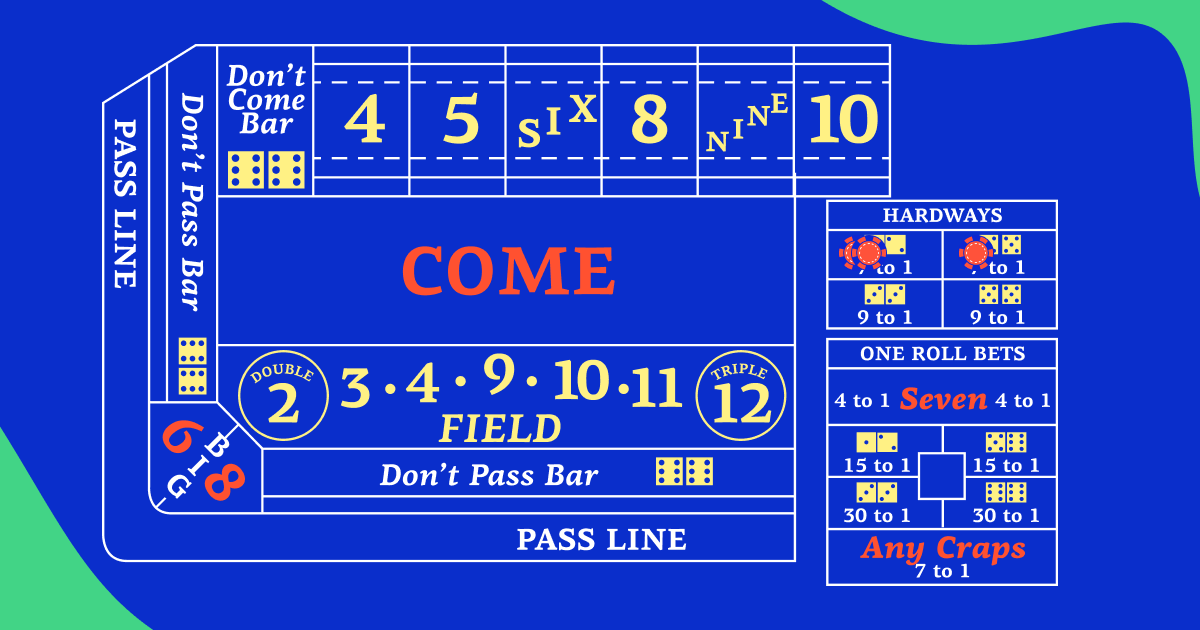 Step 2: Roll the dice
Once all bets have been made, the mechanical shooter will throw the dice and the results of the two dice are recorded for the final result. The dice values can range from 2-12 with each dice having a maximum value of 6. The results of the dice can activate either a Come Out roll or a Point roll depending on the final value.
Step 3: The Come Out Roll
During the Come Out roll, the puck in the middle of the table is set to OFF. In the Come Out roll, the dice are thrown and if the value of the dice equals 2,3,7 or 11 then the round is over and all winnings are paid on all pass/Don't pass bets. During this phase, Pass/Don't pass bets are available with Pass wins being made on a 7 or 11 dice value. Don't pass bets win if the total value of the dice is 2 or 3. Pass/Don't pass bets are only active when the puck is set to OFF, so if you join a game in motion and the puck is set to ON, then these bets are not active.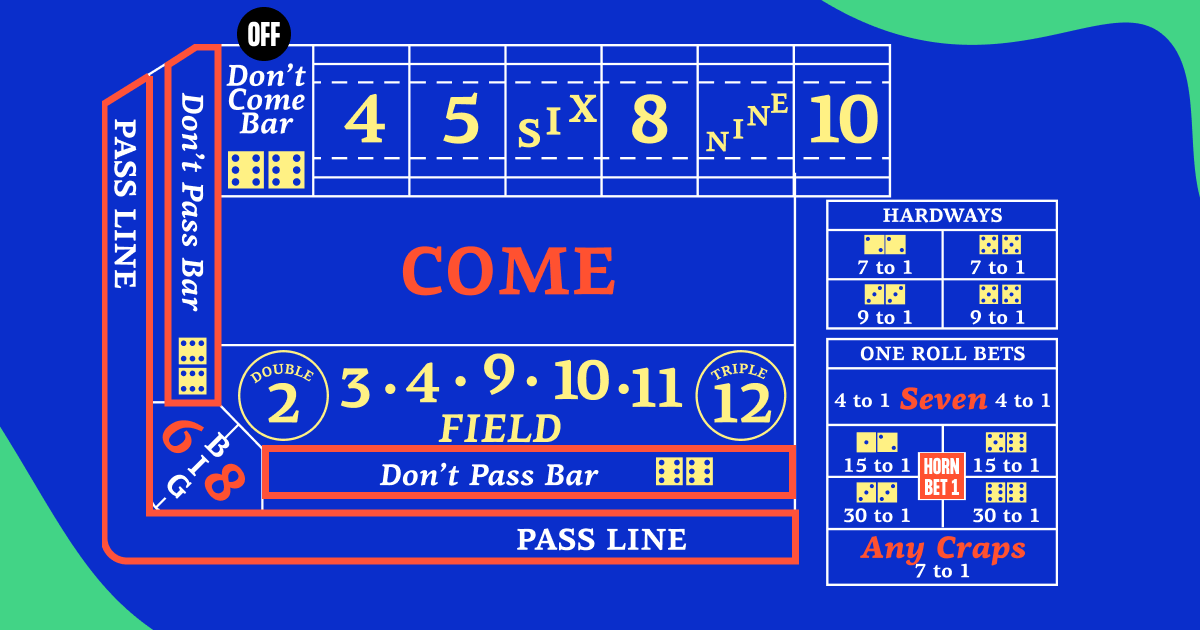 Step 4: The Point Roll
If the dice roll has a value of 4,5,6,8.9 or 10, then the puck is switched to ON and the Point roll is activated. During the point roll, the dice value becomes the point and the puck is placed above the number on the table. The point remains on the number until a value of 7 or the point number is rolled on the dice. During this phase, bets can be placed on the numbered bar at the top of the table for Place to Win/Place to Lose. Place to win bets win if the roll matches the point number bet before a value of 7 is recorded on the dice. Place to lose bets win if a 7 is recorded on the dice before the number appears on the dice.
**As an example: **
A 4 is rolled during the Come Out roll. The puck switches to ON and is placed on 4.
A bet is made on Place to Win on the number 4. The next set of dice is rolled and the value is a total of 4. The Place to Win bet wins and pays out at 9:5 odds. The puck is then switched to the OFF position.
Once a 7 or the original number is recorded on the dice, the puck switches back to OFF and the Pass/Don't Pass bets are re-activated for the next round. The puck remains off until another roll is made to activate a point.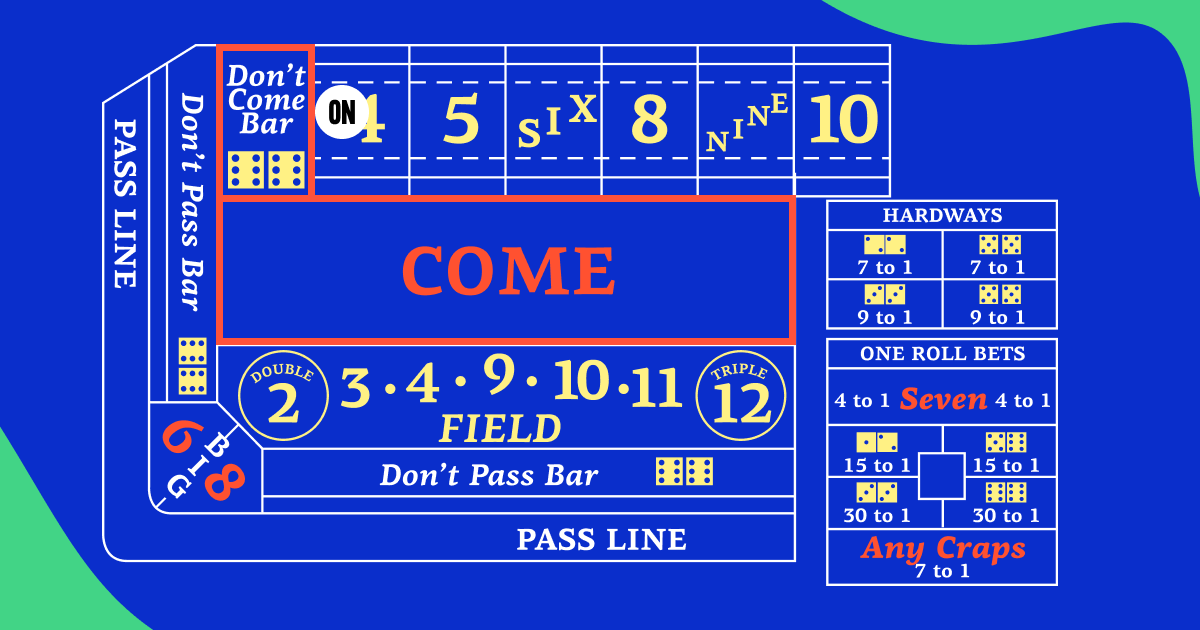 Step 5: Results and winnings
Payouts are dependent on how specific the bet is and the payout ratio. The safest bets pay at 1:1 as they cover a range of potential number combinations. The most precise bet with the highest payout is the 2 or 12 bet with a payout of 30:1. This is achieved by accurately predicting the two-dice combination to be the lowest value of 2 or the highest value of 12. Once the results are recorded and payouts made, the betting window opens and the game restarts.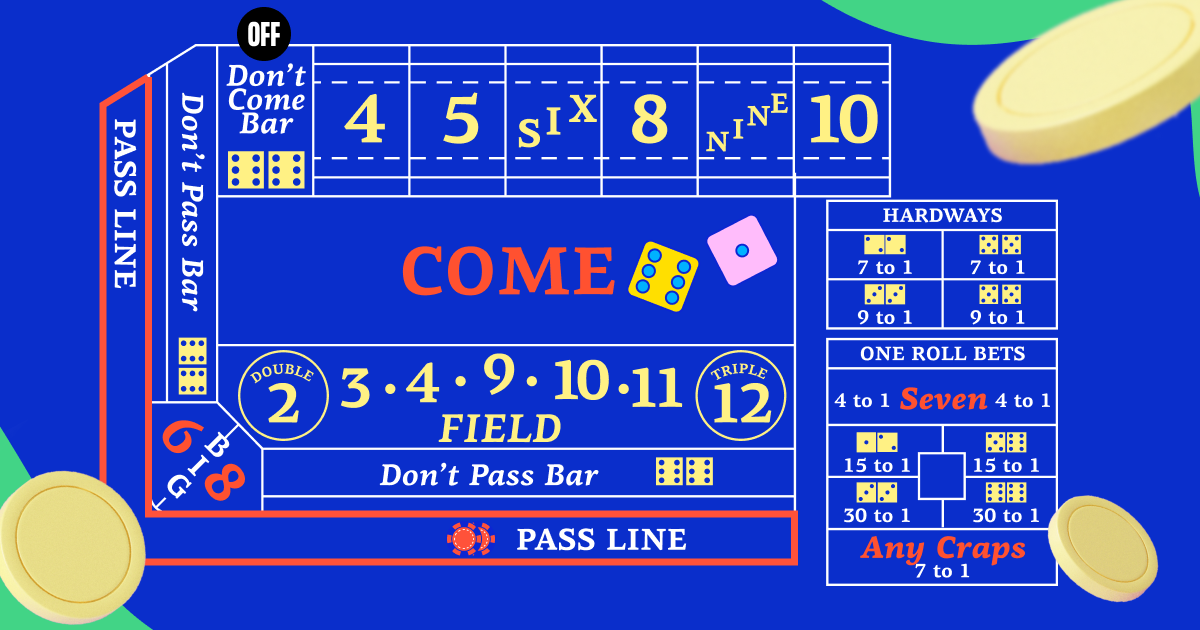 In 5 quick steps, you now know how to play a game of Craps. Take your newfound knowledge and flex your stuff with the awesome Live Craps available on MrQ
Craps Betting Table
Now that we have all the tools to play Craps, it's time to place our bets. Craps has a wide variety of potential bets that can be made with wildly different rules and payouts; it can get a little overwhelming. Don't you worry, we've done all the heavy lifting and compiled all of the potential available Craps bets into a handy-dandy cheat sheet that means you can bet with confidence. The tables are separated for each potential dice roll so you know when each bet is active at what stage.
Come Out bets (Available when the puck is OFF)
| Bet type | Dice Value to win | Dice Value to lose | Payout ratio | Winnings (Based on a £10 bet) |
| --- | --- | --- | --- | --- |
| Pass | 7 or 11 | 2, 3, or 12 | 1:1 | £20 |
| Don't Pass | 2, 3, or 12 | 7 or 11 | 1:1 | £20 |
Point Bets (Available when the puck is ON)
| Bet type | Dice Value to win | Dice Value to lose | Payout ratio | Winnings (Based on a £10 bet) |
| --- | --- | --- | --- | --- |
| Come | 7 or 11 | 2,3 or 12 | 1:1 | £20 |
| Don't Come | 2 or 3 | 7 or 11 | 1:1 | £20 |
Additional Bets (can be made during any roll)
| Bet type | Dice Value to win | Dice Value to lose | Payout ratio | Winnings (Based on a £10 bet) |
| --- | --- | --- | --- | --- |
| Field | 3, 4, 9, 10, 11, 2 (double pay) and 12 (triple pay) | 5, 6, 7, 8, 12 | 2:1 for 2 and 3:1 for 12 1:1 for all others | £40 for 12 £30 for 2 £20 for others |
| Hardways | Pair of 2s, Pair of 3s, Pair of 4s, Pair of 5s | 7 or 11 | 7:1 Pair of 2s and pair of 5s 9:1 pair of 3s and pair of 4s | £80 for 2s and 5s £100 for 3s and 4s |
| Seven | 7 | Any other number from 2-12 | 4:1 | £50 |
| Craps | 2, 3, 11, or 12 | 4-10 |   |   |
| One Roll | Pair of 1s, a 1 and a 2, 5 and a 6, pair of 6s | Any other combination | 30:1 for a pair of 1s and a pair of 6s 15:1 for 1 and 2, 5 and 6 two-dice combinations | £300 for pair of 1s and pair of 6s £150 for 1 and 2, 5 and 6 two-dice combinations |
| Place to Win | Any chosen single number (4,5,6,8,9,10) to appear before 7 | 7 | 9:5 for 4 or 10 7:5 for 5 or 9 7:6 for 6 or 8 | £28 for 4 or 10 £24 for 5 and 9 £21.67 for 6 or 8 |
| Place to Lose | 7 to appear before any chosen single number (4,5,6,8,9,10) | Chosen number (4,5,6,8,9,10) | 5:11 for 4 or 10 5:8 for 5 or 9 4:5 for 6 or 8 | £14.55 for 4 or 10 £16.25 for 5 or 9 £18 for 6 or 8 |
Pair Bets (only available on Pass/Don't pass and Come/Don't Come bets)
These bets are only available when a Pass/Don't Pass or Come/Don't Come bets don't pay out on the roll they are placed. These bets are placed alongside the initial bet and can be placed on the value landed by the dice i.e. value of 8.
| Bet type | Dice Value to win | Dice Value to lose | Payout ratio | Winnings (Based on a £10 bet) |
| --- | --- | --- | --- | --- |
| Take Odds | Any chosen single number (4,5,6,8,9,10) to appear before 7 | 7 | 2:1 for 4 or 10 3:2 for 5 or 9 6:5 for 6 or 8 | £30 for 4 or 10 |
| Lay Odds | 7 to appear before any chosen single number (4,5,6,8,9,10) | Chosen number (4,5,6,8,9,10) | 1:2 for 4 or 10 2:3 for 5 and 9 5:6 for 6 and 8 |   |
Top Tips for Craps
Start small- Especially if you're new to Craps, start your bets small and build your confidence on the different types of bets and payouts
Learn the bets- Figuring out what bet matches to each dice value is vital to help you in your game of Craps. It might require a little bit of homework but it's worth it to maximise your fun when playing Craps
Practice makes perfect- As with most things- practice makes perfect. Don't feel disheartened if your first few bets come up empty. Try out different bets, learn the moves, and find your footing.
Keep it Fun- Above all else- any game you play should be fun. If you are finding that you are becoming frustrated with a game or are spending more than you are comfortable with then consider taking a break. If you want some assistance in setting betting value or session time limits then check out our flexible list of Safer Gambling Tools.
Biggest Differences between online and table casino Craps
Shooter- One of the biggest practical differences with online Craps compared to land casino Craps is the way the Shooter works. Online Craps uses a mechanical Shooter that automatically throws the dice after each betting round as opposed to having a player be the Shooter. The mechanical shooter helps quicken the pace as it is activated automatically leading to those all-important betting results.
Bet Minimum- Online Craps games offer a lower minimum bet than its land casino counterpart meaning you can play a game for as little as 50p. This means more time to build up your confidence and find the strategy that works best for you without needing to dedicate to large buy-ins and hefty betting minimums.
Speed- Land casino Craps, similar to Roulette, has a lot of downtime between games where results and winnings are calculated before the next round is available. Online Craps automates this by having a computer calculate the results and payouts instantly so you can get right back into the action.
Control- Like all land casino games, the pace is dictated by the dealer as they decide on betting windows, limits, and the pace of the game. Online Craps puts the control in your hands meaning you can take your time and tailor the experience to what you want it to be. Features such as easy mode, auto bet, and tutorials help you learn the game at your pace and dictate the pace of games as you build up your confidence.
Where to play Craps Online
You can play Craps online now at MrQ. Sign up today for 20 free spins and play the top real money live Craps from Evolution as part of their exciting range of live casino games.
FAQ
---
How to win Craps?
To win in Craps, you need to correctly predict the results of a 2-dice throw with payouts depending on how specific the prediction is. The way to win is similar to that of roulette except using dice instead of a wheel.
---
What is the safest bet in Craps?
The safest bet in Craps are the ones that have a 1:1 chance of winning. This includes bets such as Come/Don't Come and Pass/Don't Pass.
---
Can I win real money playing Craps?
All of the Craps games available on MrQ are real money games where winnings can be withdrawn for real cash.
---
Is Craps easy to play?
Yes. Once you get a decent grasp of the type of bets available, playing Craps is almost as simple as a standard game of Roulette. Online Craps make the experience even simpler to play as it contains a mechanical shooter that rolls the dice for you, meaning you can focus on your ever-important bets.
---
Can I play Craps on mobile?
You can play exciting live Evolution Craps on all mobile devices now at MrQ. Sign up today and play the finest selection of online live casino games including Blackjack, Baccarat, and Craps.
---