The OnlyFans Highest Earners Raking in More than £10 Million a Year
OnlyFans is a revolutionary content subscription service where creators earn millions from users or fans who subscribe to their content - with some of the most successful creators known for offering lewd, nude, and crude imagery for legions of followers. To find out just how much an OnlyFans model can earn with a well-placed camera, MrQ has analysed the most popular users on OnlyFans to reveal the top earners and how much they make each month. We then created a comparison to find out how much an average worker in a variety of industries makes compared with the top men and women on the site.
The most popular users on OnlyFans each make more than £10 million a year with the top-earning models making a staggering £21.3 million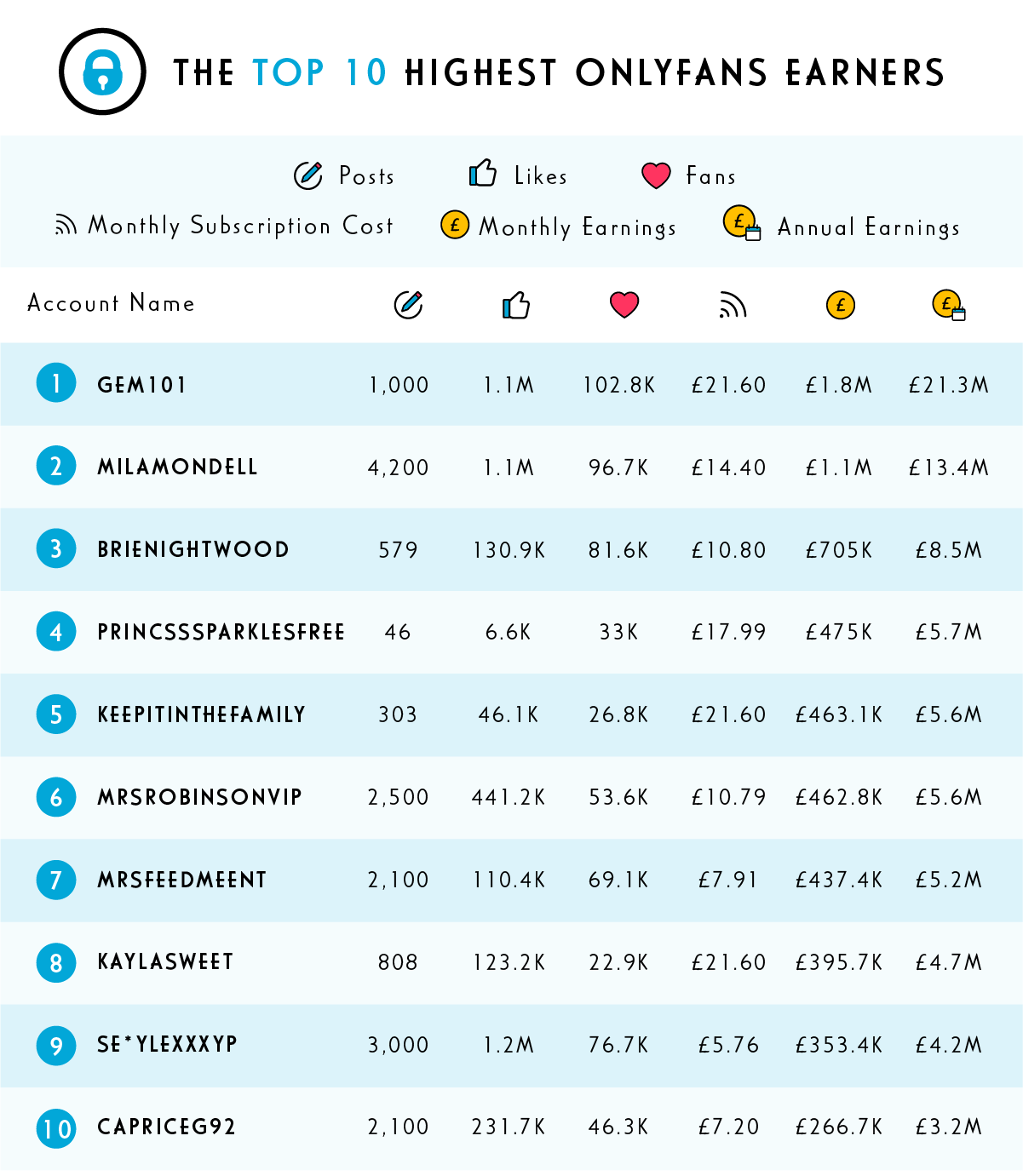 Analysing the biggest users on the platform who shared their numbers of subscribers, we looked at subscribers and subscription costs to reveal their estimated earnings both monthly and annually. Among the most popular accounts with listed subscribers, gem101 ranks as the highest earner, with an estimated £21.3 million in annual income, earning an eye-watering £1.8 million each month. This comes from a £21.60 subscription charge per month and 102,800 subscribers to the account. The second-highest earner is model milamondell, whose adult contributions rake in £13.4 million a year and £1.1 million each month, while third-highest brienightwood earns £8.5 million a year and £705,024 a month with a lower subscription fee of £10.80. Either could be earning more, however, from passionate fans offering tips and purchasing additional services from the models. In fact, these may not even be the highest earnings on the app, with many OnlyFans models obscuring their total subscribers, and with many earnings coming from tips, photo bundle purchases, and secondary pay-per-media accounts.
Comparing the OnlyFans income to the highest-earning professions
When comparing the OnlyFans users to the average income of the highest-earning professions, we found a stark contrast. While boning up on hard subjects at university might earn a decent amount as doctors at the pinnacle of their career will earn an average of a little over £79,000 annually (around £6,609 a month), top models like gem101 earn more than 22 times as much in one month alone. That's nearly 270 times as much a year. It's not just doctors who are being shown up by the massive earnings of these OnlyFans models. When looking at the average take-home pay, UK workers earn a significantly lower income on average than OnlyFans users in one month alone. A marketing professional earns just £40,000 while a teacher earns £35,000 and a journalist earns £38,000.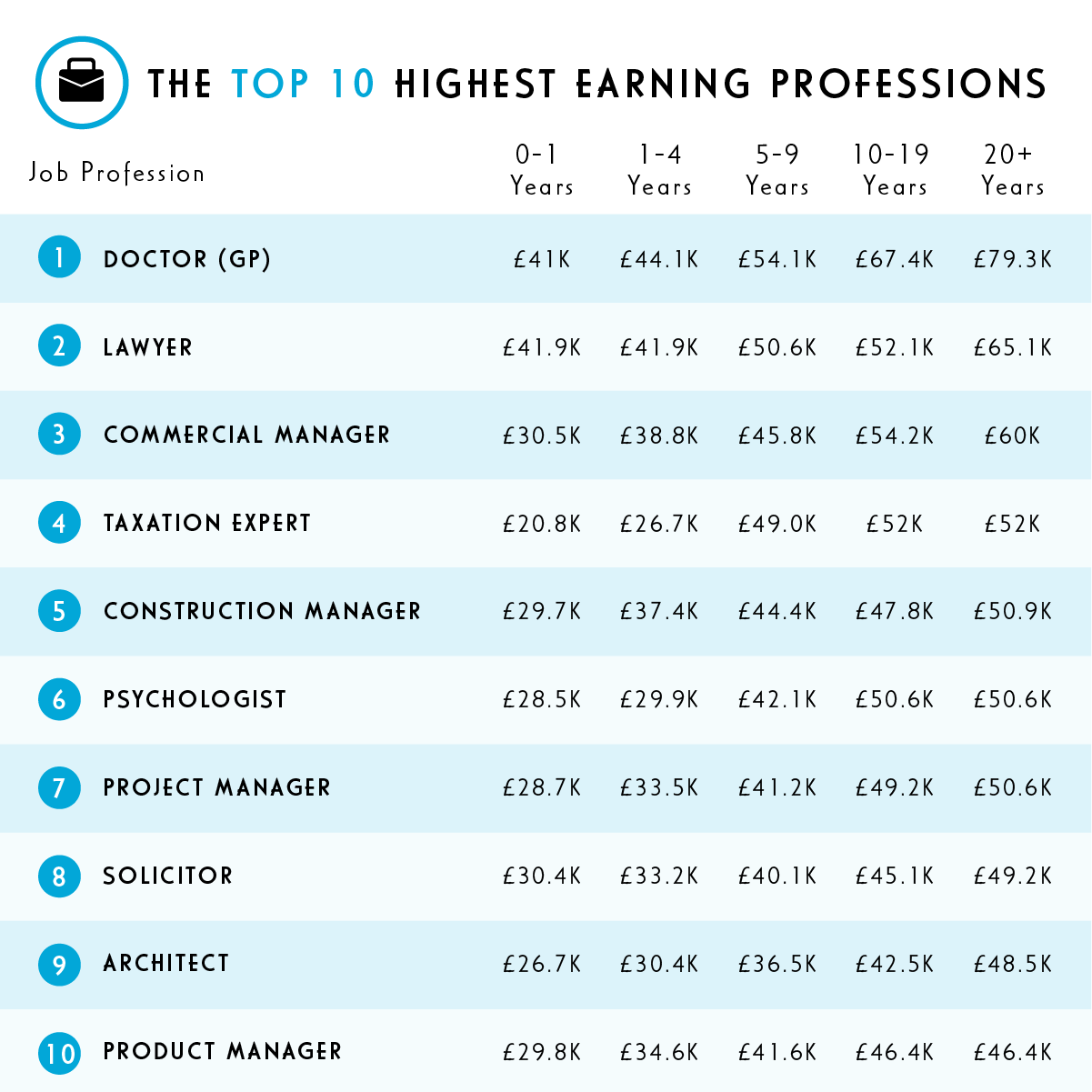 An average well-qualified lawyer earns 27 times less in one year than the top Onlyfans user does in one month at just £65,100. A commercial manager with over 20 years of experience earns 30 times less, and a taxation expert 34 times less at £60,000 and £52,000 respectively. For reference, the average salary in the UK is £31,461 - 0.15% the annual earnings of gem101. That means all these professions are earning above the average salary, but bigger money might be right under their nose - or their shirt.
Sources and methodology
https://influencermarketinghub.com/onlyfans-stats/ - OnlyFans Cut OnlyFans takes a 20% cut, which has been factored into the data.
https://ranking-fans.com/ - Seedlist and Fans Sorted by total fans; accounts where fans are not available have been excluded. Many accounts listed as having the most fans are free accounts used by OnlyFans models who also possess paid accounts. However, as fan numbers were only available for the free accounts, these have been disregarded for the purposes of this story. Likewise, "free" accounts where subscription is free but photos provided required payment have been disregarded. Accordingly, the only data shown is for paid accounts with high subscriber numbers. In some cases, models possessed multiple paid accounts. In these cases, only the one with the highest subscriber numbers has been tracked. Monthly earnings are based exclusively on the individual account assuming no media requires additional payment and disregarding tips and similar voluntary costs. Similarly, free trials and discounts have been excluded. Accordingly, all monthly earnings are estimates reflecting the monthly payments of subscribers over the long term.
https://www.payscale.com/ - Salary Development For each position, we have used salary changes after 1 year, 4 years, 9 years, and 20 years, based on Payscale's system. We have also made reasonable assumptions as to the development of the position-holder's career, in that, where reasonable, we have used a "senior" equivalent of their position after 5 years. Where data was not available, an average of the two figures (greater and lesser experience) have been used. Where data showed that salary decreased, this has been ignored, and the previous figure has been assumed.