The game
This is it, this is the one you've been looking for! As our mainstay 90 ball bingo room, Popcorn is open 24 hours a day for all MrQ players. This is the classic game played at bingo halls all over the country; no twists, no frills and no gimmicks.
How to play Popcorn 90 ball bingo
All you need to do to play is buy your tickets from the lobby! Once the game gets going, match the numbers as they are called on your 3x9 ticket.
The balls are numbered 1-90 (obviously) and are called out one by one. Don't worry about missing a number, our auto dabber will mark your cards for you.
Your ticket should look something like this.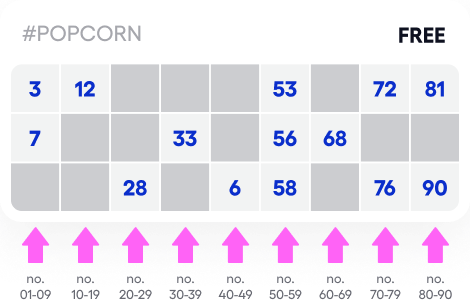 How to win 90 ball bingo
In 90 ball bingo, you usually have three chances to win: one line, two lines and a full house. If you're the first player to complete a line on a ticket, you'll win the first prize.
To win the two line prize, you must have all the numbers called on two lines of the same ticket and for a full house, you'll need to complete all the numbers on a single ticket.
Unlike the bingo hall, you won't need to call bingo, we'll do it for you! This way, you'll never miss a win.