The game
Our Piece of Cake room is the perfect treat for you. We'd say that tickets are selling like hotcakes, but they're free – make sure you grab a slice before it's gone for good. When you've made your first deposit of £10 or more and been verified, you will unlock a whole week of free bingo games!
How to play Piece of Cake 90 Bingo
To get in on the action, you'll need to claim your tickets from the lobby. Once the game starts, the concept is simple, match your numbers on your 3x9 ticket and (hopefully) win!
The balls are numbered 1-90 and are called out one by one. Don't worry about missing a number though, our auto dabber will mark your cards for you.
Your ticket should look something like this: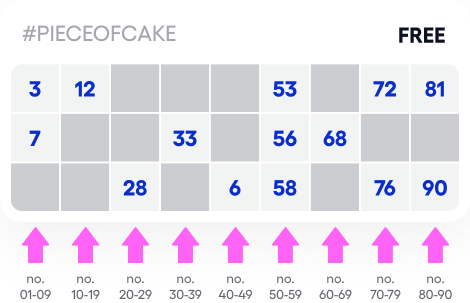 How to win 90 Ball Bingo
You can win three different ways in 90 ball bingo: one line, two lines and a full house. If you're the first player to mark a line on a ticket, you'll win the first prize.
To win the two line prize, you must have all the numbers called on two lines of the same ticket and for a full house, you'll need to complete all the numbers on a single ticket.
Unlike offline bingo, you won't need to call bingo, we'll do it for you! This way, you'll never miss a win.