The game
When we say free for all, we mean all! Every new MrQ player can get in on this exclusive free bingo room for 3 days after making your first deposit of £10 or more. Free For All is perfect for seeing what MrQ is all about and maybe even winning some cash in the process!
How to play Free for All 90 Bingo
To play 90 ball bingo, you'll need a ticket (or six) which you'll find in the lobby. Remember, this is a free game of bingo, so you must claim your tickets in the Quick Buy section before the game starts.
Once the game has started the balls will start rolling in. Match the numbers on your 3x9 grid ticket and win! The balls are numbered 1-90 and are called out one by one. Our auto dabber makes sure you never miss a number. Sit back, join the chat and have fun!
Your ticket should look something like this: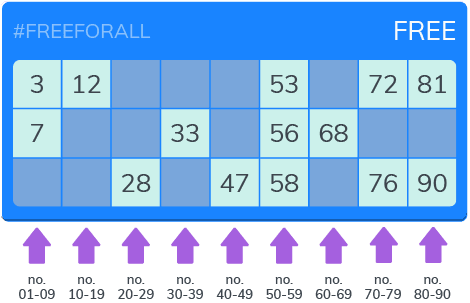 How to win 90 Ball Bingo
There are three ways to win in a game of 90 ball bingo: one line, two lines or a full house. If you're the first to complete a line on a single ticket, you'll win a prize.
To win the two line prize, you need all the numbers called on two lines of the same ticket and for full house you'll need to have every number on a single ticket.
Unlike in a bingo hall you won't need to call bingo, we'll do it for you! This way, you'll never miss a win. We won't judge you if you want to shout it anyway…