Game Info
Anyone for some ice cream? This Thunderkick slot is based on the popular sweet treat, each reel being an ice cream with every scoop being a symbol. It's very visually pleasing, as fresh scoops of ice cream sit on top of cones on the counter as the sun sets in the background.
We're at a fair or a theme park, as can be seen from the ferris wheel to the left of the play board and the sounds of chatter and birdsong featuring alongside a jingle from the ice cream van. There are lots of different flavours to choose from in Sunset Delight, and you can have a wafer too, in the form of the Scatter symbols, which are overlaid on the ice cream scoops to get you into the bonus game. Ours is a double chocolate with sprinkles!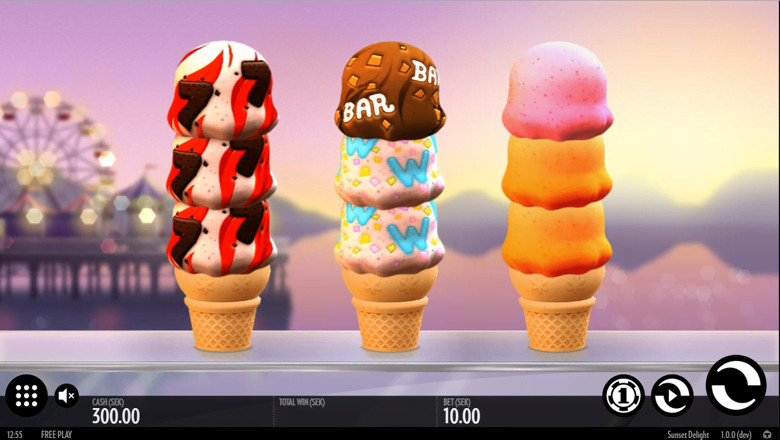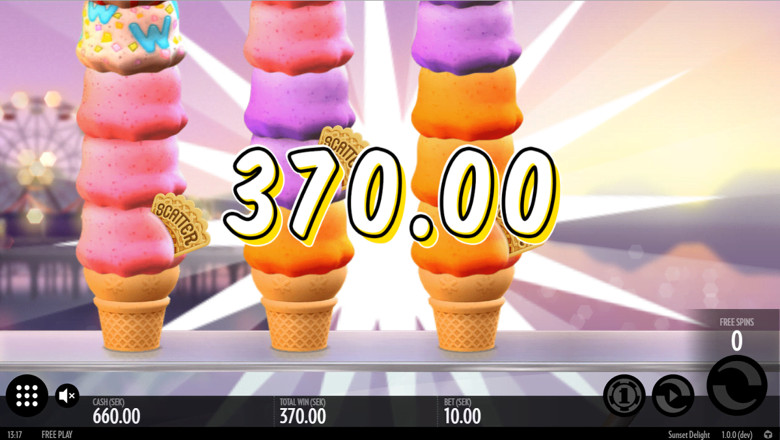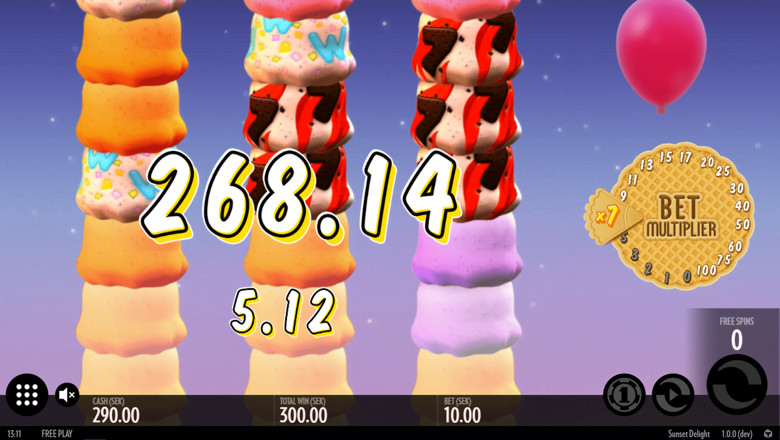 How to play
In terms of gameplay, it's kept quite simple. There are 3 reels - all triple-scoop ice creams - and just 5 paylines as of course being a 3x3 play board, there aren't too many possibilities! As a result, you just need three-of-a-kind when it comes to matching symbols, and from a £1 spin you could make anything from your pound back to a generous £15.
The Wild symbol here pays out like a regular symbol, but also substitutes for the other regular symbols, so it might help you get a combo, or simply pay out in its own right. You've got 7 different flavours of ice cream, so which combinations will you see?
Pay table symbols (based on a £1 stake)
Purple
Orange
Strawberry
Lemon
Raspberry Ripple 7
Chocolate Chocolate Chip Bar
Strawberry Sprinkles Wild
Bonus symbols
Bonus features
Don't wafer us, get straight into the Bonus Game! You just need 3 Scatter symbols to start the Bonus Game - they're overlaying symbols, so they can appear anywhere on the reels. The Bonus Game itself features Free Spins, a Bet Multiplier Ladder, and the Step/Spin symbol - a variation on the regular Scatter symbol.
Essentially, every time you get a Step symbol, you'll move up one step on the Bet Multiplier Ladder, while every time you get a Spin symbol you'll be awarded a Free Spin - simple right? If you're lucky, you'll return to the base game with more than a few ice creams to pass around!