Game Info
You've played the original 1991 game, but now thanks to NetEnt you can try your hand at Street Fighter II in slot form! It's been kept pretty true to the Street Fighter series, with 16-bit graphics, the sound effects you know and love, and 8 classic characters to play as.
There are an abundance of bonus features too, from Beat the Boss Free Spins to the Insert Coin gamble feature, and the Car Smash Bonus Game. This isn't just any slot game - there are more twists and turns than a maze!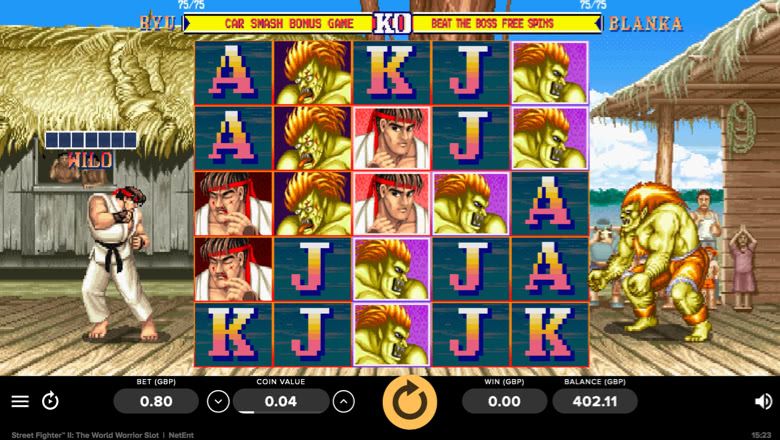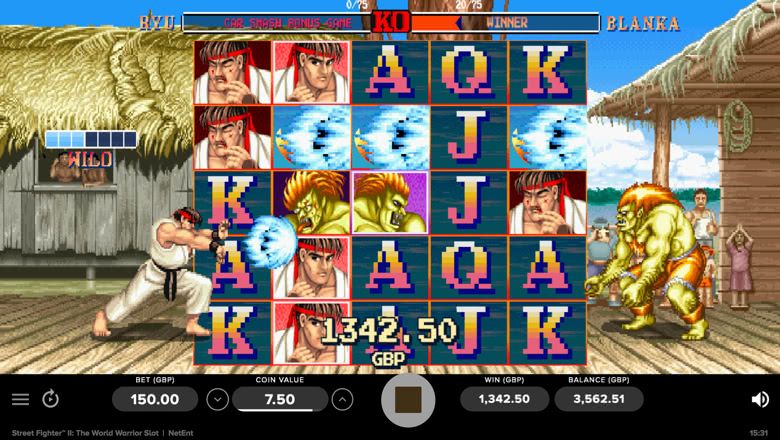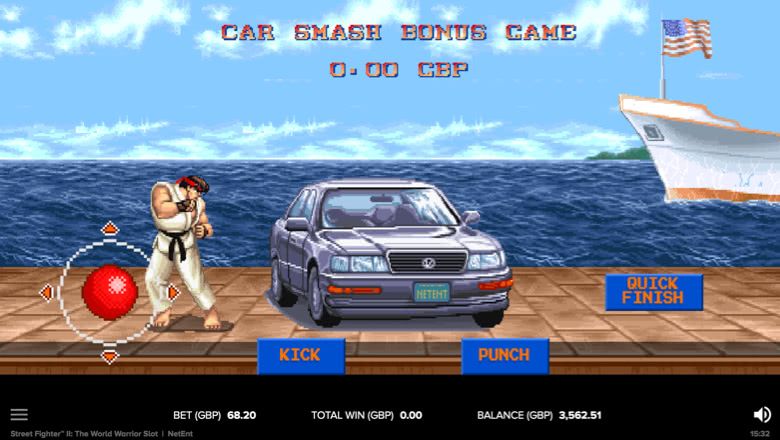 How to play
Before you get going, you'll need to choose a character. There are 8 to choose from, and if you're familiar with Street Fighter they won't be strangers! The game itself is played in 'battles' so your chosen character fights a random opponent, and the battle will continue until one of the characters runs out of health points.
If you get your character's Victory or Damage symbols, you'll deal damage and reduce your opponent's number of health points, but if your opponent's symbols appear, you'll receive damage! You can also get wild symbols to fill up your Wild Gauge - if you're lucky, you might win big!
Pay table symbols (based on a £1 stake)
Bonus symbols

Wild this symbol substitutes any other symbols in a payline

Colossal symbol *Victory and Defeat symbols can appear as 2x2 Colossal symbols counting as a cluster of 4 single symbols
Bonus features
Keep an eye on your health points when playing the base game. If you win, you'll go to the Beat the Boss Free Spins round, while if you lose you'll have to play the Car Smash Bonus Game. If you're lucky enough to try your hand at the former, you'll have to get through 4 levels, each with its own opponent. You'll either lose or go to the ultimate round, where you face M. Bison.
The multiplier increases during each round too, starting at x2 on the first round but going up to x10 when up against M. Bison. To make things even better, if you get through without losing, you'll get an additional prize of 100x the bet!
Moving onto the Car Smash Bonus Game, you have to - as the name suggests - destroy the on-screen car using your character, and can win from 5 to 15 times your bet! There's the Insert Coin gamble feature too, which is activated if you lose during the Beat the Boss game. You can restart the level by sacrificing some of your winnings, but be warned - you can only gamble once per each Free Spins experience. Will you risk it?