About Genie Jackpots Cave of Wonders
Finally, the Genie is the one in charge. In charge of an underground cave full of treasures! The great news is, the Genie is feeling generous. It's back to old school slot machines, with the exciting, interactive, bonus trails and bonus ladder. Feel nostalgic as you take control of the stopper which highlights different locations around the board. Or as the Shot Climb bonus helps you climb the ladder to greater riches.
The background music creates a slightly eerie atmosphere, with each haunting sound of approval from the Genie as you hit a winning combination. Blueprint gaming have used a rich colour palette with their design, giving the player an enticing visual appetite for the prizes that can be won. It's time to accept the challenge, and to 'Open Sesame'.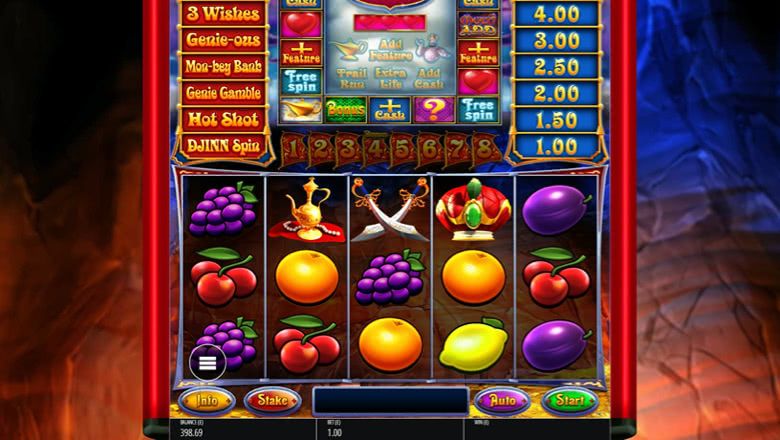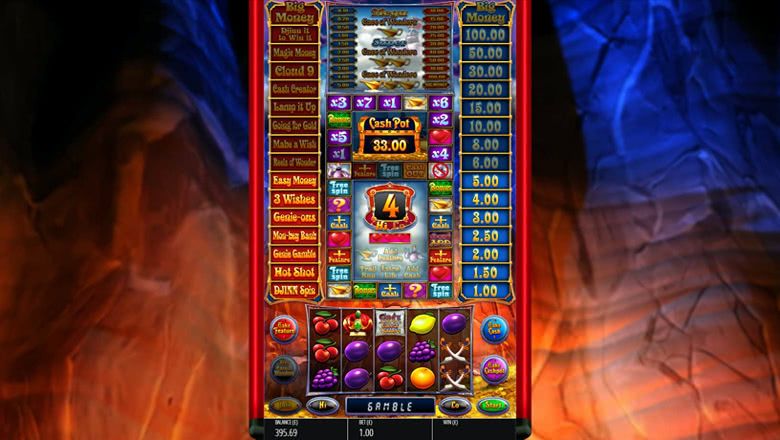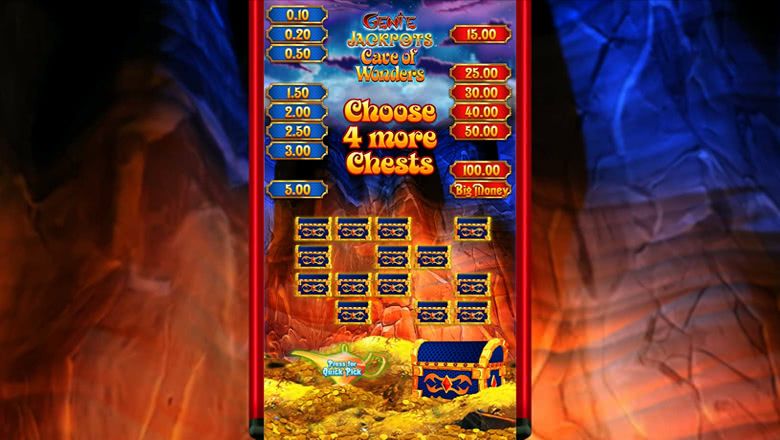 How to play Genie Jackpots Cave of Wonders
With each spin, numbers can randomly appear on the symbols. These numbers move you along the trail that appears above the reels, but it resets after every spin. If you reach number 4 on the trail, you'll trigger a bonus round! Get more than 8 and you'll be rewarded with a cash prize. The game will randomly hold your trail between spins, meaning the next spin could be an even bigger win!
This is when the game really begins. Equipped with a wide range of bonus features triggered during spins, Genie Jackpots Cave of Wonder is designed to look like a mechanical game you would find in a venue of your choosing. The familiar wheel at the top of the screen spins randomly to determine which bonus feature will be activated.
The symbols you would expect from a pub fruit series are present in all their delicious fruity glory. Alongside these the Genie's accessories make up the higher cash prizes for winning lines.If you're lucky enough it won't take long before you find yourself on the bonus ladder or bonus trail. Once you're in, you are in control of how long you get to stay there. Use the stopper to its best advantage, to exit with a big win.
Pay table symbols (based on a £1 stake)
Bonus symbols

Symbol with Number Collect these to move along the trail.
Bonus features
This game comes with a staggering 16 bonus features, most of which take place on the bonus ladder. Of course, the game wouldn't be complete without three wishes! Once granted you'll have 3 shots to climb the cash ladder. Cloud 9 has the top 9 values dappled on the cash ladder and up for grabs. With the option to choose to repeat, there's potential for some big money! More chances to advance the cash ladder are activated during Lamp It Up, pick from 3 lamps to either climb up the cash ladder or collect your winnings. Plus, any game featuring a genie wouldn't be authentic without a ride on the magic carpet!
If all of this wasn't enough, there is yet another bonus feature within the game. The Cave of Wonders, naturally. The player can choose to enter the Cave, or play with a chance to upgrade to the Super Cave of Wonders. In order to activate the Super Cave of Wonders, 5 lamps need to be collected. With so much going on, it's time to get those feet up, shut out the world, and enter the magical Genie Jackpots Cave of Wonder.`,