Game Info
BØrk the Berzerker Hack 'N' Slash Edition is a thrilling, adventurous online slot game. The aim of the game is to help rescue BØrk's beloved from the evil magician that holds her captive.
The monstrous pay table symbols and suspenseful, tip-toe like music is reminiscent of Scooby Doo. Thankfully the heroic BØrk wild symbol in all his muscled and hairy glory is around to save the day. Unlike most mystery stories, the villain evil magician is actually working in your favour as the banging bonus symbol.
There are so many opportunities to score big in BØrk the Berzerker Hack 'N' Slash Edition with a generous 20 winning payline combinations flowing from left to right. That means there are 20 different ways to win in the main and bonus game.
Make it to the bonus game and help BØrk in his final trial to defeat the evil magician and win the hand of the fair maiden. BØrk the Berzerker Hack 'N' Slash Edition is an adventure and a half. It's time to grab your fur pants, pick up your Mace and prepare for victory.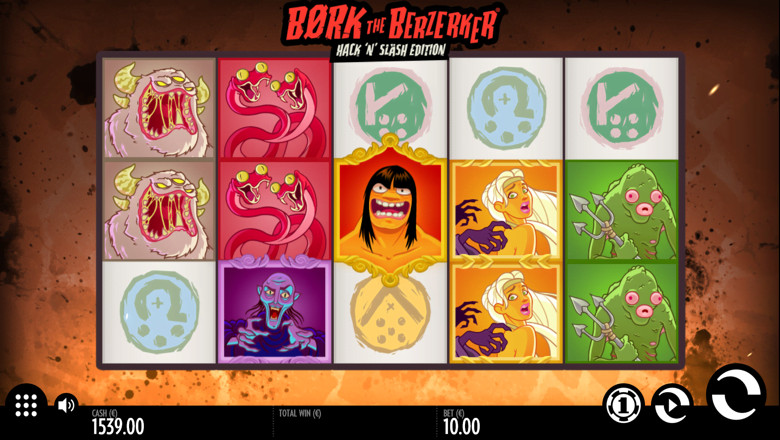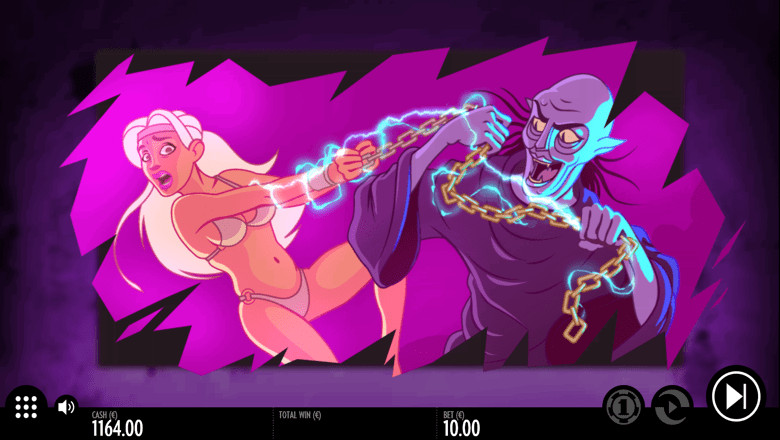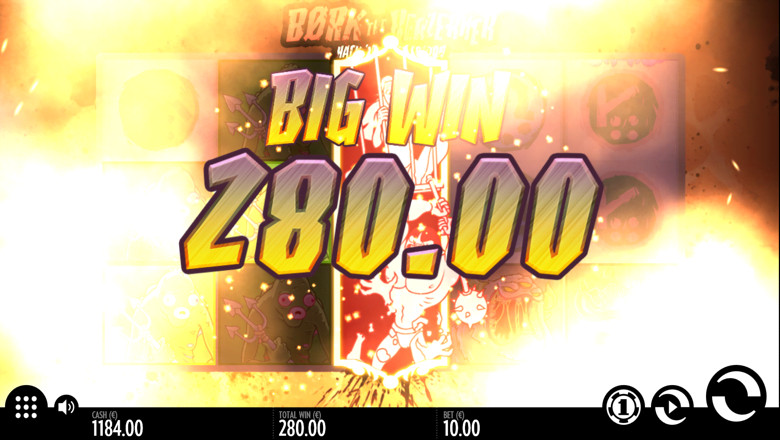 How to play
BØrk the Berzerker Hack 'N' Slash Edition uses a 3x5 play board with nine colourful and ghastly pay table symbols. To win, simply match any of the symbols to any of the 20 winning combination paylines.
Pay table symbols (based on a £1 stake)
Blue Symbol
Green Symbol
Yellow Symbol
Brown Monster
Red Monster
Green Monster
Maiden
Bonus symbols
Bonus features
BØrk the Berzerker Hack 'N' Slash Edition is full of amazing bonus features to help you on your quest to defeat the evil magician, save the maiden and win big bucks. This slot game is only for the bravest of the brave.
The other hero of the story, the main guy BØrk, is not your everyday wild symbol. As usual, the wild can substitute any pay table symbol, except a bonus symbol, to create a winning payline. However, this is an expanding wild which will expand vertically if included in a payline win. In the main game, the expanding wild can only appear on reel three. Although, in the bonus game the expanding wild will only appear on reel two, three and four.
The bonus symbol, our friend the evil magician, will trigger the bonus game if three or more land in the main game. Not only will it activate the bonus game, it will grant you 10 free spins. For each additional bonus symbol, you score above three, you will be rewarded with extra free spins, all the way up to 20 free spins.