From foot fantasies to spanking sessions, there's a long list of raunchy interests out there to get people going, including objects and body parts that we don't necessarily even relate to sex and bedroom fun.
Some tap into these desires by selling kinks on dedicated fetish sites to make a profit. But which sexual fetishes are the most popular and profitable?
To find out, we've delved into search data to reveal the nation's favourite kinks and fantasies, and analysed several saucy sites to reveal which are the most lucrative.
BDSM CROWNED BRITAIN'S FAVOURITE FETISH WITH 135,000 MONTHLY SEARCHES ON AVERAGE, AND A STAGGERING 1,600,000 EACH YEAR
The adult entertainment industry has reached dizzying heights thanks to the internet and exploded during the pandemic, with many having more time to engage in sexual fantasies whilst also exploring new ways to boost their bank balance.
The demand is clearly there to profit from people's varying kinks, as our search volume analysis reveals the top 10 most searched fetishes in the UK.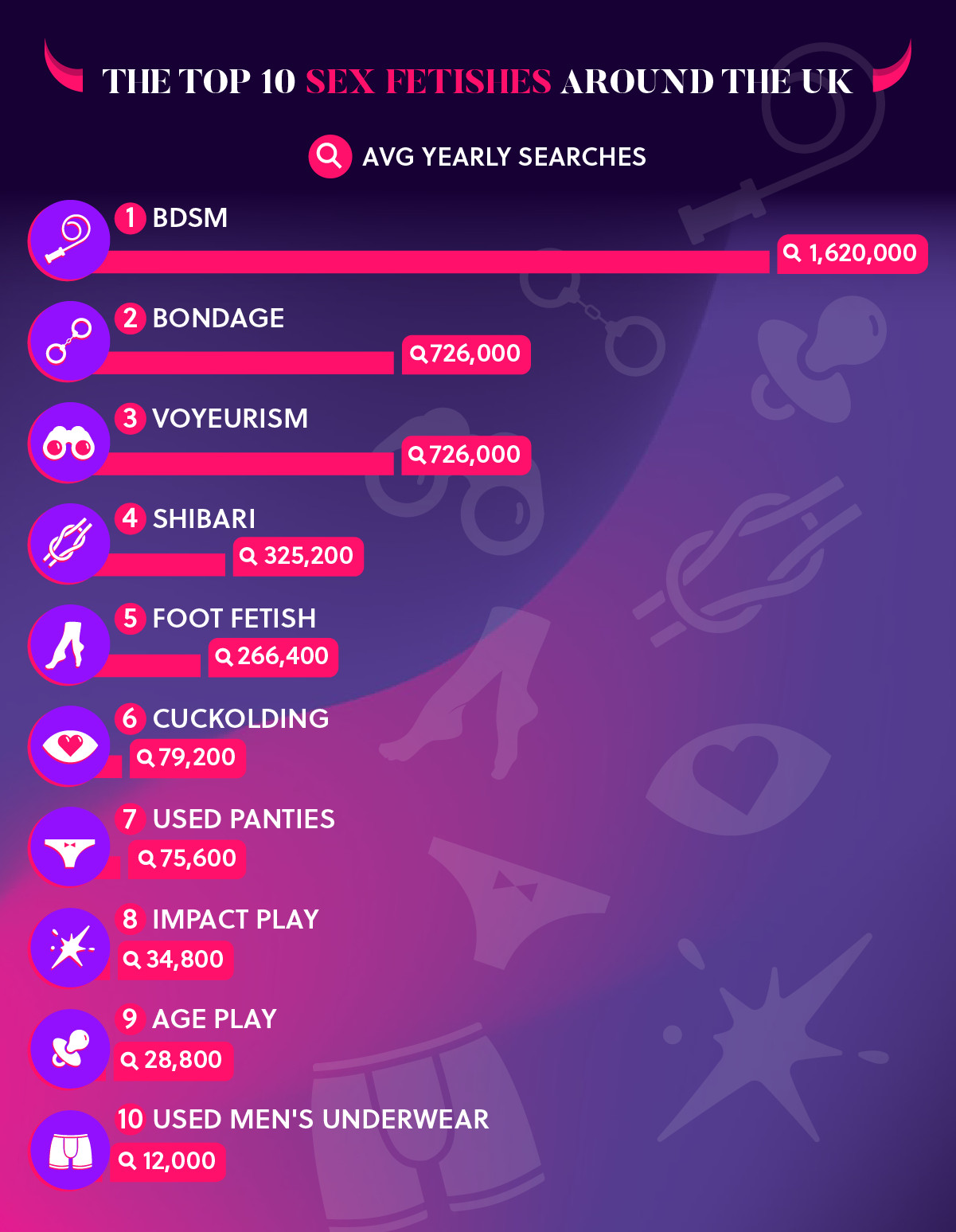 Taking the crown as the most searched for fetish is BDSM (bondage, discipline, sadism and masochism) which involves tying a partner up, playful games in which one partner is more dominant, and using pain for pleasure. It's the most searched for fetish across all major cities, including London, Manchester, Cardiff and Glasgow. In one year alone, Brits are searching for this fetish over 1.5 million times (1,600,000).
Bonking Brits also enjoy being tied up in the bedroom, with searches for bondage topping 60,500 per month and 726,000 times in the last year. This horny practice is a subculture of BDSM, involving restraining a partner for erotic, aesthetic, or sensual stimulation. Those who are into bondage get creative under the sheets, making use of fluffy handcuffs, rope and tape to fulfill their fantasy. Even fast-fashion brands are getting in on the sexual wellness boom!
Voyeurism (a more risque fetish) takes joint-second place with the same amount of searches per month at 60,500 (726,000 searches per year). This is the erotic excitement gained from watching someone undress or engage in a sexual act. In third is a specialised form of bondage, shibari, with an average of 325,200 searches a year.
There are many documentaries shedding a red light on the different sexual interests people have, some of which are sometimes considered more "taboo", including age play and impact play. However, these are searched for by up to 2,900 people every month working out at 34,800 annual searches.
ROLEPLAY IS THE MOST PROFITABLE FETISH, WITH AVERAGE EARNINGS OF OVER £3.8K PER MONTH
OnlyFans has revolutionised the world of online sex work and given people a platform to create explicit content and generate a great income, as found in our previous study.
Creators have tapped into the demand for kinky content with many dedicating their profiles to a particular fetish.
Our analysis of accounts found the top 10 most popular and profitable fetishes, with the results showing you can in fact earn £45,837 before tax per year, which is over £14k more than the average UK salary of £31,000.
The top 10 earning fetishes that make a tempting side hustle include:
| Rank | Fetish | Onlyfans Accounts (Capped at 10,000) | Gross Median Monthly Earning | Gross Median Yearly Earnings |
| --- | --- | --- | --- | --- |
| 1 | Roleplay | 6,754 | £3,819.75 | £45,837 |
| 2 | Gagging | 4,337 | £3,453.75 | £41,445 |
| 3 | Foot | 10,000+ | £3,145.58 | £37,738.96 |
| 4 | Bondage | 10,000+ | £2,903.43 | £34,841.16 |
| 5 | Cuckolding | 665 | £2,894.87 | £34,738.44 |
| 6 | Pregnancy | 5,364 | £2,034.90 | £24,418.80 |
| 7 | Humiliation | 6,078 | £1,968.83 | £23,625.96 |
| 8 | Voyeurism | 2,190 | £1,395 | £16,740 |
| 9 | BDSM | 10,000+ | £974.51 | £11,694.12 |
| 10 | Watersports | 218 | £862.50 | £10,350 |
Roleplay is the most profitable, with creators earning a hefty £3,819.75 per month on average. These accounts vary widely, from the classic sexy nurse and patient to the more spooky vampire and lover, enabling customers to slip into a new world and live out their fantasies with the characters of their dreams.
Some are partial to gagging scenarios, which follows in second with approximate earnings of £3,453.75 per month on average, meaning you could be raking in £41,445 excluding tax each year. Something worth considering if you're fed up with your day job.
BDSM, bondage and foot fetish accounts are the most popular, with over 10,000 profiles each and potential earnings ranging from £974.51 to £3,145.58 per month on average.
WHICH FETISH ITEMS CAN MAKE YOU THE MOST MONEY?
While you may not think it, used items arouse a thrill for many, with used fetish items being sold through niche sites as well as social media. The anonymity around selling items online is what attracts people to explore their kinks and generate some additional cash.
Our analysis found the most common items and the average cost they each sell for online.
| Rank | Item | Average Listing Price |
| --- | --- | --- |
| 1 | Used Toys | £26.59 |
| 2 | Used Bras | £24.51 |
| 3 | Used Sportswear | £24.13 |
| 4 | Used Panties | £22.35 |
| 5 | Used Men's Underwear | £22.06 |
| 6 | Used Tights | £15.24 |
| 7 | Used Socks | £12.94 |
Selling used sex toys is the most lucrative, with them listing for £26.59 per item on average. Sweaty second-hand clothing items follow, including used bras, sportswear and underwear, all selling for between £20 and £25 per item on average.
Despite listing with an average price tag of £12.94 per item, selling used socks can be very profitable. If you sell three pairs a day you could be earning £271.74 every single week!
Findings show that we're a curious bunch who are becoming more sexually expressive in the 21st century. The internet allows us to explore kinks easily and access communities of people who get randy over the same fantasy. With this demand, the fetish market is pulsating and here to stay.