The game
The Rock & Rollover room is open to all our players. It's not just another 75 ball bingo room however, because you're in with a chance of winning an incredible £1,000! Unlike regular progressive jackpots, if no one wins, the prize rolls over to the next game until someone wins. Rock on!
How to play Rock & Rollover 75 Bingo
Once the room is unlocked, you'll need to buy a ticket. You can find them in the lobby and you can buy them in advance if you want to make sure you're a part of the action. Once 8pm hits, the room opens and the fun begins.
The balls are numbered 1-75 (duh!) and are called out one by one. Our auto dabber feature makes sure you'll never miss a number by automatically marking your ticket for you.
Your ticket should look something like this.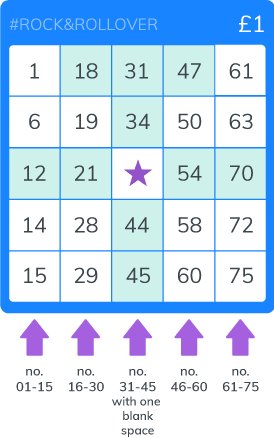 How to win 75 Bingo
Also known as pattern bingo, 75 ball bingo is trickier than 90 ball. That's because you need to match a set pattern of numbers to win. To win our rollover prize, you'll need to be the first to fill the pattern in a set number of calls.
You can find the pattern on the left hand side of the game. Match the pattern and you're a winner, but if no one manages to, the game automatically ends and the money is rolled over to the next game.