What is Full Monty Bingo?
Full Monty is a jackpot bingo game open to all players at MrQ. It's a 75 bingo ball room but with a juicy jackpot twist; the progressive pot will continue to build with each ticket sale until someone takes the guaranteed £20,000 prize!
You can join the jackpot bingo action at:
How to play Full Monty rollover bingo
Ready for the Full Monty experience? Here's how to get your hands on that juicy prize:
Head to the room and buy your tickets (£1 per card)
Once 8pm hits, the room opens and the fun begins.
The balls are numbered 1-75 and are called out one by one.
Can't hit all the numbers? Don't worry - our auto dabber will do all the hard work for you
Cover the card to match the pattern and take the entire pot - delish!
Your ticket should look something like this.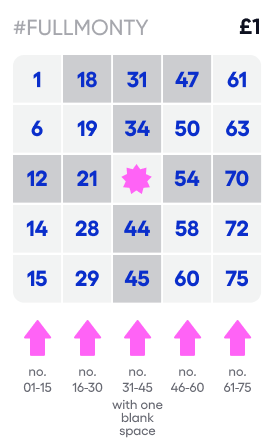 How to win 75 Bingo
Also known as pattern bingo, 75 ball bingo is trickier than 90 ball. That's because you need to match a set pattern of numbers to win. To win our rollover prize, you'll need to be the first to fill the pattern in a set number of calls.
You can find the pattern on the left-hand side of the game. Match the pattern and you're a winner, but if no one manages to, the game automatically ends and the money is rolled over to the next game.
FAQ
---
What's the difference between 75 and 90 ball bingo?
The biggest difference between 75 and 90 ball bingo is the way you win. 75 ball bingo has a set pattern of numbers that must be filled in a set number of calls to win the jackpot rather than continuing until someone has a full house.
---
How much is a ticket for Full Monty bingo?
You can play for a real cash mega jackpots of up to £20,000 for just £1 per ticket in Full Monty 75 ball bingo.
---
Can I win real money playing progressive jackpot bingo?
Of course! All of the bingo games on MrQ are real money bingo games where you can withdraw winning for cash. Deposit £10 today and play some of the top real money slots and bingo today.
---
What is the jackpot for Full Monty bingo?
Full Monty has a progressive jackpot that must be won before it hits £20,000!
---
Can I play 75 ball jackpot bingo on mobile?
You can play juicy 75 ball bingo and be in with the chance of bagging up to a £20,000 jackpot prize on all of your favourite iOS and Android mobile devices. Sign up to MrQ today and play daily jackpot bingo with all winning paid in cash.
---